LOOK: Class-A State College Spikes to wear 'Fresh Prince' jerseys
The Spikes will be wearing special "Fresh Price of Bel-Air" themed jersey 6/29 when @alfonso_ribeiro comes to SC! pic.twitter.com/7ab95y1W8m

— State College Spikes (@SCSpikes) April 24, 2014
The State College Spikes, a Class-A affiliate of the St. Louis Cardinals, are doing exactly what all minor league teams across the country should do; That is, hosting Fresh Prince of Bel-Air night this summer.
To commemorate the timeless '90s sitcom, the Spikes will wear funky, graffiti-inspired jerseys and host Alfonso Ribeiro, who played Carlton, Will's short and stuffy cousin.
The Spikes will host the Williamsport Crosscutters on June 29, and fans will have a chance to take home the "Fresh" jerseys through an auction that night.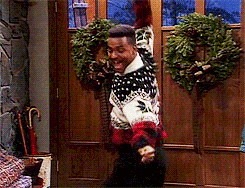 Sure, you'll get your fair share of the Carlton dance. But the real question is whether the seventh-inning stretch will be accompanied by Jump on it.
(H/T SportingNews)