May 3 Prospect Watch: Stroman, Meyer ready to help at MLB level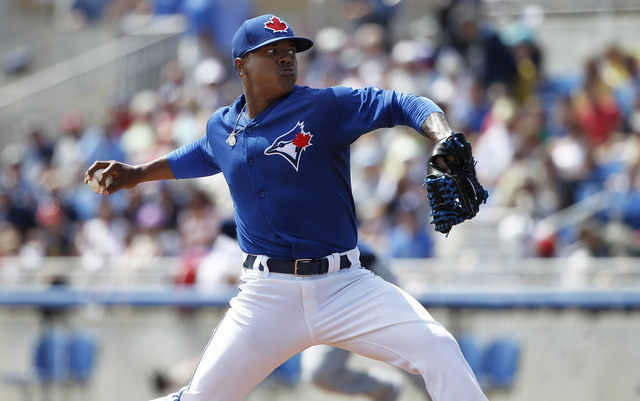 More MLB: Power Rankings | Expert Picks | Latest news & notes | Fantasy news
Because it's not fair to highlight Red Sox 2B Mookie Betts and Dodgers OF Joc Pederson every week -- they both continue to knock the ball all over the park, in case you're wondering -- this week's Prospect Watch features a heavy dose of pitchers. Here are three potential big leaguers who are on the rise and three who have hit a bump in the road.
THREE UP
3B Joey Gallo, Rangers: Gallo, 20, is one of the most fascinating prospects in the minors. He has enormous raw power from the left side of the plate -- 40 home runs in 111 games last season and 72 homers in 195 career games since being the 39th overall pick in the 2012 draft -- and enough speed to steal the occasional base, but he struggles to make consistent contact and had 280 strikeouts in 837 career plate appearances (3.5 percent). That is way, way too many for a guy who has yet to escape Single-A ball. Gallo has already mashed 10 homers this season and so far he's cut down on his strikeouts as well, going into Friday's game with 30 in 110 plate appearances (27.3 percent). It's a small sample, yes, but strikeout rate is one of the very first things to stabilize, usually around 60 plate appearances or so. Gallo is not particularly close to helping the Rangers at the MLB level, but he boasts mammoth power in an age where power is hard to find. Now that he seems to be cutting down on his strikeouts, he could emerge as one of the game's top overall prospects.
RHP Alex Meyer, Twins: Acquired from the Nationals in the Denard Span trade, the 24-year-old Meyer's last two starts have been damn near identical: 6 IP, 3 H, 0 R, 3 BB, 11 K and 6 IP, 2 H, 0 R, 0 ER, 3 BB, 11 K. It's clear now the shoulder issue that cost him two months of last season is in the past and he continues to deliver high-90s fastballs with two good offspeed pitches in his curveball and changeup. Meyer is physically huge (listed at 6-foot-9 and 220 pounds) and it can take tall pitchers a long time to learn how to control their long limbs, but he seems to have it figures out right now. He figures to make his big league debut at some point this summer, and, considering how poorly the MLB staff has performed, Meyer could emerge as the club's top starter in short order, a la Sonny Gray last season. (Gray is definitely on the opposite end of the size scale).
RHP Marcus Stroman, Blue Jays: Historically, baseball has had an aversion to short pitchers, especially right-handers. The 23-year-old Stroman was the 22nd overall pick in the 2012 draft despite standing only 5-foot-9 and 185 pounds, and so far he has done nothing to make Toronto regret the selection. After pitching to a 3.30 ERA with a 4.78 K/BB in 111 2/3 Double-A innings last season -- his year started late because of a 50-game suspension for a banned stimulant -- he has a 1.69 ERA with 36 strikeouts and seven walks in 26 2/3 Triple-A innings this year. In his last start on Tuesday, Stroman struck out 10 in six no-hit innings. He's not Tim Lincecum, a fellow undersized righty who came out of college, blew through the minors, and became an impact big league starter, but Stroman has four pitches including an out pitch slider. The Blue Jays have some very real pitching problems and Stroman is in position to be part of the solution very soon. He'll probably have to wait until late June or early July, after the Super Two cutoff.
THREE DOWN
RHP Eddie Butler, Rockies: The 23-year-old Butler emerged as one of the best pitching prospects in baseball last summer (1.80 ERA in 149 2/3 innings), but he is off to a bit a slow start this season (3.62 ERA in 37 1/3 innings). Relatively speaking, of course. Butler was knocked around for five runs on 11 hits in six innings last time out -- he was hit by a hard comebacker in his non-throwing hand, which may have affected him -- and over his last three starts he's surrendered 10 runs and 23 hits in 18 2/3 innings. That includes only nine strikeouts with five walks as well. Butler still has nasty, nasty stuff in his mid-90s fastball and disappearing changeup (it legitimately might be the best changeup in the minors) but right now he's going through a bit of a rough patch. No reason to worry just yet.
RHP Tyler Glasnow, Pirates: Among pitches who threw at least 100 innings in the minor leagues last season, Glasnow had by far the highest strikeout rate at 13.3 K/9. No one else was even over 12 K/9. All those strikeouts came with a lot of walks (4.9 BB/9), and so far this year he has walked 10 batters in only seven innings of work. That includes a two-inning, seven-walk outing on Wednesday. Glasnow, 20, missed the first few weeks of the season with a back injury, and perhaps that is contributing to his recent control problems. Hopefully it is, because at least then the Pirates have an explanation. Glasnow has the makings of an ace with his 6-foot-7 frame, mid-to-high-90s fastball and knee-buckling curveball, but it's going to take him time to develop reliable command. It always does for tall pitchers. So far this season he has gone backwards in that department.
RHP Robert Stephenson, Reds: This wasn't a good week for some of baseball's top pitching prospects, that's for sure. The 21-year-old Stephenson broke out with a 2.99 ERA and a 3.89 K/BB ratio in 114 1/3 innings split between three levels last season, though he is off to a much slower start this year. He's allowed 14 runs in 20 2/3 innings across his last four starts, striking out 22 and walking 14. Stephenson walked seven in 4 1/3 innings a little more than two weeks ago. So far this year, the 27th overall pick in the 2011 draft has allowed five homers and 17 walks in 27 2/3 innings, basically half of last season's totals (10 HR and 35 BB) in not even 20 percent of the innings. Stephenson's high-90s fastball and power curveball form one of the best two-pitch combos in the minors, but he stabs his arm during his delivery (similar to Ubaldo Jimenez though not nearly as exaggerated) and his command tends to come and go because of it. Right now, it's gone.
2014 DRAFT STOCK UP
SS Nick Gordon, Olympia High School (Orlando): First and foremost, Gordon has some excellent baseball bloodlines. He father is long-time big leaguer Tom Gordon and his brother is Dodgers infielder Dee Gordon. Nick is a shortstop like his brother, not a pitcher like his father. The 18-year-old comes into the weekend hitting .508/.581/.920 with five home runs and seven stolen bases this spring, but high school stats mean nothing. Gordon stands out because he's a left-handed hitter with excellent bat speed and the innate ability to get the fat part of the bat on the ball. He's also a no doubt shortstop with excellent range and a strong throwing arm. Gordon was definitely a first rounder coming into the spring, but he's continued to climb up boards over the last few weeks and there is now some buzz he could go as high as fifth overall to the Twins. He is clearly the best shortstop prospect in the draft right now.
2014 DRAFT STOCK DOWN
LHP Brandon Finnegan, TCU: Finnegan, 21, exited his start last Friday after only 2 2/3 innings with inflammation in his shoulder. Obviously that's a red flag. Finnegan did not start as scheduled on Friday, but, according to Kendall Rogers of Perfect Game, he felt fine in a recent bullpen session and will instead start on Sunday. Finnegan has been one of the best performing college pitchers this spring, going 7-2 with a 1.50 ERA and a 96/18 K/BB in 72 innings before the shoulder started barking. He's on the small side (listed at 5-foot-11 and 184 lbs.) but he has run his fastball up into the mid-to-high-90s at times this spring and his breaking ball looks like a legitimate out pitch. He also throws a good changeup. Finnegan was a no doubt first rounder coming into the spring (possibly a top 15 pick) but the shoulder scare combined with TCU's tendency to work their pitchers hard -- Andrew Cashner, Jake Arrieta and Matt Purke have all had arm problems after leaving the Horned Frogs in recent years -- will give some teams pause on draft day. Obviously Finnegan can assuage some of those concerns by coming back strong, starting with this weekend.
The 2014 amateur draft will be held from June 5-7. The full draft order can be found at River Ave. Blues and is still subject to change pending the free agencies of Stephen Drew and Kendrys Morales.