Jean Machi, Jeff Samardzija and the pitcher win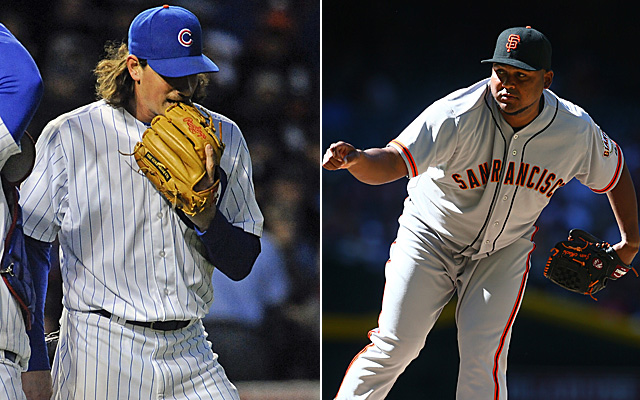 More MLB: Power Rankings | Expert Picks | Latest news & notes | Fantasy news
I remember back when I was growing up that there was only one number that truly mattered for starting pitchers: The win-loss record (which I guess is technically two stats, but they go together). Sure, there were discussions about ERA, strikeouts, complete games and shutouts, but those were all secondary.
The defining stat of a pitcher was his win-loss record.
The fact that it's a team stat and doesn't even come close to telling the whole story about a pitcher is why I continue to fight against its mainstream use. It's not because I don't want anyone to use it and I'm not a part of the #KillTheWin movement. We still use it here because lots of people like it. I understand that and in huge samples (huge, I tell you), it can (can, I tell you) have some (some, I tell you) merit.
So before we dive into today's fun exercise, allow me to clarify that I'm not suggesting that everyone has to stop using W-L immediately. To each his or her own is always my mantra. I'm just urging everyone to take a look at things much deeper than just W-L (for example, I once saw someone comment that Jose Fernandez wasn't that good because he only won 12 games last year -- the kind of embarrassing opinion that deserves ridicule).
Our 2014 examples to this point that illustrate the many flaws of how wins and losses are tallied among pitchers are Jean Machi and Jeff Samardzija.
The 2014 win leaders, with five, are Adam Wainwright, Zack Greinke, Mark Buehrle and ... Machi. If you said "who?" I can't blame you. Machi is a reliever for the Giants. He's not even one of their main late-inning guys (Santiago Casilla and Jeremy Affeldt normally set up for Sergio Romo when possible).
Jeff Samardzija of the Cubs, meanwhile, is 0-3 despite a 1.62 ERA through seven starts.
So Machi just knows how to win and Samardzija doesn't, right? So goes the narrative. Let's see.
Samardzija went seven shutout innings on opening day and took a no decision as the game was scoreless into the 10th. Next time out, he allowed two runs while the Cubs gave him zero runs in support. He took the loss. I guess you could blame him for the runs allowed, but the offense had scored zero runs for him through two outings in which he posted a 1.29 ERA.
In his third outing, Samardzija held the Cardinals to one run in seven innings and the Cubs ended up winning in 11. He didn't get the win because the bullpen -- specifically Jose Veras -- melted down in the ninth and blew the lead. See how great that stat is? Samardzija was the best pitcher in a game that his team won, and because someone else coughed up the lead, he didn't get anything. What a great stat, huh?
In outing four, Samardzija gave up one earned run in seven innings, but three total as his defense made a pair of errors behind him. The offense only scored one run anyway. Again, I'm guessing Samardzija is "just not a winner," right?
Samardzija's lack of winnerness (c'mon, I can make up a word if people want to insist silly things like "he's just not a winner") showed up again on Wrigley Field's 100th birthday. He'd leave with a 5-2 lead in the eighth, only to see the bullpen cough up five runs in the ninth. So, still, no win.
And after a loss in his only start of the season that wasn't a quality start (but still could've easily gotten him a win after 5 1/3 innings and three runs allowed), he came back strong Monday night. Samardzija worked nine innings without allowing a single earned run. He did allow a run in the first inning, thanks to an error by Anthony Rizzo -- which came on an excellent play by Samardzija himself. The game would go to extra innings tied at 1-1.
Now, maybe Samardzija could have done more, but I'm not sure what. The one hit the Cubs had in the first eight innings was a Samardzija double and the one run that was scored all game by the Cubs was Samardzija on a sac fly.
I guess the problem is he's just not a winner like Machi.
This isn't at all meant to denigrate Machi. He's been an exceptional reliever thus far, sporting a 0.53 ERA and 0.88 WHIP. He's stranded seven of the nine runners he's inherited.
It's just that his 5-0 record is there due to little more than luck, circumstance and coincidence. Take a look.
Win 1: In the season-opener, Machi threw very well but also happened to have been the last man who pitched when the Giants took their final lead of the game.
Win 2: Machi came in and allowed a leadoff, RBI-double before getting a groundout to end the seventh inning with his Giants trailing 5-3. The Giants would get five runs in the eighth and make him a winner. Again, he faced two batters and one of them resulted in an RBI double.
Win 3: Machi got a strikeout, allowed a single (to load the bases) and induced a ground-ball double-play to end the seventh inning in a 1-1 tie. The Giants would score next inning. While he had an ultimately good outing, Ryan Vogelsong got a no-decision after six innings of one-run work. Compare that to Machi allowed a hit among his three batters faced.
Win 4: Machi threw five pitches to record one out to end the 10th inning. The Giants would win, 12-10, in 11 innings. One batter faced, one win. Pretty easy work.
Win 5: He'd allow three hits in two innings but escape both innings unscathed Monday night. And the Giants beat the Pirates, 11-10, in 13 innings.
If you can look at all of the above and tell me with a straight face that Jean Machi has "earned" five more wins than Jeff Samardzija this year as an individual, I'd be very interested to see your latest drug test.
Yes, Machi plays for a much better team and wins that are ultimately the only thing that matters for teams. When evaluating individual pitchers, though, it's unbelievably flawed. This is just the latest example.
I've written before about how funny it is that people crow about new-school stats being "made up" and "meaningless." Well, try to forget everything you've been conditioned to think and read what I wrote on this topic at the time:
A pitcher gets credited with a win when he's in the game for the team that takes the lead for the final time and eventually wins the game. Unless he's a starting pitcher and doesn't throw at least five innings. Then he gets nothing, even if he leaves with an injury after 4 2/3 shutout innings. Then the next guy usually gets the "win," even if he only records one out. If a pitcher enters the game with two outs in the top of the ninth and his team leading by one run, and then allows a game-tying home run before recording one out -- only to have his team score in the bottom of the ninth -- he gets the win. Not that starting pitcher who threw 8 2/3 shutout innings.
Does that sound even remotely logical? The answer is no, to everyone who is being honest.
I've heard lots of people asking things like "what does Jeff Samardzija have to do to get a win?" or "who is this Jean Machi with four [before Monday night] wins?" so far this season.
Maybe the better question is this: "Why don't people stop being so concerned about pitcher wins and losses and instead focus on the more meaningful measures of individual performance?"
But, hey, to each his own.