David Ortiz breaks up Yu Darvish's no-hitter with two outs in the ninth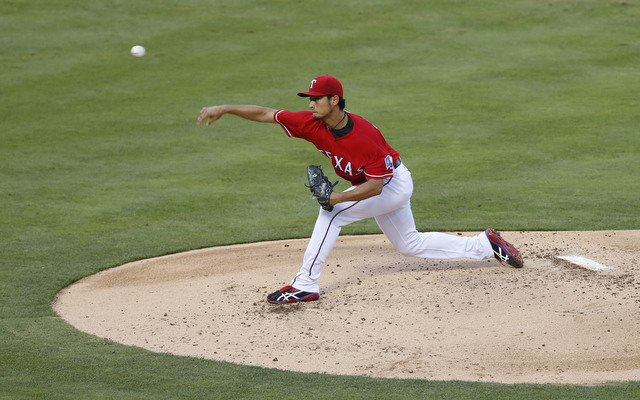 More MLB: Power Rankings | Expert Picks | Latest news & notes | Fantasy news
Rangers ace Yu Darvish was one out away from no-hitting the defending World Series champion Red Sox on Friday night. David Ortiz broke it up with a ground ball single through the shift on the right side of the infield. It was well-placed more than well-struck.
Had Darvish finished off the no-hitter, it would have come with some controversy. The first Red Sox runner to reach base did so when rookie second baseman Rougned Odor and right fielder Alex Rios failed to catch a routine fly ball with two outs in the seventh. Here's the play: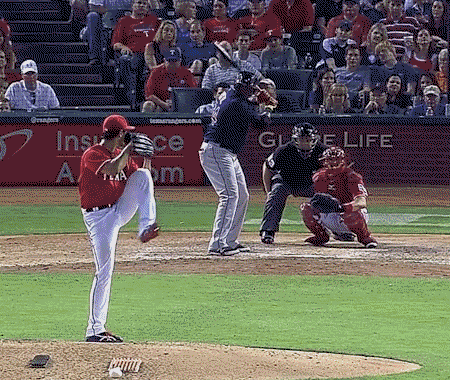 It was scored an error, but that type of play is usually scored a hit because it fell between two fielders and didn't hit any glove. MLB Rule 10.12 leaves the scoring decision up for interpretation in this situation.
The veteran outfielder coming in on the ball really should be calling off the rookie second baseman going back on the ball on a play like this, though who knows what was said and heard on the field. The error call would have been debated for a long time had Darvish finished off the no-hitter.
Darvish, 27, threw 126 pitches in 8 2/3 innings. He walked two and struck out 12, and was pulled immediately after allowing the base hit to Ortiz. His career high is 130 pitches, set last May. Darvish went to only two three-ball counts before walking Mike Napoli in the seventh, immediately after the controversial pop-up.
Darvish has flirted with a no-hitter before. In fact, he was one out away from a perfect game last April, in his first start of the 2013 season. Marwin Gonzalez of the Astros broke it up with a ground ball single back up the middle. He's a modern day Dave Stieb.
The last Rangers no-hitter was a perfect game: Kenny Rogers against the Angels in July 1994. The Red Sox were last no-hit in April 1993, when Chris Bosio of the Mariners got them.
The Rangers won Friday's game 8-0.
(GIF via @BaseballGIFs)