Red Sox's David Ortiz continues to defy the aging curve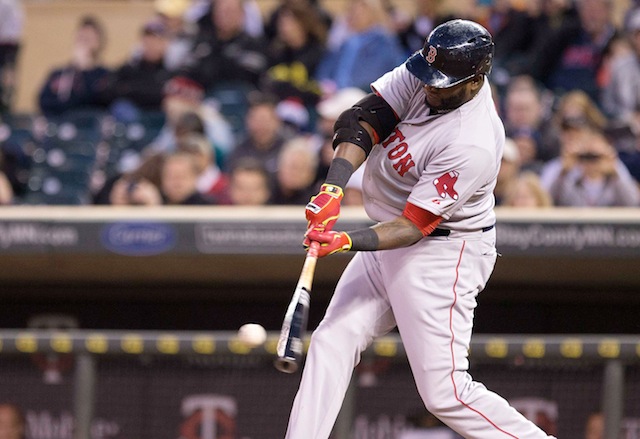 More MLB: Power Rankings | Expert Picks | Latest news & notes | Fantasy news
On Wednesday night,
Red Sox
DH/warrior-poet
David Ortiz
, in the course of his team's
9-4 win
over the host Twins, went 3-for-5 with two homers and a double. In a related matter, Ortiz's 2014 slash line now stands at .298/.390/.589. At age 38, he's obviously still producing at an exceptionally high level.
It's also worth noting that, coming into Wednesday night in Minnesota, Ortiz had been hitting .309/.400/.568 ... since turning 35 years of age. That calls to mind where Ortiz ranks -- or figures to rank -- among the great "35-and-older" hitters of all-time. Generally speaking, hitters begin to decline around age 30. It's typically not steep in those initial years, and it's almost never a linear path, but decline it is. Suffice it to say, to hit like Ortiz has at an age when most of his peers are retired is a rarity.
Those two homers give him 93 since his 35th birthday. That tally ranks 54th all-time when it comes to career home runs beginning in a player's age-35 season, only one behind Dwight Evans and Joe Carter. Of course, Ortiz is signed through 2015, and his contract has vesting options for 2016 and 2017. Over on Ortiz's FanGraphs page, we find that the ZiPS forecasting system tabs him for 30 home runs this season as of Wednesday morning. Add that those 21 homers to his current total (30 minus his Wednesday morning 2014 total of nine) and then add his projected home run total for 2015-107 (the Oliver system takes care of that) and we get a post-35 homer total of 187.
That figure -- 187 -- would rank eighth on that above-noted list, ahead of Ted Williams and behind Barry Bonds, Hank Aaron, Rafael Palmeiro, Andres Galarraga, Darrell Evans, Babe Ruth and Carlton Fisk. Obviously, Ortiz might not play enough to kick in those option years, or he might decide to walk away of his own volition before his contract is up. On the other hand, he also might exceed those projections. If Ortiz does, then everyone save Bonds (317 homers from his age-35 season onward) and Aaron (245) is probably within reach.
Now let's look at Ortiz's post-35 excellence using OPS+, which is simply OPS (on-base percentage plus slugging percentage) adjusted to reflect park and league tendencies. Presently, Ortiz's 35-and-older OPS+ is 159, meaning that, on a ballpark-adjusted basis, Ortiz's OPS is 59 percent better than average. Executive summary: That's really, really good.
In fact that's the fifth-highest OPS+ ever by a player age-35 and older, mininum 1,000 plate appearances ...
1. Barry Bonds, 221
2. Babe Ruth, 194
3. Ted Williams, 189
4. Mark McGwire, 163
5. David Ortiz, 159
For what it's worth, Aaron checks in at sixth place with 35-and-older OPS+ of 150.
Obviously, Big Papi is walking with a few gods when it comes to thriving during what should be his deep decline phase. His OPS+ of 159 figures to drop a bit as he gets closer to the end, but it's hard to imagine his somehow dropping out of the top 10 all-time.
When, like Ortiz, you don't notch your first qualifying season until age 27, then you need to muster this kind of late-career excellence to be in the Hall of Fame discussion. That's precisely what Ortiz has done and -- as was on bold display Wednesday night -- is still doing.