May 17 Prospect Watch: Harvey, Hedges standing out from the pack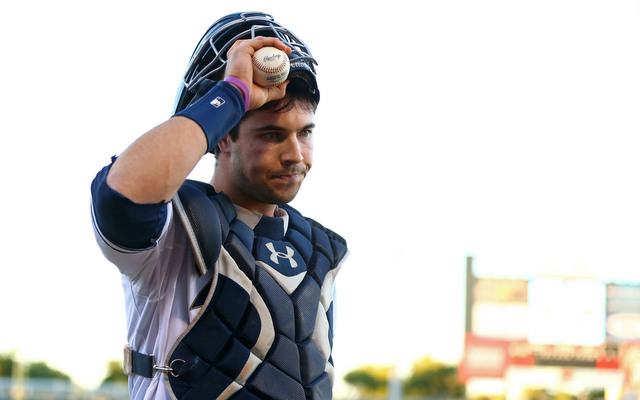 More MLB: Power Rankings | Expert Picks | Latest news & notes | Fantasy news
After going 0-for-3 with a walk on Friday night, Red Sox second base prospect Mookie Betts has now reached base safely in 66 consecutive regular season games, 71 if you count the postseason. Minor league record-keeping is a little sketchy, but the all-time minor league record is believed to be 71 regular season games, shared by former Red Sox players Kevin Youkilis and Kevin Millar. The all-time major league record is 84 games, set by Ted Williams in 1949. Betts is hitting a ridiculous .393/.462/.607 with six home runs, 18 steals, 21 walks and 13 strikeouts in 36 Double-A games this season.
Here is the rest of this week's prospect watch.
THREE UP
RHP Lucas Giolito, Nationals: The 19-year-old Giolito fell to the 16th overall pick in the 2012 draft because of concerns about his elbow, and, sure enough, he underwent Tommy John surgery almost immediately after signing for a $2.925 million bonus. He returned late last season and impressed in 11 closely monitored starts, pitching to a 1.96 ERA with a 39/14 K/BB in 36 2/3 rookie ball innings. Washington has turned the now healthy Giolito loose in Low Class-A this year, and so far he has a 2.71 ERA with a 36/14 K/BB in seven starts and 32 1/3 innings. He struck out seven, walked one and allowed one hit in six scoreless innings earlier this week. Giolito was a candidate to go first overall before hurting his elbow and he draws (unfair) comparisons to Justin Verlander because of his size (listed at 6-foot-6 and 225 lbs.), high-octane fastball, knee-buckling breaking ball and improving changeup. The Nats rolled dice in the draft and were patient, and they have been rewarded with one of the very best pitching prospects in the game, someone who looks like a future frontline starter.
RHP Hunter Harvey, Orioles: Harvey, 19, was one of the top high school arms available in the 2013 draft, but not even the Orioles knew he was this polished when they selected him 22nd overall and paid him a touch less than $1.95 million. Harvey carved rookie ball hitters up in his pro debut last season (33/6 K/BB in 25 1/3 innings) and he's doing much of the same this year, pitching to a 1.38 ERA with a 0.87 WHIP, 45 strikeouts and 15 walks in seven starts and 39 innings for the team's Low Class-A affiliate. In his most recent start on Monday, he struck out 10, walked one and allowed only one hit in seven shutout innings. Harvey will not be big league ready for another few years, but he joins Dylan Bundy and Kevin Gausman to give the Orioles three high-end pitching prospects.
C Austin Hedges, Padres: The catcher position has arguably the biggest learning curve in the game, but the 21-year-old Hedges seems to have it down pat. He is already considered an MLB-caliber defender behind the plate thanks to elite receiving skills. His bat is starting to come around as well. Hedges is hitting .287/.343/.442 with three home runs at Double-A this season, and he's gone 23-for-62 (.371) in his last 17 games. Last year he managed a solid but unspectacular .260/.333/.390 batting line with four homers in 86 games split between High Class-A and Double-A. San Diego selected Hedges in the second round of the 2011 draft and paid him a well over slot $3 million signing bonus, and he is clearly their catcher of the future. He is probably still a year away from making his big league debut, however.
THREE DOWN
RHP J.R. Graham, Braves: Two years ago, after pitching to a 2.80 ERA in 148 innings split between High Class-A and Double-A, the 24-year-old Graham was considered one of the top 100 prospects in all of baseball. A shoulder strain sabotaged his follow up last season, limiting him to only eight Double-A starts (4.04 ERA). Graham came into the season healthy but so far he has not pitched well. His 4.38 ERA in 24 2/3 Double-A innings isn't a disaster, but he has nearly as many walks (11) as strikeouts (13), and in his last three games (one shortened by rain) he has allowed eight runs on 10 hits and five walks in 5 1/3 innings while striking out only one. Graham used to sit in the mid-90s with a hard mid-80s slider, though his stuff is reportedly not what it was before the shoulder injury. Poor performance is one thing. Poor performance following an arm injury and a decline is stuff in another.
OF Victor Roache, Brewers: When Milwaukee selected Roache with the 28th overall pick and gave him a $1.525 million bonus in 2012, everyone knew he was risky. He missed most of his final college season with a major wrist injury (he needed a plate and screws inserted), and, even when healthy, he struggled to recognize and adjust to offspeed pitches. Roache, 22, had a fine pro debut in 2013, hitting .248/.322/.440 with 22 home runs in 119 Low Class-A games, but High Class-A has been a major challenge this season. He owns a .184/.245/.347 batting line and is striking out in 25.8 percent of his plate appearances, and he is currently mired in a 4-for-39 (.103) slump. Roache has huge raw power from the right side of the plate and that's a wonderful tool to have. There was always a question about whether he would be able to tap into it at the next level, and these last few weeks have been far from encouraging.
RHP Severino Gonzalez, Phillies: Gonzalez, 21, had a 2.00 ERA with a ridiculous 119/22 K/BB in 103 2/3 innings last season as he jumped three levels, from Low Class-A all the way up to Double-A. His encore has not gone as well. Gonzalez has a 5.73 ERA in eight starts and 44 innings back at Double-A, with a relatively disappointing 32/9 K/BB. In his last outing on Sunday he surrendered 10 runs on 10 hits in 3 2/3 innings. Gonzalez has now allowed 24 runs in 21 innings in his last four starts. Because his stuff is pretty much average across the board -- low-90s heater, curveball, slider, occasional changeup -- Gonzalez needs his usually pinpoint command to succeed, but when he doesn't have it, well he allows 24 runs in a 21-inning stretch. His margin for error isn't nearly as large as it for other top pitching prospects.
2014 DRAFT STOCK UP
OF Monte Harrison, Lee's Summit HS (Missouri): Harrison is an outstanding athlete who is committed to play wide receiver at Nebraska. Both his bat speed and foot speed are top of the line, and his route-running and instincts in the outfield are very good for someone who has been splitting his time between two sports these last four years. Harrison, who is listed at 6-foot-2 and 200 lbs., offers big time upside but will be something of a long-term project because he needs experience and refinement, especially with his swing. Close your eyes and you can dream up a Gold Glove caliber center fielder who goes 30-30 during his peak years. Harrison was considered more of a second round talent coming into the spring, but he seems likely to go in the back half of the first round right now. A seven-figure bonus will surely dissuade him from becoming a Husker.
2014 DRAFT STOCK DOWN
RHP Tyler Kolek, Shepard HS (Texas): Why is a kid who regularly runs his fastball into the high-90s and has been clocked at 102 mph multiple times this spring seeing his stock fall? Because so many pitchers are blowing out their elbows these days. Kolek is massive -- he's listed at 6-foot-5 and 250 lbs., though the belief is that is selling him a bit short -- and he puts everything he has into each pitch, which is why he struggles to hold his velocity late into games. He's a big outlier in terms of size and arm strength that there's concern over how long he will hold up, especially since Colt Griffin, another huge Texas fireballer with a triple-digit fastball, broke down soon after being drafted ninth overall in 2001. Obviously Kolek is his own person and what happened with Griffin has no bearing with what happens to him, but that seed has been planted and it is in the back of everyone's mind. On talent, Kolek is a candidate to go first overall. He was considered a lock for the top three picks for most of the spring, but now is there are some rumblings he could fall into the 5-10 range. So, while his stock is "down," he's still going very, very high.
The 2014 amateur draft will be held from June 5-7. The full draft order can be found at River Ave. Blues and is still subject to change pending the free agencies of Stephen Drew and Kendrys Morales.