This Week in Overreactions: Red Sox aren't sold on Bogaerts as a SS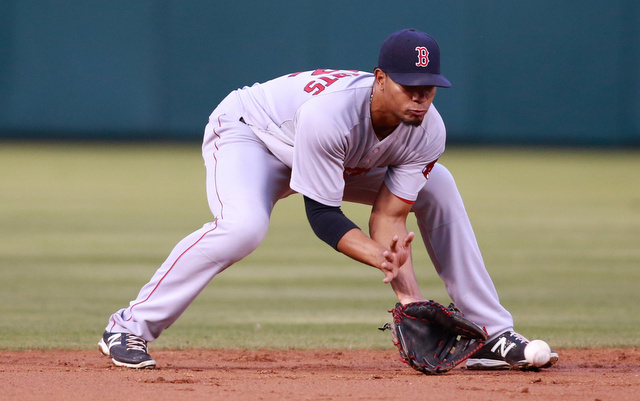 More MLB: Power Rankings | Expert Picks | Latest news & notes | Fantasy news
It's time for another installment of "The Week in Overreactions" -- the idea that was stolen borrowed with approval from our friends at Eye on Football. To the narrative machine!
Earlier this week, the Red Sox jumped in to re-sign Stephen Drew to a one-year contract worth roughly $10 million. He will play a few tuneup games in the minors before rejoining the team, at which point hotshot rookie Xander Bogaerts will slide back over to third base, the position he manned during the team's World Series run last fall.
"That was explained very clearly to Xander," manager John Farrell said to reporters when asked if the team still views Bogaerts as a shortstop (MassLive.com). "This shouldn't take away, in his mind, what our long-term view of him is. Xander is still a very good-looking young player and a good-looking young shortstop."
Actions do speak louder than words, and shifting Bogaerts back over to third is an indication the team is not pleased with his play at short, right? Well, no. If anything it says more about the status of incumbent third baseman Will Middlebrooks, who is currently on the disabled list with a finger injury.
Middlebrooks, 25, has hit .197/.305/.324 (74 OPS+) with two homers and a 28 percent strikeout rate in 21 games around the broken finger and a calf injury this season. Since an impressive big league debut in 2012 (15 HR and 121 OPS+ in 75 games), he has mustered only an 85 OPS+ from 2013-14. And, obviously, he lost his third base job to Bogaerts last postseason.
Bogaerts, on the other hand, is hitting .283/.381/.401 (116 OPS+) with two home runs in 43 games this year. Do you know how many other 21-year-old shortstops have managed a .380-plus OBP and a 115-plus OPS+ while qualifying for the batting title? Two: Arky Vaughan in 1933 and Rogers Hornsby in 1917. Obviously this season is a long way from over, but there's a reason Bogaerts was considered one of the top three prospects in baseball coming into the season.
The Red Sox signed Drew for one reason: He makes the team quite a bit better. Sure, he displaces Bogaerts temporarily, but he doesn't push him out of the lineup. The thoroughly disappointing Middlebrooks figures to take the biggest playing time hit once healthy while Bogaerts will be right back at shortstop in 2015.
'Masahiro Tanaka's second time through the league won't be pretty'
The last-place Cubs became the first team to beat Masahiro Tanaka this season (and since August 2012) earlier this week, tagging him for four runs (three earned) on eight hits (three doubles) in six innings. That's the most runs allowed and the fewest innings pitched in his nine starts for the Yankees. He went into that game with a 2.17 ERA and a 0.91 WHIP in 58 innings.
The Cubs were the first team to face Tanaka twice this season. He dominated them last month, holding them to two infield singles in eight shutout innings while striking out 10. The element of surprise -- Tanaka has thrown seven different pitches this season, according to the PitchFX data at Brooks Baseball -- was gone and the Cubbies were able to pounce.
"Everybody was aggressive. We had a better idea against him," infielder Luis Valbuena said to David Lennon of Newsday after going 3 for 3 with two doubles against the right-hander.
There's no doubt having seen Tanaka once helped the Cubs somewhat during Tuesday's game, but you know what helped them more? Tanaka missing his spots. Here is the location of the pitches that went for base hits in that start, courtesy of the truly amazing Baseball Savant: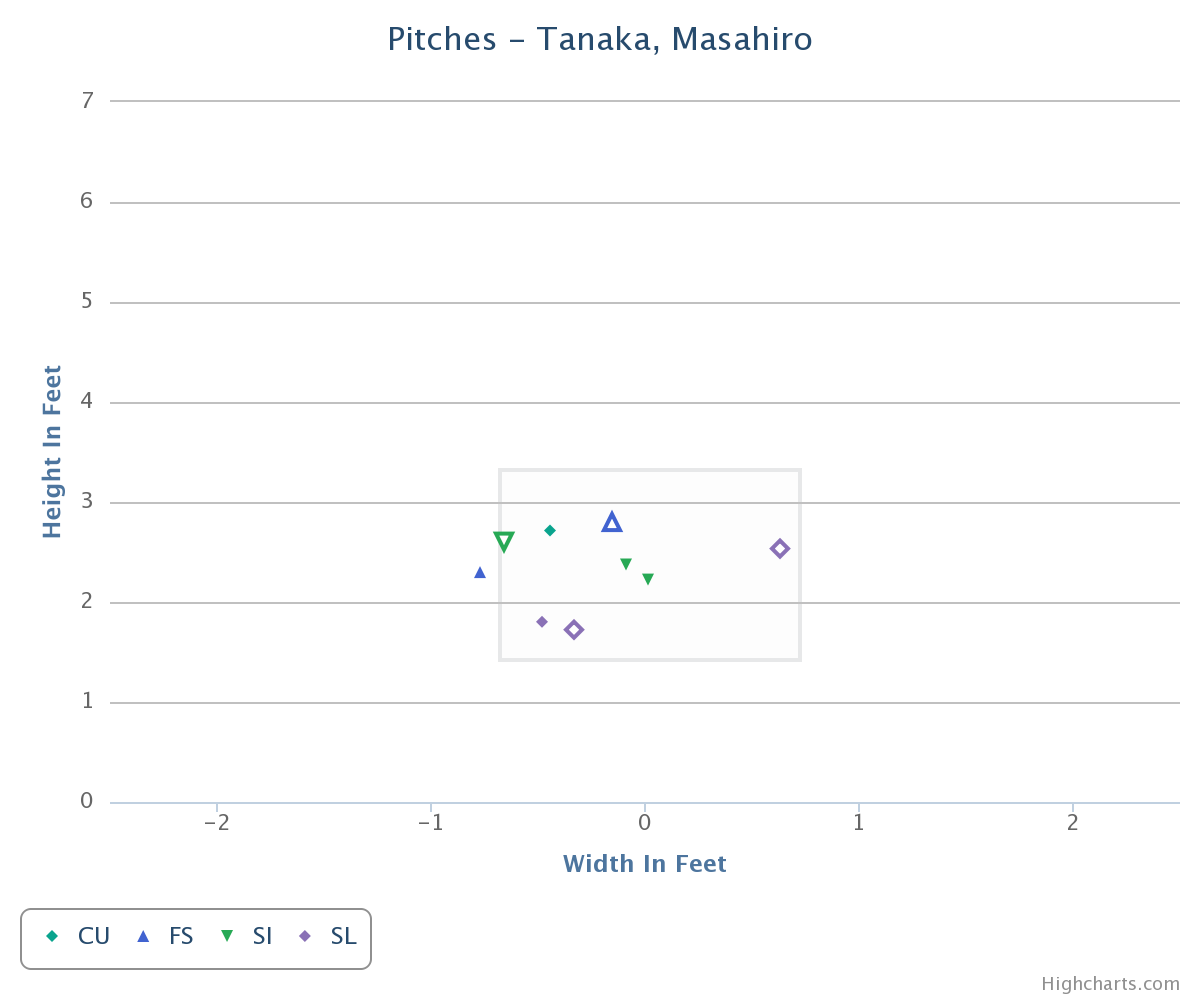 Belt high, many of them right down the middle. Those pitches are supposed to get creamed and Tanaka paid for them. I suppose it's possible the steady rain led to some location problems, but that really doesn't matter. For whatever reason Tanaka left some pitches out over the plate and he paid for them. That would have happened regardless of whether the Cubs had seen him before or not.
It's also worth noting that Tanaka's trademark splitter was as devastating as usual. According to Brooks Baseball, he threw 23 splits in that start. The Cubs swung at 18 of them and missed nine times for a 50 percent whiff rate. The splitter's season whiff rate coming into the start? That would be 50 percent, again according to Brooks Baseball. The problem was that Tanaka was making too many bad pitches and couldn't get ahead in the count so he could put hitters away with the split.
It's unlikely Tanaka will maintain a 2.39 ERA and a 0.97 WHIP over the course of a full season only because those are some lofty standards, especially for a guy in the DH league playing his home games in a tiny ballpark. Did the Cubs crack the Tanaka code when they saw him a second time earlier this week? Nah, not unless the code is counting on him to consistently leave the ball out over the plate and belt high.