Troy Tulowitzki trolls Giants with walk-up music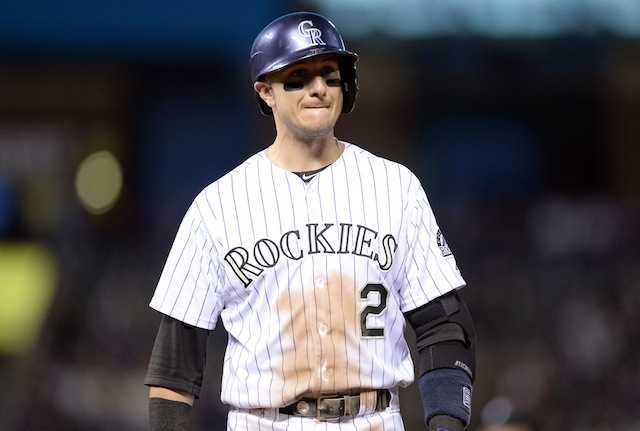 More MLB: Power Rankings | Expert Picks | Latest news & notes | Fantasy news
This season, Rockies shortstop Troy Tulowitzki has been rather easily the most valuable player in baseball to date. At this writing, he's batting .380/.484/.733, and that's in addition to his playing nifty defense at the premium position of shortstop. Underpinning those offensive numbers is an unthinkable line of .521/.600/.959 (!) at home. Said line recently inspired Giants broadcaster Mike Krukow to wonder aloud -- half-seriously, at most -- whether Tulo might be benefitting from some Coors Field sign-stealing. Here are Krukow's comments to KNBR from earlier this week (via Thomas Harding, MLB.com):
"I swear he's getting signs. There is no way you can hit like that, for this long. I mean, if you hit .571, that's for a weekend or a week. But you don't do it for six weeks. That's insane. It is as if he's getting signs -- as if. No pitchers are fooling him with anything. I am applauding his hard work. I don't think he is a Coors Field hitter. He's better. When I watch a game, I watch a hitter and I watch his back leg. It tells me what pitches he's on or not. His back leg never slides, doesn't matter what pitch. He's so locked in. It's like he knows what's coming."
Again, it reads to me as though Krukow is speaking analogously when he invokes sign-stealing with regard to Tulo's numbers at home. To the credit of Rockies manager Walt Weiss, he took it as a non-serious accusation when he "admitted" that the team's mascot, Dinger, was in on the act.
Tulo, though, raised the stakes on Thursday night by striding to the plate heralded by the timeless strains of Ace of Base, Scandinavian goobers nonpareil ...
Excelsior, Troy! Here, try it yourself ...
The gauntlet has been dropped before you, Giants broadcasters.
(Wink of CBS eye: Sporting News)