Leaderboarding: The best teams, pitchers in quality starts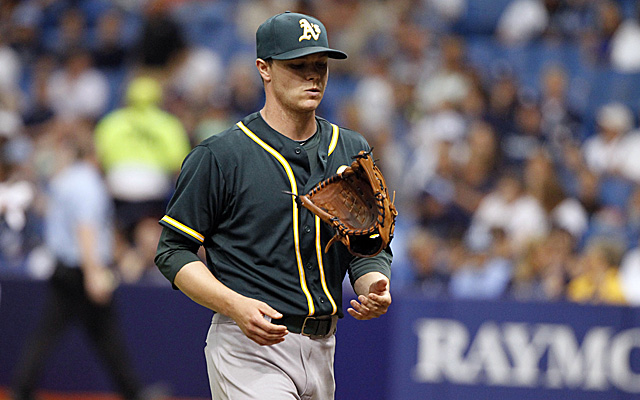 More MLB: Power Rankings | Expert Picks | Latest news & notes | Fantasy news
Though a "quality start" doesn't set the bar high in these pitcher-dominated days, it's still a useful stat in large samples to sort which pitchers are the most consistent at working later in games while at least somewhat limiting the opposition.
For those unaware, a quality start is a start in which the pitcher works at least six innings while allowing no more than three earned runs. A six-inning, three-earned run start yields a 4.50 ERA, so, again, just getting the minimum requirement here does not an ace make. Overall, though, hitting these baselines on a regular basis is the sign of a consistent pitcher.
How well does the stat measure the best pitchers? Let's check it out. Here are the eight pitchers who have a higher percentage of quality starts thus far than 80 percent (nine have exactly 80 percent, so the cut-off is immediately above that amoeba).
1. Sonny Gray, Athletics, 100 percent
1. Masahiro Tanaka, Yankees 100 percent
3. Kyle Lohse, Brewers, 90 percent
3. Johnny Cueto, Reds, 90 percent
3. Julio Teheran, Braves, 90 percent
6. Alfredo Simon, Reds, 89 percent
6. Yu Darvish, Rangers, 89 percent
8. Felix Hernandez, Mariners, 82 percent
That seems like a good measure of consistency. The guys above have either been good every single time out or had one blip on the radar (Cueto specifically comes to mind in the case of the latter).
How about on a team basis? Here are the top five and bottom five six teams in quality starts:
1. Brewers, 34
1. Braves, 34
3. A's, 31
3. Reds, 31
5. Mets, 30
25. Twins, 20
25. Pirates, 20
27. Orioles, 16
27. Rangers, 16
27. Diamondbacks, 16
27. Rays, 16
So while it's possible to get lots of quality starts and still not be a great team due to bullpen and/or offensive issues, it's pretty difficult to be a good team without getting quality starts on a regular basis.
Just a quick and easy version of Leaderboarding, eh? Happy Saturday.