Theo Epstein defends Manny signing, says it is 'not a PR move at all'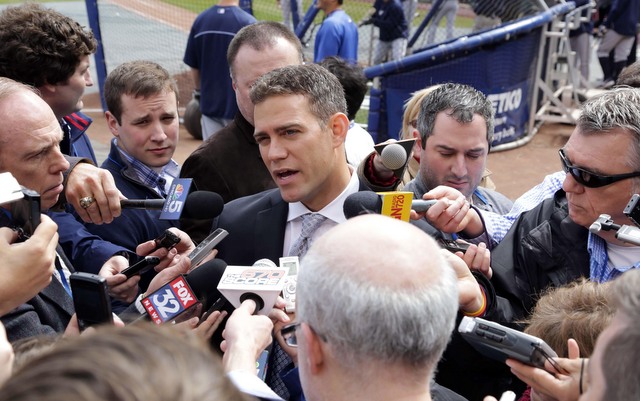 More MLB: Power Rankings | Expert Picks | Latest news & notes | Fantasy news
The Cubs made some rather significant headlines over the weekend when they announced they had signed embattled slugger Manny Ramirez to be a player-coach for their Triple-A affiliate. They made it clear in the press release he would not be called up to the MLB team.
Given all his baggage -- the "Manny being Manny" phenomenon and multiple performance-enhancing drug suspensions -- signing Ramirez to be around some of the team's best young prospects is certainly a curious move. He doesn't exactly come off as the "mentor" type. President of baseball operations Theo Epstein defended the signing, however. Here's what he told Gordon Wittenmyer of the Chicago Sun-Times:
"You never know in this world," team president Theo Epstein said Sunday. "But I think there's potential high impact here.

"If he can influence one player, make him a little bit calmer in the box, give him a little bit better mental approach to hitting, teach him something about how to approach the right-handed breaking ball the right way -- if he can convince one player not to do [performance-enhancing drugs], if he can just influence one player in a positive way, then it was worthwhile."

...

"Yeah, he's going to be around some of our better prospects. That's important," Epstein said. "But there's relatively low risk involved. It's something that if it doesn't go well, we can terminate. But I think it will go well."
Epstein also said the signing "is not a PR move at all ... this is purely a baseball move. Specifically, a player-development move."
For what it's worth, Cubs third baseman Mike Olt told Wittenmyer it was an "awesome experience" playing with Manny while with the Rangers' Triple-A affiliate last summer. Olt said Ramirez connected with the team's younger players and helped them with the mental side of baseball.
As with almost all coaches, there is almost no way we will know how much of an impact Manny will have in his new role. Most of the work is done behind the scenes (especially in the minors) and even if players say they love working with him, it's impossible to know how much of their improvement was due to Ramirez or just natural development.
Top prospects on the Triple-A Iowa Cubs roster include shortstop Javier Baez, third baseman Christian Villanueva, outfielder Matt Szczur and second baseman Arismendy Alcantara.