Joe Nathan's shakiness is a threat to undermine powerhouse Tigers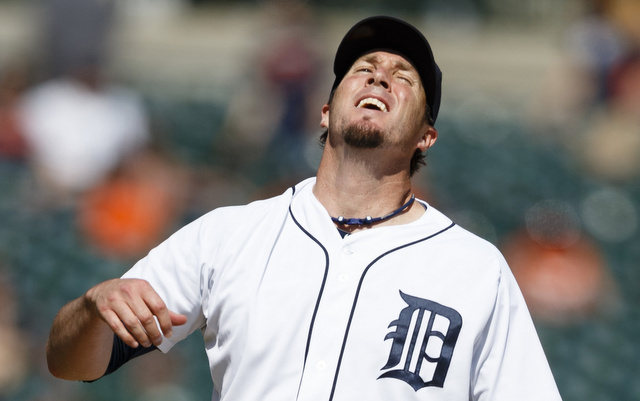 More MLB: Power Rankings | Expert Picks | Latest news & notes | Fantasy news
The Tigers suffered arguably their worst and most disheartening loss of the season on Wednesday night, when a 1-0 win over the Athletics turned into 3-1 walk-off loss with one swing of Josh Donaldson's bat. Closer Joe Nathan served up the homer, and on Thursday afternoon he nearly blew a three-run lead before stranding the tying and go-ahead runs on base.
Following Thursday's near-catastrophe, Nathan is sporting a 5.23 ERA and a 1.35 WHIP in 20 2/3 innings this season. He's also allowed four home runs and blown four saves in 17 opportunities. That's after blowing three saves in 46 opportunities all of last season with the Rangers. Beyond the saves and blown saves are more concerning numbers:
2012-14 Performance: Joe Nathan
Season
Strikeout Rate
Walk Rate
Home Run Rate
2012
10.91 K/9 (30.4%)
1.82 BB/9 (5.1%)
0.98 HR/9
2013
10.16 K/9 (29.2%)
3.06 BB/9 (8.8%)
0.28 HR/9
2014
8.71 K/9 (23.0%)
3.92 BB/9 (10.3%)
1.83 HR/9
Both Nathan's strikeout and walk rates are trending in the wrong direction, and his homer rate has jumped big time this year. (Last year's homer rate is an anomaly compared to the rest of his career.) I don't need to explain to you why that's a problem, especially went talking about a 39-year-old pitcher who is pitching in high-pressure spots with little wiggle room.
Digging a little deeper, we can see Nathan's real problem. His pitches are simply not a crisp and effective as they were both in recent years and throughout his career. Here is what PitchFX says about Nathan's repertoire (does not include Thursday's game):
2012-14 Fastball/Slider: Joe Nathan
Season
FB Velocity
FB Whiff%
ISO vs. FB
SL Velocity
SL Whiff%
ISO vs. FSL
2012
94.0
24.9%
0.154
88.5
38.4%
0.090
2013
92.3
27.4%
0.070
86.5
37.0%
0.054
2014
91.4
14.0%
0.261
85.8
33.9%
0.111
Nathan is primarily a fastball/slider pitcher, though he will break out the occasional curve. Not enough to have much of an impact. The fastball and slider and his bread and butter.
First and foremost, Nathan's velocity is down quite a bit, roughly three miles per hour from 2012. For both pitches too. That isn't terribly surprising given his age. Hitters are also not swinging and missing as often at either pitch, especially his fastball. And, when the hitters do make contact, they're punishing the ball. Again, especially his fastball. (ISO is extra bases per at-bat.)
The Tigers are no stranger to closer issues. They lived through Jose Valverde's high-wire act for a number of years and Joaquin Benoit was much of the same last year. They weren't necessarily bad, they just liked to make fans nervous. Nathan was brought in to be the shutdown closer the team lacked, the piece that could conceivably push them over the top. It was a no-brainer move for the ultimate win-now team.
Detroit gave Nathan a two-year contract worth $20 million and that comes with some job security. He is struggling now but he has a long track record and it's still early enough in the season that the club can give him a chance to work through his issues. How does a near 40-year-old add velocity though? That's not something that happens. If anything, he'll continue losing velocity.
Nathan will have to make an adjustment and learn to pitch with his current stuff, because the old way isn't working. If he can't make the adjustment, the Tigers are either going to have to plug someone else into the ninth inning or risk more blown saves in big games down the stretch. The team should be proactive if Nathan isn't getting the job done. Their window isn't getting any more open.