Xander Bogaerts already emerging as a star for Red Sox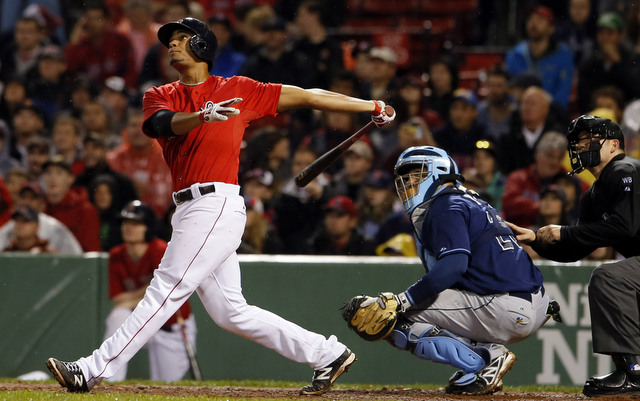 More MLB: Power Rankings | Expert Picks | Latest news & notes | Fantasy news
During the Red Sox's march to the World Series last fall, the baseball world got its first extended look at shortstop Xander Bogaerts. He played sparingly in September but took over as the team's starting third baseman in the postseason, hitting .296/.412/.481 in 12 October games. That is extremely impressive.
Bogaerts arrived in the big leagues with a ton of hype and prospect pedigree. That carried over into 2014, when Baseball America ranked him as the second best prospect in the game before the season. Only Twins outfielder Byron Buxton was ranked higher. Here's a snippet of what Baseball America wrote about Bogaerts in their 2014 Prospect Handbook:
October may not have been so much Bogaerts' coming-out party as a tantalizing scratching of the surface. "They may end up making a statue of this guy," one evaluator said. He's major league ready as a shortstop or third baseman, one who will hit lower in the order to begin 2014, with a likely peak of 25-plus homers a year in the middle of the lineup.
That is some mighty high praise, but there are super-hyped prospects every year, and very few actually live up to expectations. That's the nature of the game. Bogaerts, however, looks very much like one of the few who meet or even exceed expectations.
Including Saturday -- he went 1-for-3 with a double and two walks against the Rays -- Bogaerts has gone 24-for-56 (.429) with six doubles and two home runs in his last 14 games. That raised his season batting line to .304/.397/.438 with an 11.2 percent walk rate. The only qualified hitters in the American League with a higher on-base percentage are Jose Bautista (.441), Shin-Soo Choo (.412) and Victor Martinez (.398).
That's impressive on its own. Consider that Bogaerts won't turn 21 until after the end of the regular season and suddenly we're talking at something historic. Here is the list of big league shortstops who posted a .380+ OBP while qualifying for the batting title at age 21 or younger:
That's it. Four players plus Bogaerts. Vaughan is a Hall of Famer, A-Rod has a Hall of Fame resume (though he'll never get in), and Hornsby is one of the what, five or six best players ever? Bush is the black sheep here -- he had a long career (1908-23) but never repeated his rookie success and retired with a 91 OPS+.
Shortstops who are barely old enough to drink are not supposed to do what Bogaerts is doing. His chase rate on pitches out of the zone is only 22.8 percent, which is the 26th lowest among the 175 qualified hitters. That's better than noted plate discipline machines like Jayson Werth (23.9 percent) and Paul Goldschmidt (25.6 percent), for example. Bogaerts has the approach of a veteran with the lightning quick bat of a 21-year-old whose body has yet to fall victim to the daily grind of baseball.
When Stephen Drew is added to Red Sox active roster next week, Bogaerts will move off shortstop and back to third base. It's easy to second guess the move -- how could they risk throwing a wrench into his development considering how things are going? -- but I don't see a problem with it whatsoever. For starters, Bogaerts had no trouble making the move last fall. Two, it unquestionably makes the team better. And three, he's shown enough maturity to make me believe the move will be a non-issue. Mike Trout moved to left field briefly and it didn't hurt him one bit.
The Red Sox really rolled the dice this past winter by letting established players like Drew, Jacoby Ellsbury and Jarrod Saltalamacchia walk. The team's catchers and especially the center fielders have not replaced the missing production, but Bogaerts has stepped in at short to become an impact player just one-third of the way into his rookie season. He's not quite Trout, no one is, but Bogaerts is excellent in his own right and looks very much like a future superstar.