Manny Machado deserves a second chance, here's why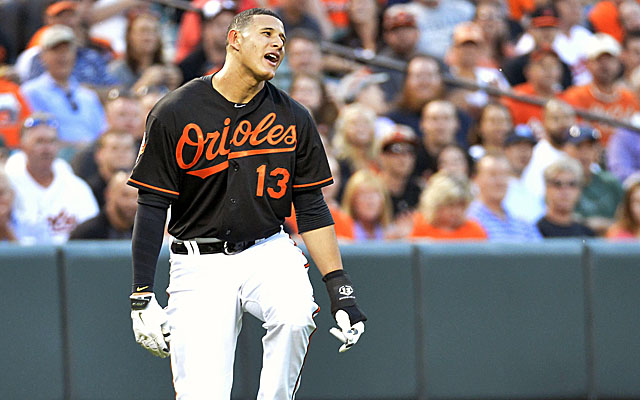 Machado timeline: Banned 5 games | His apology | Team meeting | Tag incident | Bat toss
Orioles third baseman Manny Machado had a bad weekend. There's no other way to put it. He acted like a petulant child nearly throughout three games and things concluded with him clearly intentionally throwing a bat at someone in the field -- whether poorly aimed at the pitcher or pretty accurately aimed at the third baseman.
Many words on the Internet, whether in short blogs, lengthy columns, tweets or comments sections, were spilled with the general feeling that he needs to grow up. We've done it here in Eye on Baseball. I tweeted that if my seven-year-old son threw a temper tantrum after a tag like Machado did Friday night he'd have to take a "time out." I still feel that way. It was embarrassing.
Machado has been suspended for five games and he definitely deserved it.
But I'm also ready to accept Manny Machado's apology and forgive him. For several reasons.
First of all, he apologized. This is completely subjective because there's no way to really know for sure unless your name is Manny Machado, but I thought he was very sincere and contrite. He didn't specify that he threw his bat intentionally, but he hadn't been suspended yet and that wouldn't quite be prudent. I liked that he didn't seem to have a Tiger Woods "I'm a sex addict" statement that was read in robotic fashion and clearly written by an attorney. It shows Machado was speaking from his heart, in my view.
Another point I liked was when Machado refused to use his knee as an excuse for his overreaction. That would have been an easy way out and he didn't take it, saying his knee feels fine.
As to the line of thinking that Machado "only apologized because he got caught," well, he still apologized and owned the fact that he made mistakes. He didn't have to do that. After all, a 38-year-old, 14-year veteran (at the time) has still never changed his embarrassingly ridiculous story that he "thought it was the ball!"
Yeah, Roger, you always threw the ball there when a batter hit it to you. What a joke.
Again, he was a 38-year-old, 14-year veteran at the time. Machado is just 21. In many ways he's still essentially a "kid," though obviously and technically an adult.
I do think MLB players should be held to a higher standard for several reasons, but it's worth asking what kinds of things we were doing at age 21. I'll just say I was a student at a known "party" school at the time and leave it at that. So let's watch the casting stones in glass houses thing, shall we?
As I said, though, I totally understand and agree that a professional should behave professionally, regardless of age. After all, we never see Mike Trout, for example, act out like this. Let's keep in mind we never saw Machado act like this as of last Thursday, either. In fact, he'd been a model citizen to this point and became a bit of a league darling. Is no one at such a young age allowed a rough few days?
As for the intentional bat toss, let us note a few important points here. First of all, he didn't exactly do this:
Secondly, I understand a bat could hit and injure someone, but thrown at the force Machado tossed it, it's pretty doubtful anyone paying attention could have been hit by it, absent completely ignoring the action. This isn't a justification, because I will reiterate that it was stupid and childish to throw it. But I also wonder how that's worse than charging the mound? Can't he do more damage and land blows with more precision if he's up close and punching someone?
Yet that would have been more acceptable, it seems. Go punch a guy in the face, you're just being all manly, right?
How about the generally accepted practice of pitchers throwing baseballs at batters on purpose? Yeah, that's how the tough guys do it. Standing 60 feet, 6 inches away and throwing something at someone. Manly!
If we're truly worried about injuries, I'd put more money on a punch or a pitch landing than a helicoptering bat.
As for Machado's backswing, this is how long it is on a normal swing:
That's a real long finish by a player that stands 6-foot-2 and has a pretty long wingspan.
It sucks that he caught Derek Norris twice with it and I really hope it wasn't intentional. Machado said it wasn't and -- again, since he's never done anything like this before -- I'm prepared to believe him, given that it doesn't happen again in circumstances like this. His apology to Norris felt sincere to me, but I again realize that's a matter of interpretation.
I will stress this one more time so it's not lost on anyone: Manny Machado's actions this past weekend were awful. He shouldn't have gone crazy like a little kid after a tag and he most certainly shouldn't have whipped his bat out onto the field. If he did get Norris on his backswing on purpose, that's horrible -- but we can't prove he did and he does have a long backswing. He needed to apologize for several things, which he did. He deserves his five-game suspension. I'd have been fine with 10. Maybe more.
For me, the suspension and apology are enough, though.
It's enough that Machado has sincerely (again, my opinion) apologized and will accept his impending suspension, which I'm hoping he'll do (he's appealed the suspension initially as pretty much everyone does -- I'm saying I'm hoping he drops the appeal). That's called accountability and it's coming from a guy who hadn't previously given us any reason to question his character. That's worthy of our forgiveness for now. If he makes further mistakes moving forward, all bets are off, but let's not paint with such a broad brush and overreact here. Human beings are entitled to mistakes of this magnitude, which are relatively harmless in the grand scheme of this society we're trying to run.