More than a change of scenery behind Phil Hughes' success with the Twins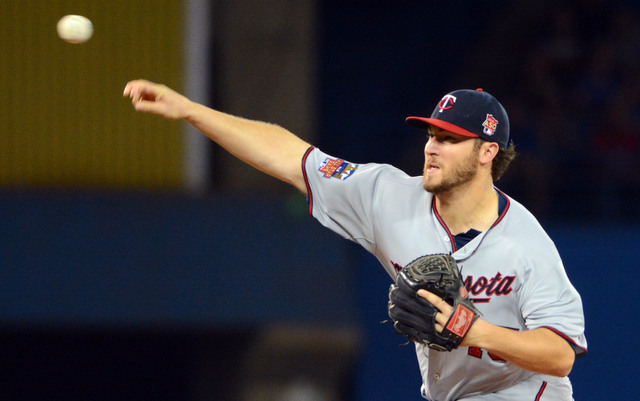 More MLB: Power Rankings | Expert Picks | Latest news & notes | Fantasy news
Right-hander Phil Hughes was legitimately one of the worst starters in baseball last season. He went 4-14 during his final season with the Yankees, and, among the 107 pitchers who threw at least 140 innings, he ranked 101st with a 5.19 ERA and 100th with minus-0.7 WAR. Hughes was terrible.
That did not stop the Twins from giving him a three-year contract worth $24 million over the winter, however. Minnesota invested heavily in pitching and Hughes was the youngest free agent hurler on the market by two full years. He did manage a 4.19 ERA and 1.9 WAR in 191 1/3 innings in 2012, so there was some recent success in his track record.
So far this year, the 27-year-old Hughes has gone 7-2 with a 3.17 ERA in 13 starts and 82 1/3 innings. He held the high-powered Blue Jays offense scoreless for seven innings in Toronto on Wednesday afternoon -- the Blue Jays came into the day with a .792 OPS at home as a team -- while striking out nine. It was the fifth time he held an opponent to two runs or fewer while throwing at least seven innings in his past nine starts.
This season has been a huge turn around for Hughes and the Twins look very wise for locking him up through his age 29 season. As an extreme fly ball pitcher (33.3 percent ground ball rate in 2014, 33.6 percent career), getting out of home run happy Yankee Stadium has surely helped him -- Hughes has allowed seven home runs (0.8 HR/9) in 2014 after posting a 1.6 HR/9 from 2012-13 -- but that's not all.
For starters, Hughes has become an extreme strike-thrower. Well, actually I should say even more of an extreme strike-thrower. Last season Hughes threw 53.4 percent of his pitches in the strike zone, the seventh highest rate in baseball. No pitcher threw more first pitch strikes (71.7 percent). The problem? Batters hit an absurd .281 with a .469 slugging percentage off Hughes following a first pitch strike. The league averages were .223 and .338, respectively, in 2013.
This year though, Hughes has jacked up his zone rate to 59.4 percent while his first pitch strike rate sits at 70.2 percent, so he's throwing even more strikes and roughly the same number of first pitch strikes. The difference now is that hitters are only hitting .257 with a .375 slugging percentage after 0-1 counts, which is still higher than the league average (.220 and .334, respectively), but nothing like last season.
The improvement has to do with several things, including his pitch selection. Hughes has long been a tinkerer, toying with new grips and different pitches with each passing year. Look at his pitch selection since becoming a full-time starter in 2010 (via Brooks Baseball):

From 2010-11, Hughes was a fastball/cutter/curveball pitcher. In 2012, he scrapped the cutter and started toying with a slider. In 2013, he went fastball/slider with a few curves. This year, it's back to fastball/cutter/curveball but with way more cutters than before. Every year Hughes was working with a new arsenal and now it seems like something has clicked. He's found the right mix.
There are other factors at play here too, of course. Confidence is surely one of them. Being out of Yankee Stadium is probably a weight off his shoulders, and confidence is something that builds with each successful start. Also, Hughes is only 27, an age when many players break out and enter the prime of their careers. There is an element of natural development at play here as well.
The Twins drew some criticism over the winter for guaranteeing Hughes three years after such a terrible 2013 season, but through the first two and a half months of 2014, it appears they've found a way to make him not only be successful, but be one of the best starters in the league. Hughes is a deserving All-Star at this point. He belongs in Target Field at the Midsummer Classic next month.
Hughes sat near the top of every top prospects list once upon a time, but his career in New York was marred with inconsistency and ineffectiveness. He has found success this season not only in a larger ballpark, but with a new super-aggressive approach and a refined pitch mix.