Verlander's struggles give Scherzer even more negotiating leverage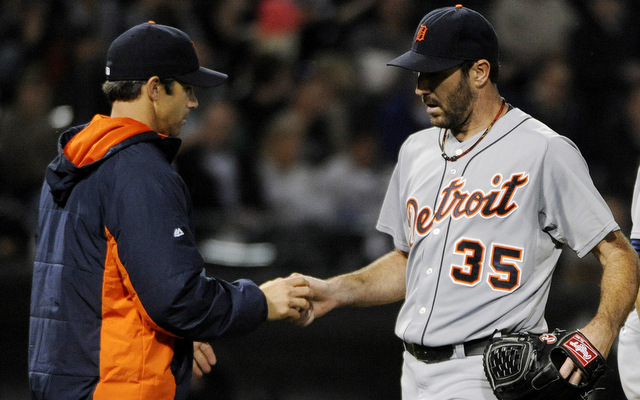 More MLB: Power Rankings | Expert Picks | Latest news & notes | Fantasy news
Tigers right-hander Justin Verlander is currently in the middle of the worst stretch of his career. He surrendered seven runs and 12 base-runners to the White Sox in only 5 1/3 innings on Wednesday night, giving him a 4.61 ERA on the season.
Wednesday's game was the fifth time Verlander allowed at least five runs in his last six starts, if you can believe that. Here are his recent performances:
Ugly. Ugly ugly ugly.
Since winning both the AL Cy Young and MVP awards in 2011, Verlander has seen his ERA rise from 2.40 to 2.64 to 3.46 to now 4.61. He turned 31 right before spring training and there is still $140 million and five years left on his contract after 2014. It's too early to declare Verlander done, of course, but the Tigers have to be at least a little concerned.
Meanwhile, reigning AL Cy Young award winner Max Scherzer just keeps plugging along. He has gone 7-2 with a 3.38 ERA and a 1.24 WHIP in 13 starts and 35 1/3 innings this season, high-end performance that isn't quite as good as last season. No shame in that though. Scherzer's been a stud this year and has effectively replaced Verlander as the staff ace.
Scherzer, as you know, will be a free agent after the season. The two sides discussed a contract extension before the season, and Scherzer eventually rejected a deal in the $140 million range. If he continues at his current pace, he could wind up with $200 million on the open market after the winter. The Tigers don't want the Dodgers and Yankees to get involved in the bidding. It'll get out of control in a hurry.
With Verlander struggling, Scherzer and agent Scott Boras suddenly hold most (not all) of the cards heading into free agency. Detroit is very much a win-now team and they'll need a top of the rotation starter to get to where they want to go. Anibal Sanchez is excellent and I think both Drew Smyly and Rick Porcello are underrated, but they're no Scherzer. Neither is Verlander at this point.
At the same time, the Tigers can look at Verlander (and CC Sabathia, Kevin Brown, Barry Zito, etc.) and decide they don't want another huge money starter because those contracts almost always end badly. That would be a bold and likely unpopular move, especially among casual fans, but it is justifiable. Again, this team wants to win now though. The Miguel Cabrera contract is going to look ugly in a few years too, but it'll look less ugly if he brings the club a ring.
The Tigers have made it clear they want to retain Scherzer beyond this season. If Verlander continues to struggle and the team's need for an ace increases, suddenly Boras and Scherzer will be the ones with all the leverage.