MLB Weekday Series Rankings: A's, Tigers set for battle in Detroit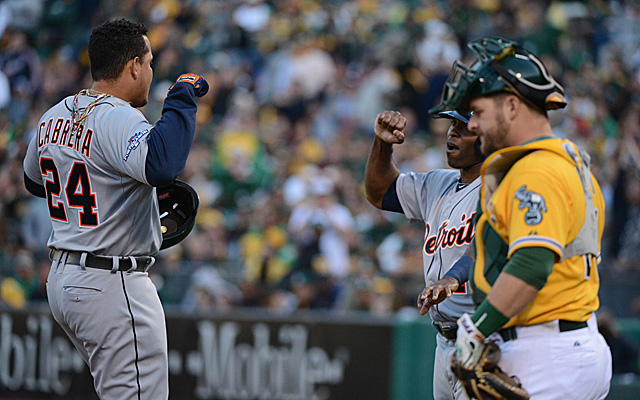 More MLB: Power Rankings | Expert Picks | Latest news & notes | Fantasy news
We're staring a fresh set of series for the week, so it's time to once again get through the Hoagie Scale. How hungry are we to consume the following matchups? Dig in.

| | | |
| --- | --- | --- |
| | at | |
Oakland Athletics at Detroit Tigers
Monday: Scott Kazmir (9-3) vs. Anibal Sanchez (5-2)
Tuesday: Brad Mills (1-0) vs. Rick Porcello (10-4)
Wednesday: Jesse Chavez (6-4) vs. Justin Verlander (6-7)

In each of the past two seasons, the Tigers beat the A's in five games in the ALDS. Earlier this season, the two teams split a four-game series in Oakland. The A's are clearly the best team in baseball so far this season while the Tigers can look the part at times themselves.
In fact, if the playoffs started today, the A's would be the top seed in the AL while the Tigers would be second. So the two could very easily meet in October again, only this time it might be in the ALCS with a chance to get to the World Series.
Is that enough drama?
The pitching matchup Monday is a dandy and both offenses pack plenty of punch. This should be real fun.
| | | |
| --- | --- | --- |
| | at | |
Milwaukee Brewers at Toronto Blue Jays
Tuesday: Marco Estrada (7-4) vs. Drew Hutchison (5-6)
Wednesday: Wily Peralta (9-5) vs. J.A. Happ (7-4)

Two first-place clubs, though the Blue Jays aren't going well right now, having lost four of five. Going back to June 6, the Jays have lost 15 of their past 22. They still lead the mediocre AL East by 1½ games, so that hold is pretty tenuous, especially now facing off against a strong Brewers team.
Speaking of, the Brewers have won eight of 11 and boast the top record in the NL.
It's too bad this is only a two-gamer, because there's potential for a great series.
A return to the lineup for Jose Bautista would greatly help matters for Toronto, as he is supposedly going to DH on Tuesday. On the other side, Carlos Gomez is day to day with a neck issue.
| | | |
| --- | --- | --- |
| | at | |
St. Louis Cardinals at San Francisco Giants
Tuesday: Marco Gonzales (0-0) vs. Tim Lincecum (6-5)
Wednesday: Adam Wainwright (10-4) vs. Ryan Vogelsong (5-4)
Thursday: Carlos Martinez (1-3) vs. Madison Bumgarner (9-5)

These two teams definitely need each other right now. The Giants have lost 15 of their past 19 games and resemble one of the worst teams in baseball, rather than the one that is tied atop the NL West (they have given away a 9½-game lead in the span of three weeks).
The Cardinals, meanwhile, come in after being bloodied in LA, getting outscored 17-4 in losing three of four to the Dodgers. Their starting rotation is missing a few key pieces and the offense continues to be inconsistent.
The Giants could get Brandon Belt back during this series and that would certainly help matters, but they have myriad problems right now.

| | | |
| --- | --- | --- |
| | at | |
Cleveland Indians at Los Angeles Dodgers
Monday: Corey Kluber (7-5) vs. Dan Haren (7-4)
Tuesday: Justin Masterson (4-5) vs. Josh Beckett (5-4)
Wednesday: Trevor Bauer (2-4) vs. Hyun-jin Ryu (9-4)

The Dodgers are playing about as well as anyone right now and they've pulled into a first-place tie in the NL West. Fortunately for the Indians, they get to miss out on Clayton Kershaw and Zack Greinke, but the rest of the Dodgers rotation is pretty damn good, too.
What can the Indians get from their three starters? Kluber has been excellent this season, but Masterson has been extremely disappointing and is coming off a knee injury. Bauer, meanwhile, returns close to his former stomping grounds, as the UCLA (and North Hollywood) product has never started an MLB game in Los Angeles.
On paper, it looks like the Dodgers should steamroll the Indians, but Cleveland can ramp things up at times, like when they won nine of 10 games at one point earlier this month.
| | | |
| --- | --- | --- |
| | at | |
Texas Rangers at Baltimore Orioles
Monday: Nick Tepesch (3-3) vs. Ubaldo Jimenez (2-8)
Tuesday: Joe Saunders (0-4) vs. T.J. McFarland (0-1)
Wednesday: Nick Martinez (1-5) vs. Chris Tillman (7-4)
Thursday: Yu Darvish (8-4) vs. Wei-Yin Chen (7-3)

It's a rematch of the 2012 wild-card game, when the Orioles went into Texas and bounced the defending AL champs from the playoffs.
The Orioles should grab a few here and have a shot to creep into first place this week. The Rangers won a series from the Twins, but before that had lost eight in a row and right now look like a pretty terrible baseball team.
The O's have lost three of four, but were going very well before that and are the clearly superior team at this point.
| | | |
| --- | --- | --- |
| | at | |
New York Mets at Atlanta Braves
Monday: Zack Wheeler (3-8) vs. Alex Wood (6-6)
Tuesday: Daisuke Matsuzaka (3-2) vs. Mike Minor (2-5)
Wednesday: Jacob deGrom (1-4) vs. Julio Teheran (7-5)

The Braves were struggling, but have now bounced back and won six of seven, pushing them out front in the NL East by a half game. With three talented arms going against the hapless Mets -- who have lost four of five -- there's a shot here to sweep.
And, actually, the Braves' schedule until the All-Star break shows seven against the Mets, three against the Diamondbacks and three against the Cubs. It's a good time for a hot streak.
Alternate name to the series: The John Rocker Bowl.
| | | |
| --- | --- | --- |
| | at | |
Colorado Rockies at Washington Nationals
Monday: Yohan Flande (0-0) vs. Jordan Zimmermann (5-4)
Tuesday: Christian Friedrich (0-2) vs. Stephen Strasburgh (6-6)
Wednesday: Tyler Matzek (1-2) vs. Doug Fister (6-2)

The Rockies have been one of the worst teams in baseball for the past seven or eight weeks and the pitching matchups here heavily favor Washington. Two more things: Bryce Harper returns and the Rockies are an awful 16-27 on the road.
The Nationals are a half-game behind the Braves in the NL East and given the Braves' upcoming schedule (see above), Washington probably could use a sweep. In fact, these two clubs might finally distance themselves from the rest of the division.

| | | |
| --- | --- | --- |
| | at | |
Los Angeles Angels at Chicago White Sox
Monday: Garrett Richards (8-2) vs. Hector Noesi (2-5)
Tuesday: Jered Weaver (8-6) vs. Scott Carroll (2-4)
Wednesday: Matt Shoemaker (5-2) vs. John Danks (7-6)

The Angels took a six-game winning streak into a weekend tilt with the Royals. They lost two of three, but the two losses were close and overall the team is still playing pretty well. The White Sox are a bit opposite here, as they went through a stretch where they lost 14 of 19, but just took three straight in Toronto.
Still, the Angels should get this one, especially in avoiding Chris Sale while starting Richards and Weaver.
| | | |
| --- | --- | --- |
| | at | |
Tampa Bay Rays at New York Yankees
Monday: Chris Archer (4-5) vs. David Phelps (3-4)
Tuesday: David Price (6-7) vs. Hiroki Kuroda (5-5)
Wednesday: Jake Odorizzi (3-7) vs. Vidal Nuno (2-4)

The Rays have the worst record in the AL, but they've actually won four of five and are 11-7 since their low point of 18 games below .500. Given that Price counters Kuroda and Masahiro Tanaka isn't throwing this series, it wouldn't be a stretch to see the Rays take this one.
The Yankees enter the week just two games behind the Blue Jays in the AL East, but they also trail four teams in the wild-card race. They've lost six of their past eight.
| | | |
| --- | --- | --- |
| | at | |
Seattle Mariners at Houston Astros
Monday: Taijuan Walker (0-0) vs. Collin McHugh (4-6)
Tuesday: Hisashi Iwakuma (5-4) vs. Jarred Cosart (8-5)
Wednesday: Chris Young (7-4) vs. Brad Peacock (2-4)

The Mariners continue to establish themselves as a legitimate player, sitting in the second wild-card spot (in a virtual tie with the Angels for the top spot) and six games over .500. The Astros aren't the pushover they used to be, however, and these two teams have split 10 games so far this season.
Walker's season debut is pretty exciting and the Iwakuma-Cosart matchup is sneaky awesome.
Something to watch: Jose Altuve would become the first player in MLB history with five straight games with at least two stolen bases if he can pull it off Monday.
| | | |
| --- | --- | --- |
| | at | |
Cincinnati Reds at San Diego Padres
Monday: Mat Latos (1-0) vs. Jesse Hahn (3-1)
Tuesday: Mike Leake (6-6) vs. Ian Kennedy (5-9)
Wednesday: Johnny Cueto (8-5) vs. Tyson Ross (6-8)

Right off the bat, we get Latos against his former team. This will mark the third straight season that he has squared off against his former teammates in Petco Park. The previous two times show a 1.38 ERA in 13 innings of work. His counterpart Monday, rookie Jesse Hahn, has been great so far this season, but the Reds have been pretty great themselves of late.
After sweeping the Giants in four games in AT&T Park, the Reds have now won 14 of 18 and have moved into a tie for the second NL wild-card spot. Given the difference in talent levels overall between these two ballclubs, this should be a series victory for the Reds.
| | | |
| --- | --- | --- |
| | at | |
Kansas City Royals at Minnesota Twins
Monday: Danny Duffy (4-7) vs. Yohan Pino (0-1)
Tuesday: James Shields (8-3) vs. Ricky Nolasco (4-6)
Wednesday: Jason Vargas (7-3) vs. Kevin Correia (4-9)

The Twins have lost five of six and are starting to fade from the periphery of contention. The Royals on the other hand, are right in it, just 3½ games back of the mighty Tigers in the AL Central and 1½ games behind the Mariners for the second wild-card spot. Having just taken two of three from the Angels, the Royals proved they are more than capable of taking down a good, hot team. But they won't have to deal with that here. The Tuesday and Wednesday pitching matchups heavily favor KC, too.

| | | |
| --- | --- | --- |
| | at | |
Chicago Cubs at Boston Red Sox
Monday: Jake Arrieta (4-1) vs. Jake Peavy (1-6)
Tuesday: Edwin Jackson (5-8) vs. Clay Buchholz (3-4)
Wednesday: Travis Wood (7-6) vs. Brandon Workman (1-1)

HOLY COW IT'S THE THEO EPSTEIN BOWL.
It's also a matchup between two teams that simply aren't very good this year. At least not yet, as it's always possible the Red Sox flip some sort of switch -- and, really, the AL East is bad enough that they could still win it. In fact, after having won three of four, they are only six games out.
The Cubs, meanwhile, actually have a winning record in the past seven weeks. That doesn't mean they're good -- and they're about to get worse in front of the trade deadline -- but they aren't awful. If you haven't had the chance yet, check out Arrieta on Monday. He has been unbelievable this season.
| | | |
| --- | --- | --- |
| | at | |
Arizona Diamondbacks at Pittsburgh Pirates
Tuesday: Wade Miley (3-6) vs. Jeff Locke (1-1)
Wednesday: Chase Anderson (5-3) vs. Charlie Morton (4-9)
Thursday: Brandon McCarthy (2-10) vs. Vance Worley (2-0)

The Pirates have won seven of their past nine and are right on the cusp of contention. They've done their recent work against bad teams, but those games count the same. Just as these will against probably the worst team in the NL.
| | | |
| --- | --- | --- |
| | at | |
Philadelphia Phillies at Miami Marlins
Tuesday: A.J. Burnett (5-7) vs. Henderson Alvarez (5-3)
Wednesday: Cole Hamels (2-4) vs. Tom Koehler (5-6)
Thursday: Kyle Kendrick (3-8) vs. TBD

The Phillies have lost eight of their past 10 games and sit 10 games under .500. The Marlins (formerly the "Upstart Marlins") have lost 13 of their past 18 and are now four games under .500.
Or, more simply: Both of these teams suck right now. And they just split a four-game series last week. Did we really need a sequel so quickly?