Report: City representatives expected to reject A's new 10-year lease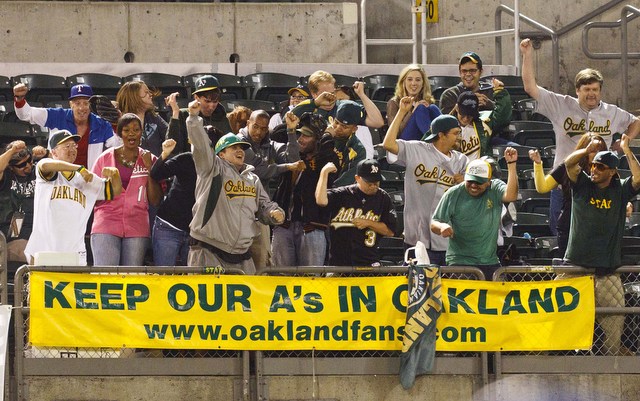 More MLB: Power Rankings | Expert Picks | Latest news & notes | Fantasy news
According to Carolyn Jones and Susan Slusser of the San Francisco Chronicle, city officials on the Oakland-Alameda County Coliseum Authority are expected to reject a proposed 10-year lease deal that would keep the Athletics in the O.co Coliseum. The rejection would kill the deal completely.
Here's more from Jones and Slusser:
The Oakland City Council is opposed to the deal, saying it's not beneficial enough to the city, and has instructed two of its members - Rebecca Kaplan and Larry Reid - to present the Coliseum board on Thursday with a new proposal. Kaplan and Reid serve on the Coliseum board, which is made up of eight members - four each from the city and county.

"The council directed us to vote against it," Reid said. "This process has been extremely frustrating for me. I just hope Major League Baseball and the A's can have a little more patience with this council."

The city wants to see the A's annual lease payments increase over the course of the 10-year term, not decrease, as proposed. The Coliseum board agreed to the decrease - from $1.75 million to $1.25 million - as an incentive to keep the team through the duration of the lease. The team has been trying to leave Oakland for at least a decade, complaining of the aging Coliseum.
Lew Wolff, the team's co-owner, said he would not consider a revised agreement. "We believe in our dealings with the JPA. We are 100 percent finished," he said. "We have a 14-month negotiation finished and approved by Major League Baseball and the JPA. If someone wants to do something else, we have no interest in that."
The A's and MLB reached an agreement on the new 10-year lease last week. The city runs the risk of losing the team entirely if they nix the deal, though the Athletics have had a very hard time putting together a relocation deal.
The A's will have to remain in Oakland until their current lease expires in 18 months if the proposed deal falls through. They are free to leave after that.