Why I'd choose Dee Gordon and Billy Hamilton to NL All-Star team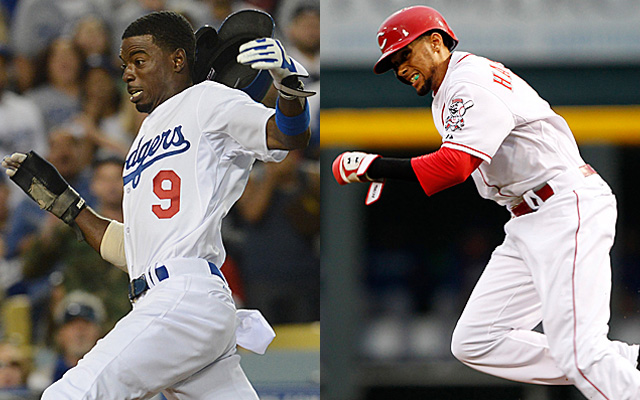 More MLB: Power Rankings | Expert Picks | Latest news & notes | Fantasy news
The rosters for both the American League and National League for the 2014 All-Star Game will be revealed Sunday night. Billy Hamilton of the Reds won't be on the NL team and Dodgers second baseman Dee Gordon probably won't, either.
If I were NL (Cardinals) manager Mike Matheny, though, I'd select at least one of them, if not both.
First things first, let me clarify something. I'm not saying that both of these guys' all-around games merits a selection as one of the best players in the league to this point. A decent case could be made for Gordon vs. the rest of the NL second basemen, but I'm not even worried about that. Frankly, I don't care if they "deserve" it.
I'd take these guys purely for their speed. Gordon enters Friday with an MLB-best 40 stolen bases while Hamilton has 35 of his own.
Look, I don't think the All-Star Game should determine home-field advantage in the World Series, but if I'm manager for the NL, that decision has already been made. Now I'm tasked with making decisions that can help my team win the game. The NL roster is going to be filled with plenty of capable hitters and pitchers. I would also want at least one and maybe two speed demons that could be the difference late in the game. With the league being so heavily tilted toward pitching these days, we could well see a low-scoring, one-run game.
Take last season's Midsummer Classic. It was scoreless through three innings and a 2-0 AL lead heading into the eighth inning. The AL would win, 3-0, but what if it's 2-1 AL heading into the ninth inning this season and the NL gets the leadoff man on base.
I'd be pinch running with either Hamilton or Gordon, that's what. That forces the pitcher and catcher to significantly divide their attention between the batter and the huge threat on the basepaths. Even if he doesn't steal, that's already a plus for the offense. If a second runner gets on, now the two fastest players in the league represent the tying and go-ahead runs.
This works if it's a two-run deficit, if the game is tied or if the NL is seeking an insurance run or two. If I end up not needing them, that's OK, too. Several guys each season don't get into the game.
This idea is sure to be met with some venom, especially the mention of Hamilton. The rookie speedster definitely isn't bad, hitting .279/.309/.400, but there are a lot more "deserving" outfielders. I get that, but I also don't care about that if I'm managing to potentially have four home games without a DH in late October as opposed to four road games with a DH. If it ends up hurting someone's feelings, I don't care. This is a business and I'd be trying to set up my team for the best chance to win.
As for why I'm only focusing on the National League, well, only Jose Altuve has more than 25 stolen bases this season in the AL and it would be a travesty if he wasn't named to the team for his all-around play, regardless of the steals.
The general point, though, could also apply to AL (Red Sox) manager John Farrell. What if there's a particularly awesome defender who can't hit? Like, say, Brendan Ryan in his prime. Yes, I'd select him with the thought of using him in the eighth and ninth innings as a defensive replacement in a close game. Andrelton Simmons for the NL? Absolutely. Lefty-specialist relievers? Of course. It's an exhibition game, sure, but Bud Selig has decided that it "means something," so I'd be ready to make roster selections that would create a well-rounded team.
Anyway, I doubt Matheny or Farrell will take this route and will instead stock a roster full of studs who he believes are most deserving. There's definitely nothing wrong with that. I'm just trying to suggest the managers in this game try to find every single little advantage they could.
As a silver lining, maybe if the managers started doing this and it angered enough people, we'd get rid of the stupid World Series home-field stipulation. Win-win, right?