Things are still not going well for 2013 top pick Mark Appel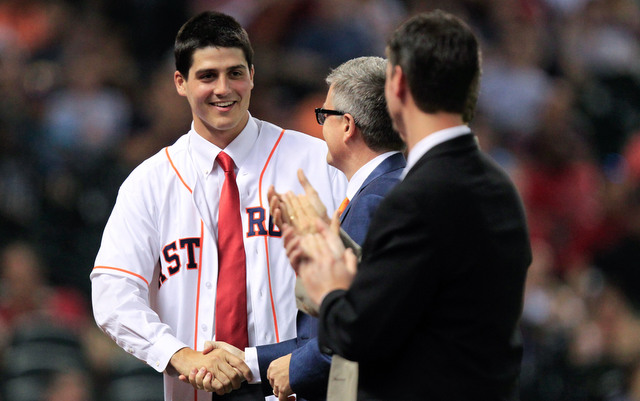 More MLB: Power Rankings | Expert Picks | Latest news & notes | Fantasy news
The Astros have been the worst team in baseball for three years running now, and the silver lining to being the worst team in the sport is high draft picks. Houston picked first overall every year from 2012-14, and those picks helped them build one of the game's top farm systems.
Last summer, the Astros used the top overall selection to take Stanford senior right-hander Mark Appel, who was considered a polished college pitcher who should climb the minor league ladder quickly. It wasn't out of the question that he could reach MLB within 12-14 months of the draft.
Instead, the 22-year-old Appel currently owns a career 6.63 ERA and 1.57 WHIP in 74 2/3 minor league innings, all at the Single-A level. This season he has a 9.57 ERA in 10 starts and 36 2/3 innings. Here is his gamelog, so you can see the carnage for yourself:
That April 10 starts is pretty solid. Everything after that though? Yikes. Thursday's start was a disaster but only Appel's second worst start of the season.
Now, to be fair, Appel battled thumb tendinitis earlier this year and the High Class-A California League is a brutal pitching environment. He also had to adjust to the team's unique tandem starter system, in which they use two "starters" per game for 4-5 innings each every fourth (rather than fifth) day.
Still, the truly awful start to Appel's pro career has to be at least somewhat discouraging to the Astros. How could it not? Did they mis-evaluate him? Force a round peg into a square hole with the tandem starter system? Is the coaching staff to blame? Something is very wrong here. Someone with Appel's stuff and pedigree should not be getting knocked around in Single-A.
The Astros used the top pick in the 2012 draft on high school shortstop Carlos Correa, who has since blossomed into one of the best prospects in the game. He broke his fibula sliding into a base last month and will miss the rest of the year. The top pick in the 2014 draft was high school southpaw Brady Aiken, who, as Jon Heyman of CBSSports.com reported, has an issue with his elbow ligament.
As of right now, things are not going well for the Astros and their three most recent first overall picks. Correa was hurt on a fluke play but is hurt nonetheless. Appel can't get Single-A hitters out. Aiken has yet to sign and is dealing with an elbow problem. Getting high draft picks is a great way to build a farm system and thus an MLB roster, but they still carry a ton of risk.