Utility man extraordinaire Josh Harrison an unlikely All-Star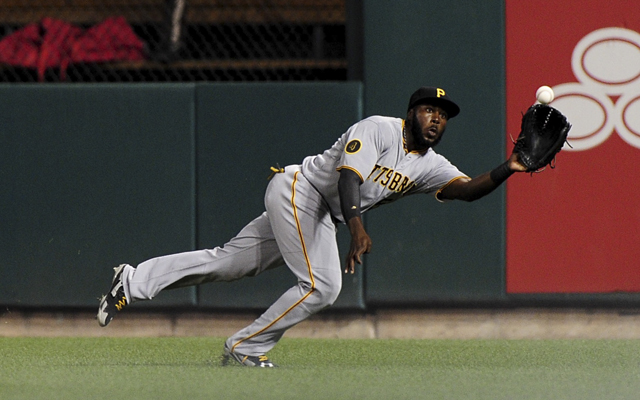 All-Star Game: Starting lineups | AL, NL rosters | Cespedes wins HR Derby
MINNEAPOLIS -- There are many unlikely All-Stars, but few can match the unlikeliness of Pirates utility man Josh Harrison.
Consider that Harrison didn't even start a game until April 20, the Pirates' 19th game of the season. He didn't start back-to-back games until May 3-4 and wasn't really an everyday starter until the middle of May.
Also consider that most All-Stars have a defined position. Some might be able to handle a second one, too, especially if we're talking about moving between outfield positions or someone playing first base on the side of his primary position. Harrison, though, has appeared in 26 games in right field, 19 at third base, 15 in left field, 14 at second base and two at shortstop. Basically, if someone gets hurt, the Pirates know who is going to take that guy's spot in the field.
And now, Harrison is an All-Star. He comes in a very well-rounded player, providing plus-defense at several positions, good gap power and some wizardry on the bases.
Really, it's one of the better stories here in Minnesota, though Harrison himself doesn't necessarily view it that way.
"People might look at it like a great story, but I've just been going out and being persistent," said Harrison. "If there was anything my parents or my wife kept saying, it was 'Hey, you've still got a shot.' I just kept working hard and waiting to get an opportunity to play everyday."
And with that persistency, he's earned himself an everyday role on a playoff contender. Being an All-Star, Harrison insists, was never what drove him.
"It was never a goal like, 'I really need to make an All-Star team,'" Harrison said. "I just wanted to play. Thankfully I've been given the opportunity. I've just worked really hard and God's blessed me."
The hard work has more than paid off, both for Harrison and the Pirates. And given his broad skillset, consider him an X-factor for the National League on Tuesday.