Eye on Photos: Minnesota's beautiful Target Field
MINNEAPOLIS - With the 2014 All-Star Game taking place in Minnesota's beautiful Target Field, I figured it was fitting to give it the Eye on Photos treatment. So I walked around the stadium -- inside and out -- and took some pictures. For those who have never been here, it's a decent tour to see what it's like.
First, though, this deserves its own space. I walked up to approximately where I believe Giancarlo Stanton's 510-foot moonshot during the Home Run Derby landed. Here's the view: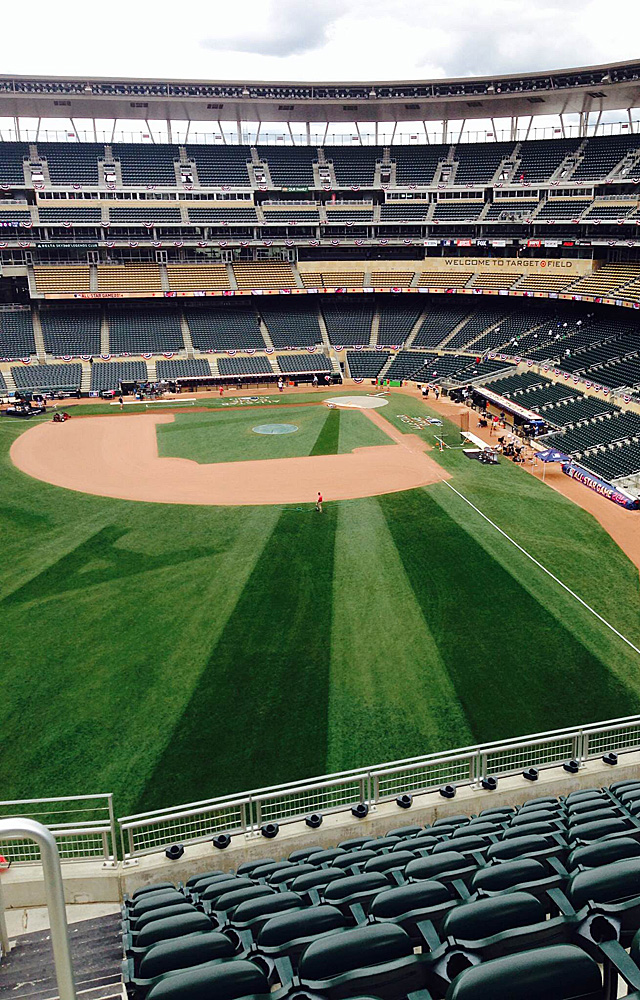 That was almost to the top of the stadium. Unreal power.
Anyway, the rest are below -- click on each individual picture to view a full-size version. These were all taken by myself on Tuesday, July 15.


| | |
| --- | --- |
| | |
| The famous (notorious) self-serve beer machine. I can attest it was quite popular Monday evening. | The back of the scoreboard, from the street. |
| | |
| --- | --- |
| | |
| Divisional championship banners line the outside. | Nice touch with the baseball card screens. It goes down the entire fence and traces all the way back to the early days of Twins baseball, including greats like Harmon Killebrew and Tony Oliva. |
| | |
| --- | --- |
| | |
| The Kent Hrbek World Series championship statue. | Great touch here with the list of hometown Twins. |
| | |
| For those unaware, the Target Center (home to the NBA's Timberwolves) is right next door. | Nice view from the center-field camera well. |
| | |
| --- | --- |
| | |
| Your instructions on the self-serve beer vendor. | The "Great Clips" section in right field has some excellent views. |
| | |
| --- | --- |
| | |
| One thing I really love is the old-school logo in center, to the right of the scoreboard. | The view from behind home plate, five hours until gametime. |