Colby Lewis is taking baseball's unwritten rules a little too far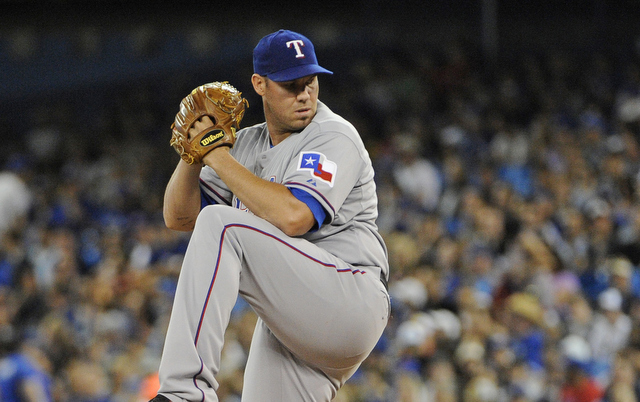 More MLB: Power Rankings | Expert Picks | Latest news & notes | Fantasy news
This has not been a banner year for baseball's unwritten rules. Manager Bo Porter and the Astros were upset at Jed Lowrie of the Athletics for bunting to beat the shift in a seven-run game back in April, and in May the Red Sox got into it with the Rays' Yunel Escobar for stealing a base while up five. I'm pretty sure Rangers righty Colby Lewis took the cake on Saturday though.
Let's set the scene: the Rangers were losing (again) 2-0 to the Blue Jays in the fifth inning when outfielder Colby Rasmus laid down a bunt to beat the infield shift with two outs and the bases empty. Lewis fielded the ball but Rasmus beat it out for an infield single. The next batter struck out, so the shift-beating bunt went for naught.
Lewis, however, was not happy with the play and accused Rasmus of being selfish. Here are his postgame comments, courtesy of MLB.com's Chris Tolman:
"I told [Rasmus] I didn't appreciate it," Lewis said. "You're up by two runs with two outs and you lay down a bunt. I don't think that's the way the game should be played."

...

"I felt like you have a situation where there is two outs, you're up two runs, you have gotten a hit earlier in the game off me, we are playing the shift, and he laid down a bunt basically simply for average," Lewis said.

The bunt itself wasn't the only thing that bothered Lewis, who threw five innings of two-run ball, falling to 6-7 on the season. Lewis felt that if Rasmus was going to bunt in that situation, he should have been taking off for second once he reached base.

"[Rasmus] didn't steal within the first two pitches to put himself in scoring position," Lewis said. "That tells me he is solely looking out for himself, and looking out for batting average. And I didn't appreciate it."
Rasmus responded to Lewis by saying: "I was just trying to help my team and he didn't like that -- so sorry about it. I'm not here to try to please the other side, I'm here to help my team, and I had an opportunity where I could and I took advantage of it."
Okay, so this is beyond silly. It's the fifth inning of a two-run game. At least the Astros complained Lowrie bunted to beat the shift with a seven-run lead, I can kind of understand being upset about that. But a two-run lead in the fifth? Get out of here. There's nothing wrong with what Rasmus did at all.
This sounds like nothing more than a struggling pitcher -- Lewis allowed just the two runs in five innings and now has a 6.37 ERA on the season -- on a terrible team venting some frustration. Unfortunately all he accomplished was sounding like a total whiner.