MLB Weekday Watch List: The muddled National League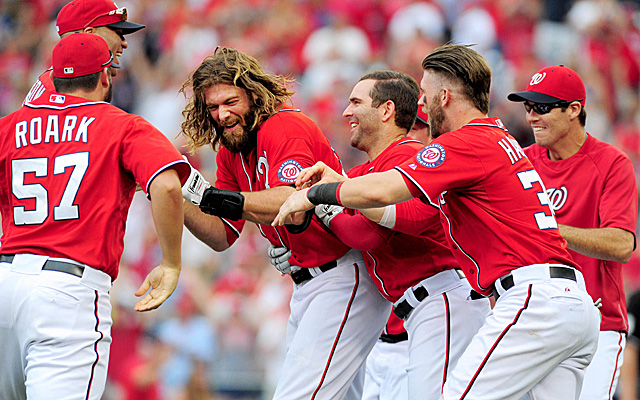 More MLB: Power Rankings | Expert Picks | Latest news & notes | Fantasy news
Our first full week of action after the All-Star break brings us some pretty incredible standings-watching in the National League. Let's check that out, among other things, in our Weekday Watch List.
1. The National League
There's a pretty distinct divide in the NL. Though the Mets and Marlins aren't yet far enough out of contention to be considered done for the year, it looks pretty clear that the five playoff teams are going to come from this eight: Nationals, Giants, Braves, Dodgers, Cardinals, Brewers, Pirates and Reds.
Those eight teams are right now separated by just three games. That is, the Reds are sitting with the eighth-best record in the NL, but it's entirely possible that they could have the best record a week from now.
At the top? The Nationals actually have the best record (.552 winning percentage), but are in a virtual tie with the Giants (.551), Braves (.551) and Dodgers (.550). Sitting a half-game back? The Brewers and Cardinals. The Pirates are two back and the Reds three.
Two big series from this group take place during the week, with the Dodgers visiting Pittsburgh for three games and the Brewers hosting the Reds for three.
The other teams have what could be considered at least relatively easy matchups: Nationals at Rockies for three, Giants at Phillies for four, Marlins at Braves for four and Rays at Cardinals for just two.
Could things get even closer? It's doubtful, but you never know. The odds of four teams tied at the top right now are pretty low.
2. Creeping closer in the AL East
At this point, can anyone in the AL East really justify selling? I know the Red Sox and Rays haven't looked real good, but each is only 7½ games out and riding a winning streak (the Rays a five-gamer, the Red Sox four). After a three-game sweep of the Reds, the highly flawed and banged-up Yankees are only three out -- as are the highly flawed and banged-up Blue Jays. The Orioles are still in first, but they face a three-game series against the Angels in Anaheim this week.
Meanwhile, the Yankees host the worst team in baseball, the Rangers, for four games while the Red Sox visit Toronto for four.
This thing is far from settled and ordering the teams 1-5 for a correctly predicted finish would be a tall task.
3. Indians time?
After grabbing the top wild-card spot in the AL last season, the Indians haven't been more than three games over .500 all year, but they are 50-48 right now and are coming off a series in which they took three of four from the Tigers. This week, they get a three-gamer against the reeling Twins. The Indians are only two games out of the second AL wild card, too. Is this their time for a run toward the spot?