Trade deadline needs: NL West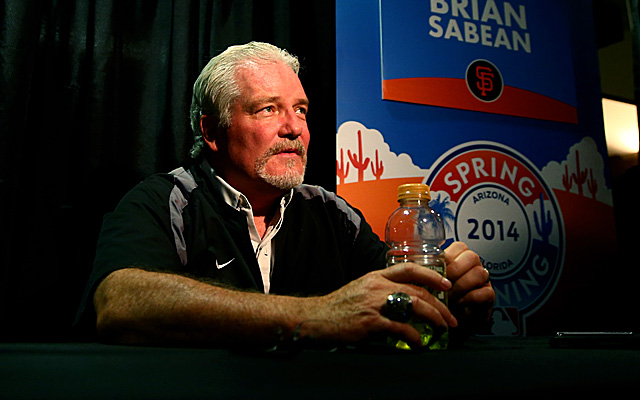 More: NL Central | AL Central
With the July 31 non-waiver trade deadline just around the bend, let's take a quick tour of each of baseball's six divisions and examine what the teams of each division need as said deadline approaches. Up now is the exceptionally divided NL West, with three clear-cut sellers and two very clear buyers ...
We know they're in this thing to win it and in all likelihood they'll be playing meaningful games in the last week of September. Probably in October, too. So they might need some reinforcements. We also know they probably can't add much, if any, money to the books.
Shoring up the bullpen never hurt anything, but Jonathan Papelbon (just an example) is probably too expensive. They'll probably instead have to limit their scope to cheaper, non-closing options like James Russell of the Cubs.
Depth at second base and in the outfield (with Mike Morse playing first base when Brandon Belt is injured) is needed, too. Sticking with the Cubs, Emilio Bonifacio could actually fill both needs, as he's versatile enough. He'd be fine spot starting or coming off the bench and feels like a great fit.
And, of course, there's the injury to Matt Cain. No one seems to know how long he'll be out and the Giants can't really afford to stick with Yusmeiro Petit the rest of the way in the rotation, at least not as long as they plan to fend off the Dodgers. I actually think two NL West options work best here, too, in Ian Kennedy and Jorge De La Rosa. If that doesn't work, what about bringing Jake Peavy back to the NL West? He's been bad this year, but an AL East to NL West move could help turn things around for him. In fact, I think that would be a great fit if the Giants can come to an agreement with the Red Sox.
They are also obvious buyers. In fact, the Dodgers entered the season with expectations to win the World Series and anything short of that would be a disappointment. So they'll go for it.
Of course, what is funny is that they could also trade away a big name, due to their outfield logjam. If they can find any takers, they have enough money to just deal Matt Kemp and eat most of the money. Might as well just rip that band-aid off and move on. The return is irrelevant because they already have four able-bodied outfielders and Joc Pedersen is clearly being blocked in Triple-A (and he's the CF of the future, with the Dodgers not presently even having a CF).
Also, the bullpen can be shaky and the Dodgers don't mind making the huge play for a big name. So go get Papelbon. I love the fit and I think the Phillies and Dodgers could find a way to match up both on the return (probably not huge) and the money (Dodgers taking on most of what's left, since the return wouldn't be big).
As far as the rotation, Dan Haren is fading and Josh Beckett's always going to be an injury risk. It definitely wouldn't hurt to grab another arm -- even if they aren't going to be able to pry David Price from the Rays.
One would think they would have hired a new general manager before the firesale, but they still haven't. And they've already traded Huston Street and Chase Headley.
Whoever the Padres hire as GM, it's obvious there's at least a minor rebuild to be done here. Yes, injuries played a major role in the disappointing season, but several veterans could be moved. With the returns we've seen for Street and Joakim Soria, Joaquin Benoit makes sense as a trade candidate to a contender and he's got plenty of postseason pedigree, too. If anyone will give the Padres anything for Carlos Quentin, they should pull the trigger and move on.
How about Ian Kennedy? With the Cubs having already dealt Jeff Samardzija and the likes of Jon Lester, David Price and James Shields probably staying put, an argument could be made that Kennedy is the most attractive starting pitcher on the market. He's under team control for one more year, too. It's worth at least listening to offers with the possibility to getting a sizeable return for the 29 year old.
They've had injuries, but this is a fatally flawed roster. They seem reluctant to trade Martin Prado and Wade Miley, but this team isn't too close to competing with the likes of the Giants and Dodgers, so they should revamp the foundation with an emphasis on better pitching. Obviously, Paul Goldschmidt is the centerpiece of the roster and I have no issue with holding onto Miguel Montero for veteran leadership. Younger players like Chris Owings and A.J. Pollock have promise, too.
But the following guys would be easy trade pieces for me: Prado, Miley, Aaron Hill, Mark Trumbo, Brad Ziegler, Oliver Perez and even Addison Reed. Not that Reed is old, but because closers are generally overrated and land a bigger return than they're worth.
Instead, they'll probably only trade Hill and continue to waste the prime of Goldschmidt.
Jorge De La Rosa is set to be a free agent after the season and the Rockies could probably get something decent in return. He's left handed and has a quality track record. They've apparently gotten some nibbles on Drew Stubbs, so trade him. Why not? He's 29 and having a career year in Coors Field. Sell high. Speaking of which, 41-year-old LaTroy Hawkins can't have much left in the tank, so if he brings anything back in return, the Rockies should jump on that, too.
With Michael Cuddyer injured, so he's not going anywhere.
Anyone else? Hmm ...
Oh, that's right. What about MVP candidate Troy Tulowitzki? Yes, he's on the DL now, but he's Troy freaking Tulowitzki and the injury isn't serious. The Rockies fixture is going to be turning 30 in October and is signed for big money through 2020. I can't see them trading him and I don't think I would, either, but it's at least worth discussing, isn't it? What if he brought back a return similar to what Mark Teixeira brought the Rangers in 2007 (Elvis Andrus, Jarrod Saltalamacchia, Neftali Feliz, Matt Harrison)? I don't think that would ever happen again, but you never know if you don't ask. I think it's worth the Rockies to quietly feel out the rest of baseball and see what they could get back. They can always say no.