Trade deadline needs: AL West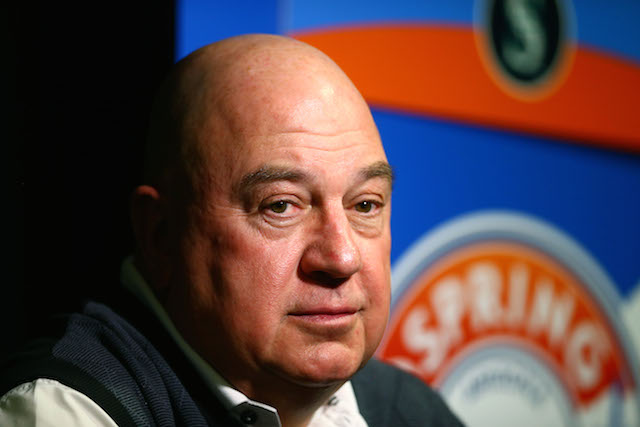 More: NL Central | AL Central | NL West
With the July 31 non-waiver trade deadline just around the bend, we've been taking quick tours of each of baseball's six divisions and examining what the teams of each division need as said deadline approaches. Up now is the powerhouse AL West ...
The A's are the best team in baseball, have an incredibly deep and balanced roster and earlier this month greatly buttressed the rotation by dealing for Jeff Samardzija and Jason Hammel. Other than execute and live up to expectations, there's not much left to be done. The rotation and bullpen have depth, and they lead the AL in runs scored despite the run-suppressing nature of their home ballpark. You could argue that GM Billy Beane should add some middle infield depth before Thursday's deadline, but the eventual return of Albert Callaspo from the DL should help matters. Their work is largely done. Their work off the field, anyway.
The Angels, the second-best team in baseball right now, have had bullpen issues for much of year, but GM Jerry DiPoto has addressed that problem directly by adding Huston Street and Joe Thatcher to the fold and prior to that making a change-of-scenery play for Jason Grilli. That's ample improvement and turnover.
There would seem to an opportunity for upgrade at third base, but David Freese has been methodically trending upward with the bat since his brutally slow start to the season. Still, a lefty platoon partner for Freese would help matters.
The Angels' base of tradable young talent is too thin to pull off any blockbusters, but a move for mid-level rotation depth (an Ian Kennedy type, for instance) is a reasonable goal. DiPoto, though, sounds ready to move forward with the staff as presently assembled.
As they intended, the Mariners are relevant -- squarely in the crowded fray for the second AL wild card berth. Provided Corey Hart and the newly acquired Kendrys Morales slough off their rust, they should form a workable DH platoon the rest of the way. So there's that.
Elsewhere, the M's have been linked to a number of starting pitchers on the block, but I don't see that as a glaring need. The depth is solid enough, and they obviously have a playoff-caliber front end. If a game-changer like David Price is within reach, then, yes, obviously he moves the needle for Seattle. A play for just another mid-grade arm, though, seems unnecessary.
Absent Price, what the Mariners need is another bat. The outfield is an obvious spot to upgrade, and it's a genuine weak point. The M's have been linked to Drew Stubbs, but let's just say that's an uninspiring hypothetical. Matt Kemp (another recent semi-plausible rumor)? That's more intriguing in terms of performance upside, but obviously you're assuming a lot of risk there.
The larger point is that whether it's in the outfield at short or at first, Jack Zduriencik should be angling for a true impact bat and not any kind of half-measure type.
The Rangers were supposed to contend once again in 2014, but an almost unthinkable run of injuries scuttled those assumptions. I'm not bullish on the Rangers in 2015, in that you have to assume that a lot of these recently unhealthy contributors will be both healthy and effective next season in order to take Texas seriously.
However, I'm not sure Jon Daniels and company are at the "complete teardown" stage yet. This is one of those rare teams for which doing nothing at the deadline is acceptable. An awareness of where you are on the contention cycle is essential for a front office, but the Rangers right now find themselves in a nebulous middle ground. Let's prescribe a "wait and see" approach to rebuilding. If the first half of 2015 proves similarly unfortunate, then next year's deadline will be the time to start strip-mining the roster. Right now, look to pawn off parts that won't matter to you next year.
After an utterly disastrous June draft, the Astros should move forward with, yes, their ongoing deep rebuild. They're reportedly not inclined toward moving any young-ish starting pitchers, and that's wise. However, the 'Stros should be looking to pawn off any relievers of interest to contenders.
Catcher Jason Castro? He's struggling this season, so doing anything now would be selling low. He's headed for his second year of arbitration, but that's an investment the Astros should be able to handle. In retrospect, this past winter was probably the time to move him.