MLB trade deadline rumors, news and injury roundup for July 28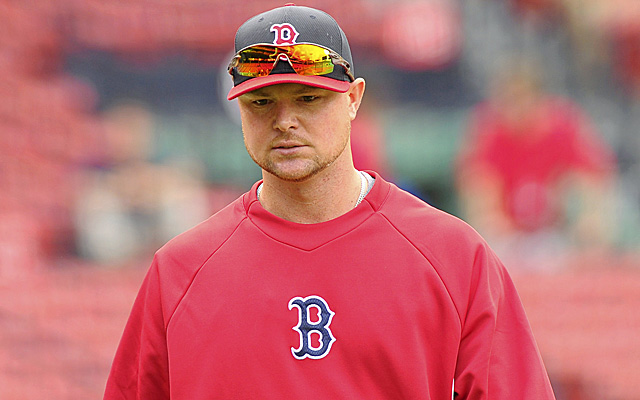 More MLB: Power Rankings | Expert Picks | Latest news & notes | Fantasy news
We're almost two days away from the non-waiver trade deadline and the rumor mill is churning as much as one would imagine. Let's get to the nightly roundup (remember to click through on provided links for the full story, when applicable).
ROSTER MOVES
Athletics: Craig Gentry was placed on the DL with a broken hand and appropriately-named Billy Burns was called up from the minors to take his place.
Blue Jays/Royals: The two clubs got together for a three-player trade, with Danny Valencia heading to Toronto while Eric Kratz and Liam Hendriks go to KC.
Dodgers/Cubs: Darwin Barney was traded to LA.
Padres: Jedd Gyorko was activated from the DL while Carlos Quentin was placed on it.
Rays: Joel Peralta was activated off the DL while Erik Bedard was designated for assignment.
Yankees: Zolio Almonte was recalled and Jeff Francis was designated for assignment.
REPORTS, RUMORS and SPECULATION
Rusney Castillo: The Cuban import will have private workouts with the Red Sox, Phillies and Yankees, according to Baseball America. The Orioles are also getting in on the action, reports Roch Kubatko.
Cubs: Jake Arrieta will not be traded, reports David Kaplan. In fact, only expect minor deals with the Cubs, reports Jon Heyman of CBSSports.com.
Indians: They are reportedly very willing to part with Justin Masterson in a deal.
Mariners: Fox Sports has up a lengthly and detailed report on general manager Jack Zduriencik being widely perceived as the most difficult GM to deal with, per other GMs.
Marlins: The club might go after a young starting pitcher under team control, reports the Miami Herald. Tommy Milone, Wade Miley and Ian Kennedy are mentioned.
Mets: Minor-league starter Noah Synergaard won't be included in trade talks, reports David Lennon of Newsday. There's also "absolutely nothing" going on in possible Bartolo Colon trade talks, reports Andy Martino of the New York Daily News.
Padres: They are discussing a Chris Denorfia trade with the Mariners and Braves, according to Joel Sherman of the New York Post.
Phillies: Cole Hamels is being discussed in trade talk, but the Phillies are asking for "the world" in return, reports Heyman. Also, Cliff Lee is unlikely to be traded before the non-waiver deadline, reports philly.com.
Red Sox: They are listening to trade offers for Jon Lester, but not Koji Uehara, Heyman reports. Ken Rosenthal of Fox Sports reports that the Mariners have called on Lester. Rosenthal also reports that the Red Sox are willing to move both Lester and John Lackey.
Alfonso Soriano: The slugger is thinking of possibly returning next season, per Heyman.
Troy Tulowitzki: His trip to the Bronx on Sunday was innocent, but he wouldn't mind being a Yankee, reports Heyman.
Twins: No Kurt Suzuki extension is going to get done before the trade deadline, reports Darren Wolfson of ESPN 1500 in Minnesota.
INJURY UPDATES
Blue Jays: Of the injured trio of Edwin Encarnacion, Adam Lind and Brett Lawrie, Lind is the closest to a return (BlueJays.com). Also, when Brandon Morrow returns this season, it'll be as a reliever (BlueJays.com).
Braves: Jason Heyward left Monday's game due to lower back soreness and is considered day to day (ajc.com).
Cubs: Kyuji Fujikawa is getting close to returning to the big leagues as he recovers from Tommy John surgery (Cubs.com).
Giants: Brandon Belt passed his concussion test and will begin working out soon (Andrew Baggarly on Twitter).
Mets: Daisuke Matsuzaka is progressing as he looks to return from an elbow injury (Mets.com).
Nationals: Jayson Werth sprained his ankle and is listed as day to day (William Ladson via Twitter).
Pirates: Gerrit Cole made a rehab start, and he looked great.
Yankees: Mark Teixeira plans to return to the lineup Tuesday (Bombers Beat).
MISCELLANY
Padres: Jason Lane made for the cool/fun story of the day.