MLB news, rumors and injury roundup for Aug. 9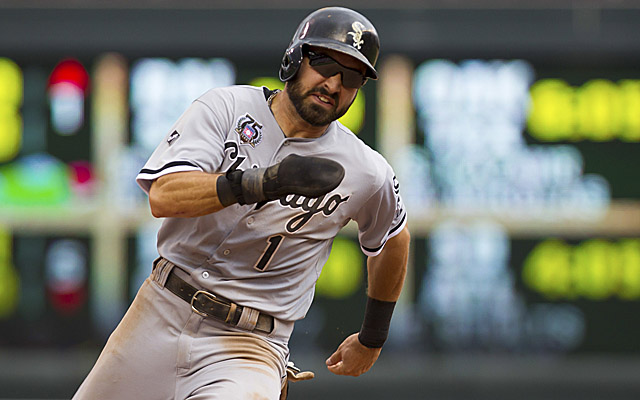 More MLB: Power Rankings | Expert Picks | Latest news & notes | Fantasy news
Not too many weeks left in the MLB season, eh? Let's hit up our nightly roundup, with the usual reminder to click through on the provided links for the full story.
ROSTER MOVES
Dodgers/Twins: Kevin Correia was traded to the Dodgers for a player to be named later and Tommy Milone was called up by the Twins as a corresponding move.
Orioles: They sent Miguel Gonzalez down to Triple-A to make room for Ubaldo Jimenez's return to the rotation.
Twins: Top pitching prospect Trevor May was activated for his major-league debut.
White Sox: Adam Eaton was placed on the 15-day disabled list with an oblique injury. Jordan Danks was recalled as a corresponding move.
Yankees: Brian McCann was placed on the seven-day disabled list and Austin Romine was recalled.
INJURY UPDATES
Astros: Jose Altuve missed Saturday's game due to a neck injury (Ultimate Astros). Dexter Fowler is real close to a return (astros.com). George Springer's return, though, is a "mystery" (astros.com).
Blue Jays: Both Adam Lind and Edwin Encarnacion are set to return to the lineup very soon.
Braves: Andrelton Simmons is likely to return Tuesday (braves.com).
Brewers: Matt Garza is expected to spend the minimum 15 days on the disabled list (brewers.com).
Dodgers: Hanley Ramirez is likely going to hit the DL.
Indians: David Murphy needs an MRI on his right side and Nick Swisher has a knee issue (ohio.com).
Nationals: Jayson Werth was a late scratch from the lineup due to a sore shoulder and ankle (nationals.com).
Padres: Andrew Cashner was great in his rehab game (utsandiego.com). His next start will come Wednesday in Triple-A (padres.com).
Rangers: Alex Rios is set to return to the lineup Sunday (texasrangers.com).
Rays: Wil Myers is beginning his rehab assignment (rays.com).
Red Sox: Allen Craig is ready to begin "baseball activities" (redsox.com).
Rockies: Lingering knee issues are bothering Carlos Gonzalez (rockies.com).
Tigers: Joakim Soria had to leave the game with a side injury.
Twins: Joe Mauer is set to return Monday from the DL (twinsbaseball.com).
Yankees: Mark Teixeira is hoping to avoid a stint on the DL (yankees.com). Michael Pineda is close to rejoining the rotation (yankees.com).
MISCELLANY
Rusney Castillo: The Yankees are ready to bid on him, per nypost.com. Now that Austin Jackson is gone, the Tigers could get in on it, too (Jason Beck).
Tigers: They are sticking with Joe Nathan at closer.
Yankees: Derek Jeter passed Honus Wagner for sixth on the all-time hits list.