NL Rookie of the Year Watch: Billy Hamilton leads weak class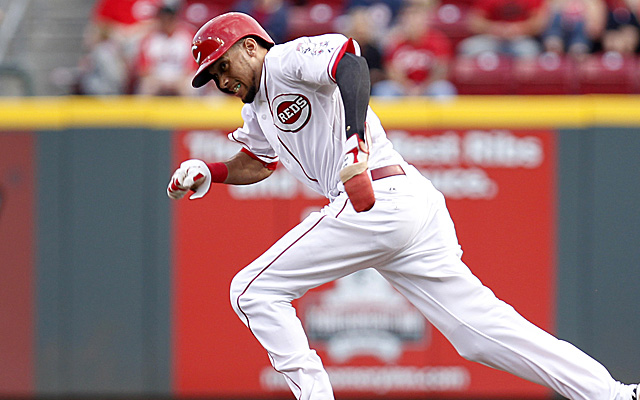 Awards Watch: AL MVP | NL MVP | AL Cy Young | NL Cy Young | AL ROY
As we've been doing through this week, let's check in on the major BBWAA awards and where they probably stand right now. In this edition, we'll examine a decidedly weak National League Rookie of the Year class.
Keep in mind, we're attempting to delve into the minds of the collective BBWAA voting body here. These aren't our picks, but instead judgment calls on how the vote would sort out right now based upon historical voting preferences.
[Players listed alphabetically within categories]
I'm not going to say "by default," because that denigrates the quality rookie season Hamilton is having. He does, however, benefit from either weak competition, injuries or other rookies not having logged nearly as much action.
On the season, Hamilton is hitting .263 (remember, that's roughly 15 points above average now) with 21 doubles, seven triples, six homers, 43 RBI, 60 runs and 44 stolen bases. He also has stellar range in center field and has made some highlight-reel plays.
He's 6-5 with a 2.87 ERA, 1.23 WHIP and 94 strikeouts in 100 1/3 innings this season overall, but he was really coming on strong. In his past nine starts, deGrom is 6-1 with a 1.82 ERA and 60 strikeouts in 59 1/3 innings.
The problem is it's already tough for a pitcher to win here, but deGrom has only logged 16 starts overall and is currently on the DL with a shoulder injury. He still has a shot, but it's fading.
A very promising all-around player, Polanco is hitting .269/.339/.388 with eight doubles, six homers, 28 RBI, 39 runs and 11 steals. He plays a corner outfield spot, so his defense isn't nearly as valuable as Hamilton's. He's definitely behind here, but I don't think Hamilton's lead is insurmountable.
He's 7-3 with a 2.52 ERA. That's pretty stout. Take the workload concerns mentioned above with deGrom and note that Hahn has only worked 64 1/3 innings (Kyle Hendricks fans, this applies to his 41 2/3 innings as well).
He's hitting .283 with a very good .364 on-base percentage, but he's lacking power (.358 SLG, one homer) and great speed (two steals). If he wants the voters to only go on batting average, it needs to be quite a bit higher.
He was shaping up to be Hamilton's chief competition, but a shoulder injury has had him sidelined since June 25. He'll be back in September, but will he have enough time and perform well enough? It seems doubtful.
David Peralta, Diamondbacks
He has an outstanding story of perseverence and some rather impressive numbers, but he has only appeared in 59 games. Given the head start Hamilton got and the fact that Polanco is playing on a contender and Peralta isn't, I think Peralta needs a serious surge to turn more heads nationally. He's one to watch, though, because he has had similar playing time to Polanco along with better offensive numbers.
Wong also has a shot to move up. He has only played in 76 games, but that's more than Polanco and Peralta. He's hitting .252/.292/.406 with nine homers and 17 stolen bases. He also plays quality defense up the middle. If I were handicapping this thing, I would say Hamilton is the favorite with Polanco, Wong and Peralta all having a shot.
---
As for Javier Baez, well, he has only played in nine games. He does have four homers in those nine games and the Cubs have 43 games left. If he kept up this pace, he would end with 23 homers. I don't think it will even come close to happening, obviously. With this weak field, though, what if it did? Hmm ...