Marlins' Mike Dunn, a reliever, already has 10 wins this season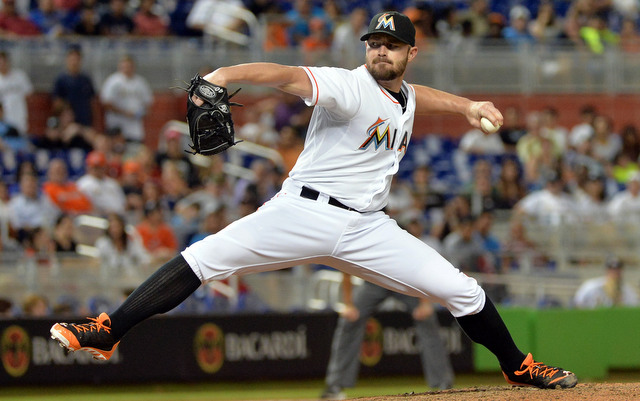 More MLB: Power Rankings | Expert Picks | Latest news & notes | Fantasy news
Thanks to a game-tying hit by Adeiny Hechavarria and a walk-off single by Marcell Ozuna, the Marlins beat the Diamondbacks in 10 innings in Thursday night's series opener (MIA 5, ARI 4).
The win went to lefty reliever Mike Dunn, who struck out three in two perfect innings There's nothing notable about a reliever grabbing a win in an extra innings game, except this was Dunn's 10th victory of the season. Tenth!
Dunn, 29, is now 10-5 on the season, giving him the same number of wins as Julio Teheran and more than Stephen Strasburg (nine), Tim Hudson (eight) and Matt Garza (seven), among others. His 15 decisions are more than Garza (14) and Cole Hamels (12), again among others.
How rare is it for a full-time reliever to win 10 games? Pretty rare. It has only happened seven other times since the turn of the century. Here's the list, courtesy of the Baseball-Reference.com Play Index:
Dunn still has another six weeks to rack up even more wins. The last full-time reliever to win more than 12 games in a season was Roger McDowell with the 1986 Mets. He went 14-9 with a 3.02 ERA that year, throwing 128 innings across 75 games. Obviously reliever usage has changed a lot since then.
Picking up wins as a reliever isn't so much about skill as it is about being in the right place at the right time. It helps to be effective -- Dunn has a 3.65 ERA and 10.6 K/9 in 44 1/3 innings this year -- so your manager keeps using you in close games, but that doesn't guarantee decisions anyway. This is just a fun little statistical quirk.
The Marlins, by the way, have 60 wins as a team this season. Dunn leads the team in wins with Henderson Alvarez and Tom Koehler tied for second with eight apiece.