Sports book lays odds on new commish reinstating Pete Rose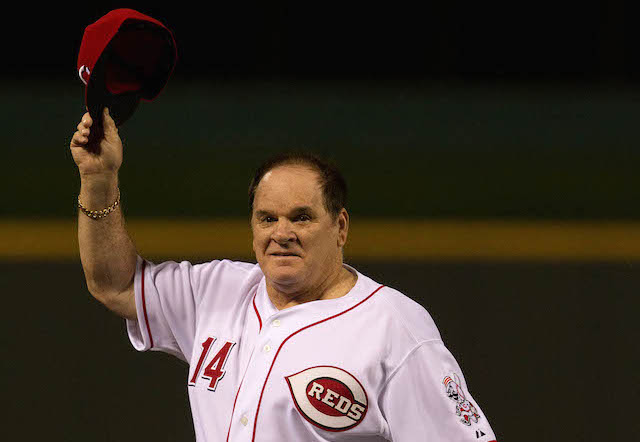 More MLB: Power Rankings | Expert Picks | Latest news & notes | Fantasy news
Via the most excellent C. Trent Rosecrans of the Cincinnati Enquirer comes one sports book's odds on what sweeping changes newly elected MLB commissioner Rob Manfred might make during his forthcoming tenure. Here's a look, courtesy of MyTopSportsBooks.com ...
Abolish chewing tobacco: 4/1

Pete Rose reinstated: 8/1

Labor Peace continues: 10/1

Instant Replay expanded: 20/1

Labor Peace Ends with Lockout: 25/1

More Playoff Teams Added: 25/1

Pitch Clock Instituted: 30/1

Teams are contracted: 40/1

Teams added in Mexico/Puerto Rico/etc.: 50/1

Labor Peace ends with Strike: 75/1

DH in both leagues: 80/1

No warm up pitches after entering from bullpen: 80/1

Salary Cap instituted: 80/1

No commercials during pitching changes: 100/1

Playoff teams taken away: 120/1

DH is abolished: 200/1

PED policy altered: 200/1

Season is shortened: 200/1

Ties established for the regular season: 200/1
Mostly, these look reasonable. A few, though, will never happen. To wit, contraction, a salary cap and no warm-up pitches for relievers won't come to pass, ever. I'd certainly re-order a few of them, as well. Thankfully, the above odds probably undersell the chances of getting some "pace of play" rules enforced or added, which is something that's badly needed (emphasis on "enforced."
The one that will get everyone talking, though, is the prospect of seeing all-time hits leader Pete Rose reinstated. Regardless of how you feel about that prospect, re-admitting Rose to baseball would certainly be a way for Manfred to establish his own identity as commissioner, especially after replacing a towering and powerful figure like Bud Selig.
And so the fans ask: Would Pete himself take those 8/1 odds?