Coco Crisp leaves game with neck injury after nearly robbing a homer
UPDATE: Crisp left the game with a neck strain, the team announced. It's the same injury that forced him to miss a few games earlier in the season.
* * *
Athletics center fielder Coco Crisp had to leave Friday's game against the Angels (GameTracker) with an injury after crashing into the outfield wall trying to rob a home run. He nearly made the play -- the ball was in his glove but fell out after he hit the wall.
Here's the play: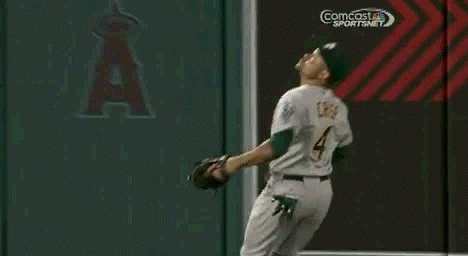 There's no word on what Crisp actually hurt on the play. It could be his shoulder, his ribs, or even his head given the way it snapped back when he hit the warning track. Crisp has missed time with neck and wrist problems this year.
In 102 games around injuries, the 34-year-old Crisp is hitting .255/.347/.399 (113 OPS+) with 20 doubles, nine home runs and 16 stolen bases this season. Losing him would be a significant blow to an A's team that has had trouble scoring runs in recent weeks.
The Athletics have not yet announced an update on Crisp's status. He did walk off the field under his own power and did not appear to be favoring any one specific part of his body.