Missed chances with bases loaded cost Dodgers in thriller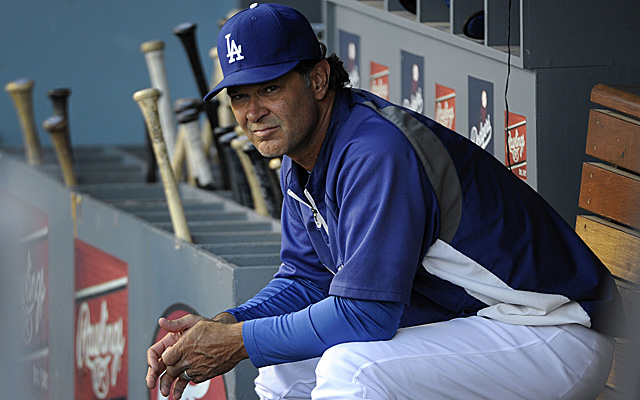 The Nationals just outlasted the Dodgers with an 8-5 victory in 14 innings. It was an unbelievable game, especially if you only started watching in the late innings (it was 0-0 until the bottom of the seventh).
One takeaway from the loser's dugout came with a familiar feel. The Dodgers had bases loaded, one out in the 10th and failed to score. They had the same situation in the 11th and again failed to score.
Dodgers fans will be quick to remind you here that this isn't surprising. Entering Wednesday's action (before the Dodgers went 0-for-4 with the bases loaded, mind you), look at these lines:
All MLB with bases loaded: .271/.304/.418
Dodgers with bases loaded: .179/.200/.221
No reason to sugarcoat things here: That is atrocious. Generally speaking, everyone should be a better hitter with the bases loaded because the batter has the upper hand over the pitcher.
Again, this is heading into Wednesday, the Dodgers had a .179 average with the bases loaded. The next worst was the Mets at .198. The .200 on-base percentage for the Dodgers was also the worst in the majors. Next? The Mets at .228. The .221 slugging percentage was, not surprisingly, dead last as well, with the Angels being next worst at .221.
Now, we know the Dodgers are a good team. They're in first place. Maybe it's a case of them having the bases loaded a lot? Nope. No team in baseball has scored fewer runs with the bases loaded than the Dodgers with 54 (they are middle of the pack in chances with the bases loaded).
It's actually pretty remarkable. If we remove the "bases loaded" caveat, the Dodgers entered Wednesday ranking fourth in the majors in average, third in on-base percentage and 13th in slugging percentage.
So what does all this mean moving forward? Honestly, probably very little. Grabbing a sampling of 109 plate apperances from a group of players doesn't really tell us all that much, aside from sequencing (for example: Good players getting on base followed by lesser players coming to bat) and haphazard coincidence. We've had the discussion of how zeroing in on something like "runners in scoring position with two outs" can tell a story of how we got here, it tells us absolutely nothing about what might happen in the future.
That is to say, the Dodgers have been awful with the bases loaded this season. This fact helps to at least somewhat explain why they rank third in OBP and 15th in runs scored in the majors. It does not, however, mean they are a bunch of mentally-weak players who all of a sudden get too scared to hit with the bases loaded, and, thus, will continue to be bad.