Rockies agree to two-year extension with Jorge De La Rosa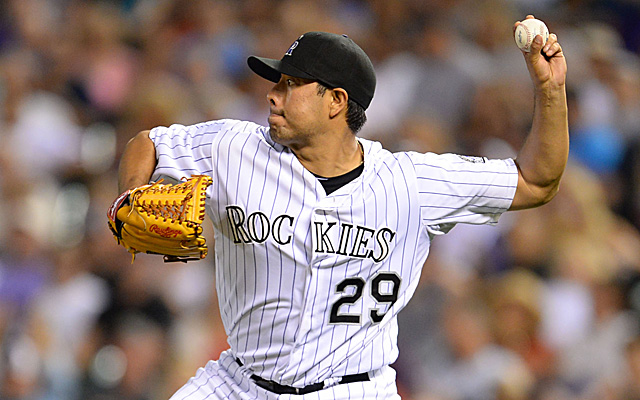 The Colorado Rockies have agreed to a two-year contract extension with starting pitcher Jorge De La Rosa, the club announced Wednesday evening, noting that it was "pending league approval." Multiple reports (Thomas Harding, Ken Rosenthal) indicate that the deal is for $25 million.
De La Rosa, 33, is 13-10 with a 4.26 ERA (100 ERA+), 1.24 WHIP and 119 strikeouts in 160 2/3 innings this season for Colorado. He brings great value to Colorado right now with his ability to pitch well in the incredibly hitter-friendly Coors Field, as he is 9-2 with a 3.19 ERA at home this season. Overall, the Rockies are 15-13 when he starts and 41-71 when he doesn't.
The signing takes De La Rosa out of the free agency class for this coming offseason. It's still rather crowded when it comes to starting pitchers, as the following will be available, among others: Max Scherzer, Jon Lester, James Shields, Ervin Santana, Francisco Liriano, Brandon McCarthy, Justin Masterson, Jason Hammel and Hiroki Kuroda. Johnny Cueto and Yovani Gallardo have eight-figure club options, too, so there's at least a remote possibility they join the mix (though I would be shocked, especially in Cueto's case).