12 teams interested in Mark Trumbo; D-Backs are a 'potential match'
A dozen teams are showing interest in Angels slugger Mark Trumbo, and the Diamondbacks are said to be a "potential match."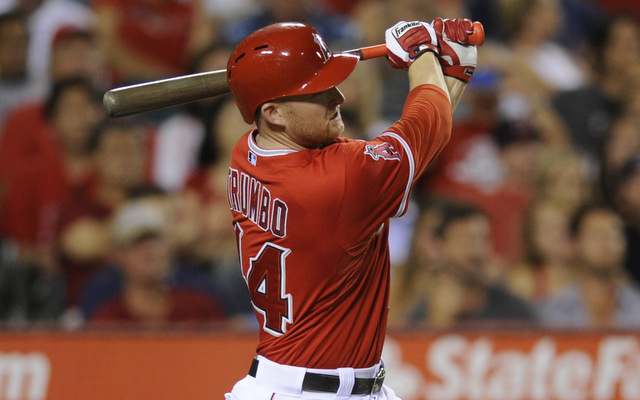 MORE: FA tracker: position players | FA tracker: pitchers | Winter Meetings updates
Twelve teams have interest in trading for Angels slugger Mark Trumbo, reports Jon Heyman of CBSSports.com. The Diamondbacks are said to be a "potential match."
The Halos are known to be seeking starting pitching, but Heyman says the D-Backs will not trade lefties Patrick Corbin and Wade Miley or righty prospect Archie Bradley. Southpaw Tyler Skaggs could be a fit, but Bill Shaikin of the Los Angeles Times reports the Angels won't take him for Trumbo, at least not straight up. Anaheim drafted Skaggs back in 2009 and sent him to D-Backs in the Dan Haren trade.
Arizona doesn't appear to be a great fit for Trumbo. His power is very real -- he is one of only four players to hit at least 28 home runs in each of the last three seasons -- but with Paul Goldschmidt entrenched at first base, Trumbo would have to play the outfield, where he rates as a below-average defender. Maybe the D-Backs are willing to trade poor defense for his hard-to-find power.
The Angels have limiting payroll space and few trade chips to use this winter, especially after using Peter Bourjos to acquire David Freese from the Cardinals. Howie Kendrick is also said to be on the block, but replacing him at second base will be much more difficult than replacing Trumbo at first and DH. They've got one chance to trade Trumbo and need to capitalize.
Trumbo, 27, hit .234/.294/.453 (109 OPS+) with 34 home runs in 2013. He's hit 95 homers over the last three seasons and power is pretty much his only redeeming quality. Trumbo doesn't hit for much average or get on base, plus isn't anything special in the field. Luckily for him, power is the one tool you want to have if you're a one-tool guy.
Show Comments
Hide Comments