2013 All-Star Game Live Blog
Join the Eye On Baseball crew as we live-blog the Midsummer Classic from Citi Field. Analysis and whimsy guaranteed.
by

Eye on Baseball staff

• 5 min read
2013 All-Star Game: GameTracker | Starting lineups
Your three dreadnaught Eye On Baseball bloggers -- Matt Snyder, Mike Axisa and Dayn Perry -- will be here all afternoon and night to live-blog the All-Star Game at Citi Field in New York.

And that's a wrap! The AL prevails by a score of 3-0. It's the American League's first win since 2009 and their first shutout win since 1990. Your MVP of the night? This guy ...
Good show, folks. Thanks for hanging out with us. Now on with the second half ...

Or here's David Robertson with the alternative explanation as to why Rivera didn't pitch the ninth ...
In tribute to me. RT @jamiend5: @DRob30 but why the 8th?

— David Robertson (@DRob30) July 17, 2013

So in the ninth, this happened ...

Which brings us to this ...
Since the beginning of 2010, Prince Fielder has two triples in 2518 plate appearances

— Eye on Baseball (@EyeOnBaseball) July 17, 2013

Speaking of Mariano Rivera, why was he in to pitch the eighth instead of the ninth, as had been the plan? Pretty simple. The last thing on earth Jim Leyland wants to ponder is having this game end without Rivera getting in. So while the AL had a 3-0 leads headed into the bottom of the eighth, there was, of course, a non-zero chance that the NL could claim the lead in that frame (however unlikely that might be). If that came to pass and then the NL bullpen protected that lead in the top of the ninth, the NL, of course, wouldn't have batted in the bottom of the ninth. As such, Rivera would have been left in the bullpen, and Leyland would have become the most reviled man in New York since, um, A-Rod last week or so.
Anyhow, Leyland always could've allowed someone else to pitch the eighth and then called upon Rivera in the event that the lead started slipping away. If it didn't, then Rivera is still there to pitch the bottom of the ninth. 
The important thing, though, is that Rivera got in the game.
Also, this:
Leyland should just troll everyone, double switch Hunter out of this thing and leave Rivera in center field. #asg

— Marc Carig (@MarcCarig) July 17, 2013

In honor of Mariano Rivera's appearance in the bottom of the eighth -- the final All-Star appearance of his superlative career -- here's "Enter Sandman" being performed at Big Kahuna Karaoke Bar in upstate New York:

IMPORTANT UPDATE ...
The kid who ran on the field did so in plain violation of his mom's wishes:
ma stop yelling at me... pic.twitter.com/a2ly1HFxs7

— dyl (@MasoneDylan) July 17, 2013
Malice. Aforethought.

Compare, contrast. 
Adam Jones's All-Star cleats ...

And the Bob Feller-endorsed Dreamsicle ...

Both orange, both delicious, both good for you.

The implication, as I see it, is that Joe Nathan would rather punch himself in the rascal basket than listen to Mariano Rivera talk ...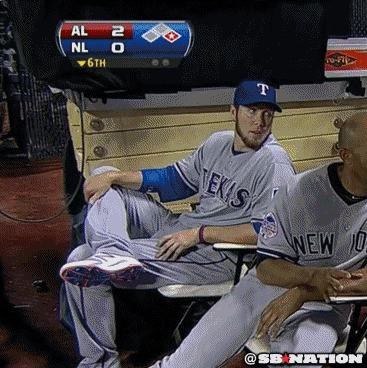 Headed into the 7th, 2-0 AL, so let's post that updating win-expectancy chart again ...

Source: FanGraphs

Because this is important and necessary, here's action-news footage (HT: @GoldAndOrSmith) of Cliff Lee's pre-game glare that caused thousands upon thousands of wanted criminals to surrender immediately to the relevant jurisdictional authorities ...

Earlier tonight, a self-evident stupid dummy who's stupid and dumb ran onto the field at Citi, and, as you'll soon see, he received stadium security's preferred finishing move ...
Street justice, administered. Now say hello to your perpetrator ..
Kid who rushed the ASG field has a hilarious timeline too: pic.twitter.com/h4gVAok5X5

— Will Brinson (@WillBrinson) July 17, 2013

ICYMI from last night's Derby ...
I would like a throw pillow with the title of that video embroidered upon it.

Andrew McCutchen swiped second base in the fourth. Here, courtesy of @LaBlynne, is what that looked like ...

Some truth ...
The American League is on the verge of providing Chris Sale with more run support this inning than he gets in a month. #WhiteSox

— Dan Hayes (@DanHayesCSN) July 17, 2013
As Matt explored, run support is about all that separates Scherzer and Sale.

After three innings, the host NL has a 51 percent chance of winning (note: this figure will update throughout the game) ...

Source: FanGraphs

Worth noting:
That's 17 consecutive scoreless innings in the All-Star Game for American League.

— Larry Stone (@StoneLarry) July 17, 2013

Sketchy Internet rumor has it that X-rays on Cano were negative ...

Not a photo from tonight, but Chris Sale's arm action never fails to amaze (USATSI) ...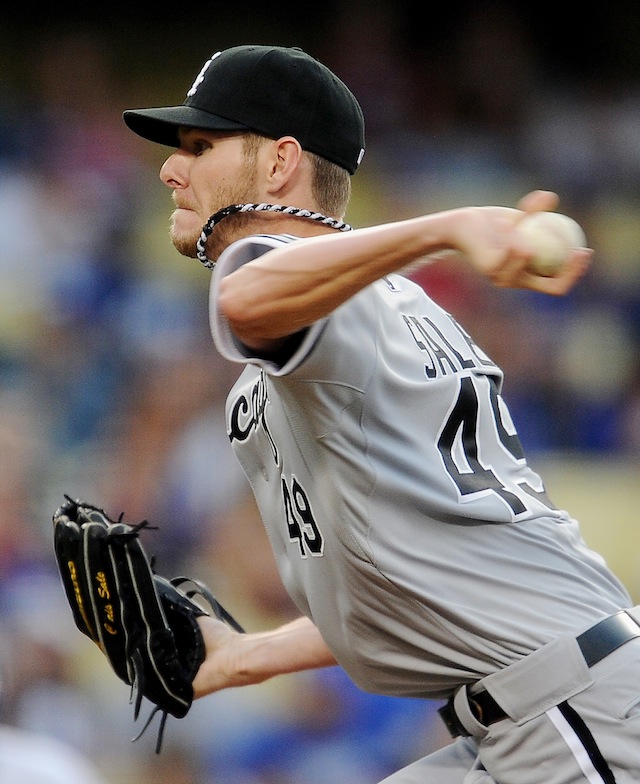 Important: Tom Seaver is wearing a butterfly-print shirt ...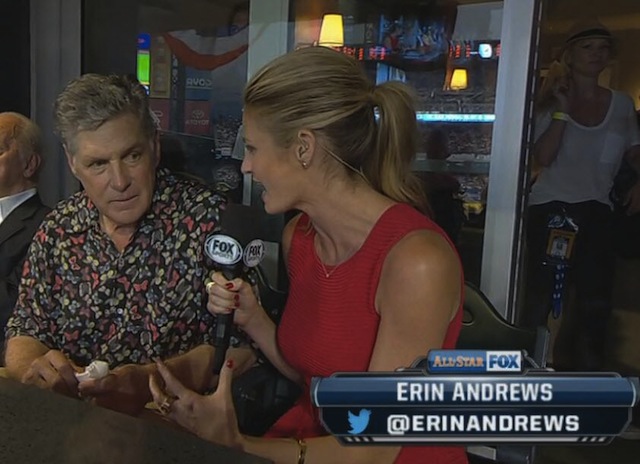 Robinson Cano lifted from the game after this happened (thanks to The Score for the GIF) ...
Here's Mike's write-up of the injury.

Possibly worth noting: Harvey has a career 4.34 ERA in the first inning.

Danny on why Seaver was the obvious choice there ...
After Seaver threw 1st pitch for Citi opener in '09, he said: "What, were they going to ask their other Hall of Famers? Oh, right."

— Danny Knobler (@DannyKnoblerCBS) July 17, 2013

Not bad ...
July 17, 2013

From our own Scott Miller ...

AL pitching plans tonight: Scherzer followed by Chris Sale (2 ings), Felix Hernandez (1), Matt Moore (1 or 2) then tbd, likely relievers.

— Scott Miller (@ScottMCBS) July 17, 2013

Predictions! Here are ours ...
Matt: AL 4, NL 2; MVP - Mike Trout
Mike: AL 9, NL 6; MVP - Mariano Rivera
Dayn: NL 5, AL 3; MVP - Matt Harvey
Tell us your picks in the comments section. Winner gets ... nothing, really.

Killing machine ...
Cliff Lee, Angry All Star Assassin: pic.twitter.com/F1l7OinFT6

— Will Brinson (@WillBrinson) July 16, 2013

Your not-quite-yet-posed AL team photo, courtesy of Nelson Cruz's Twitter. Lots of Detroit unis in there ...
AL TEAM PICTURE #ASG pic.twitter.com/AGHnwMtyhl

— Nelson Cruz (@ncboomstick17) July 16, 2013

Who is this problem child?

If Prince Fielder is your Daddy, you get to be cool places during BP.

Time-killer!: Here's Joe Torre batting in the 1972 All-Star Game.

From Snyder ...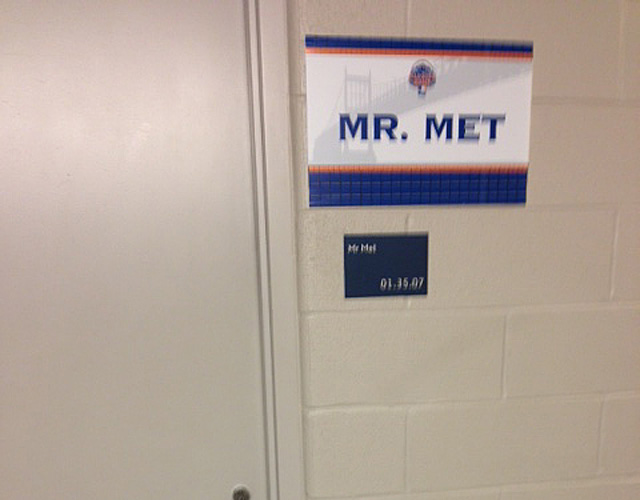 Also, here's a bit of All-Star leather-wielding from the past to get you in the spirit. It occurs to me that Mike Trout is quite capable of something like that.


Here's a quick Vine from Snyder that will appeal to those of us whose heads are on sideways ...

"You will see no. 42 pitch." That's what Tigers manager Jim Leyland told our own Scott Miller. Save situation or not, Mariano Rivera will see the mound tonight. That, obviously, is welcome news.
And speaking of our own Scott Miller ...
True fact: media shuttle bus stuck coming out of tunnel at toll booth. EZ pass not working. Driver arguing with toll booth guy. #nyc

— Scott Miller (@ScottMCBS) July 16, 2013
Shuttle bus driver: "How much? That's RIDICULOUS! I don't have any cash!"

— Scott Miller (@ScottMCBS) July 16, 2013
Developing ...

Warm-up image ... How many future Hall of Famers can you identify from this photo from the very first All-Star Game back in 1933?
As always, you shall know Babe Ruth by the sprawl of his beer gut.
Show Comments
Hide Comments