2013 MLB All-Star Game: Full AL and NL rosters
This year's All-Star rosters have been announced.
by

Eye on Baseball staff

• 1 min read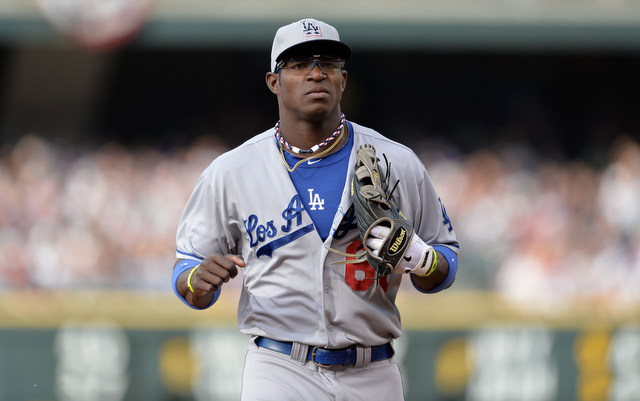 UPDATE: Starting Lineups Announced (7/16/13)
The AL and NL All-Star teams are official after a live announcement Saturday. The starters were selected by fans and the rest of the team was selected by the players and All-Star managers Bruce Bochy ( San Francisco Giants ) and Jim Leyland ( Detroit Tigers ). The rest of the coaching staffs are available right here.
The All-Star rosters run 35 players deep, but only 34 players for each team were announced today. The final spot is up for grabs via the Final Vote. Here's the ballot. Any starting pitchers who pitch Sunday, July 14, are not eligible to pitch in the All-Star Game itself, which will be played at Citi Field in New York on Tuesday, July 16. The Home Run Derby will be played the day before, the Futures Game the day before that.
All 30 teams get at least one representative in the All-Star Game. Keep in mind that injured players will be replaced on the rosters between now and then. Here are the full rosters for each league:
AL Starters
C Joe Mauer , Minnesota Twins
1B Chris Davis , Baltimore Orioles
2B Robinson Cano , New York Yankees
SS J.J. Hardy , Orioles
3B Miguel Cabrera , Tigers
OF Mike Trout , Los Angeles Angels
OF Adam Jones , Orioles
OF Jose Bautista , Toronto Blue Jays
DH David Ortiz , Boston Red Sox

AL Pitchers
RHP Max Scherzer , Tigers
RHP Felix Hernandez , Seattle Mariners
RHP Clay Buchholz , Red Sox
LHP Brett Cecil , Blue Jays
RHP Justin Verlander , Tigers
RHP Justin Masterson , Cleveland Indians
LHP Chris Sale , Chicago White Sox
RHP Mariano Rivera , Yankees
RHP Bartolo Colon , Oakland Athletics
RHP Yu Darvish , Texas Rangers
RHP Hisashi Iwakuma , Mariners
RHP Jesse Crain , White Sox
RHP Joe Nathan , Rangers
LHP Glen Perkins , Twins

AL Reserves
1B Prince Fielder , Tigers
OF Torii Hunter , Tigers
SS Jhonny Peralta , Tigers
2B Dustin Pedroia , Red Sox
OF Nelson Cruz , Rangers
UTIL Ben Zobrist , Tampa Bay Rays
C Jason Castro , Houston Astros
1B Edwin Encarnacion , Blue Jays
OF Alex Gordon , Kansas City Royals
2B Jason Kipnis , Indians
3B Manny Machado , Orioles
C Salvador Perez , Royals

NL Starters
C Yadier Molina , St. Louis Cardinals
1B Joey Votto , Cincinnati Reds
2B Brandon Phillips , Reds
SS Troy Tulowitzki , Colorado Rockies
3B David Wright , New York Mets
OF Carlos Beltran , Cardinals
OF Carlos Gonzalez , Rockies
OF Bryce Harper , Washington Nationals

NL Pitchers
LHP Clayton Kershaw , Los Angeles Dodgers
LHP Patrick Corbin , Diamondbacks
RHP Matt Harvey , Mets
RHP Adam Wainwright , Cardinals
RHP Jason Grilli , Pittsburgh Pirates
RHP Jordan Zimmermann , Nationals
RHP Craig Kimbrel , Atlanta Braves
LHP Aroldis Chapman , Reds
LHP Travis Wood , Chicago Cubs
RHP Jose Fernandez , Miami Marlins
LHP Cliff Lee , Philadelphia Phillies
LHP Jeff Locke , Pirates
LHP Madison Bumgarner , Giants

NL Reserves
OF Andrew McCutchen , Pirates
OF Michael Cuddyer , Rockies
C Buster Posey , Giants
3B Pedro Alvarez , Pirates
OF Domonic Brown , Phillies
SS Everth Cabrera , San Diego Padres
2B Matt Carpenter , Cardinals
1B Allen Craig , Cardinals
1B Paul Goldschmidt , Arizona Diamondbacks
OF Carlos Gomez , Milwaukee Brewers
SS Jean Segura , Brewers
2B Marco Scutaro , Giants

Show Comments
Hide Comments