2013 MLB Draft: Top Pitchers
The 2013 MLB Draft kicks off on Thursday, and today we're going to preview the top pitchers available.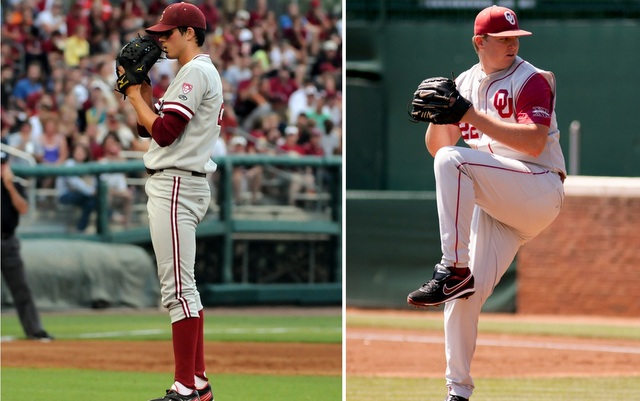 More MLB: Scoreboard | Standings | Probable Pitchers | Sortable Stats | Odds
MLB's annual draft is a three-day event covering a whopping 40 rounds, and this year's draft begins on Thursday night. Day 1 covers rounds one and two, Day 2 covers rounds 3-10 and Day 3 covers rounds 11-40. Like the baseball season, the draft is a marathon. Not a sprint.
Between now and then, we're going to give you a crash course in the top draft prospects available this year. Today we'll cover pitchers, Tuesday we'll cover position players and on Wednesday we'll try to unearth some sleepers. The full draft order -- which is subject to change during the offseason due to free agent compensation -- can be found right here. The Astros, Cubs and Rockies hold the top three selections.
College Pitchers
Mark Appel, RHP, Stanford
The Pirates selected Appel with the eighth overall pick last summer, but he turned down a reported $3.8 million to return to school for his senior season. He's actually managed to improve his stock by refining his secondary pitches and pitching more aggressively this spring. Appel and his mid-90s heat, wipeout slider and improving changeup have true ace potential, and he could surface in the big leagues as soon as 2014. If Houston doesn't take him first overall, the Cubbies will surely pounce.
Jonathan Gray, RHP, Oklahoma
Gray has something in common with Stephen Strasburg: he transformed himself from a chubby, near-non-prospect high schooler into an elite pitching prospect and a candidate to go first overall. Listed at 6-foot-4 and 239 lbs., Gray lives in the upper-90s with his fastball and will flirt with triple-digits. His slider is an out pitch and his changeup is taking steps forward. He improved his stock immensely this spring and could go anywhere from first overall through fifth overall. Both the Royals and Yankees have drafted Gray in the past, only to be rebuffed.
Braden Shipley, RHP, Nevada
Appel and Gray are the top two college arms in the class, but Shipley has emerged as the clear number three guy despite not becoming a full-time pitcher until just last year. He'll sit in the low 90s with his fastball like it's a walk in the park, and he's run it up as high as 99. His changeup is arguably the best in the draft, and his curveball has shown signs of being a swing-and-miss pitch. Considering his lack of pitching experience, Shipley has made major progress these last two seasons. He'll become the first Nevada player ever drafted in the first round when he goes in the top 10 picks on Thursday.
High School Pitchers
Kohl Stewart, RHP, St. Pius X HS (Houston)
The top consensus prep arm in the draft, Stewart is also premium quarterback recruit. He's a true four-pitch pitcher whose stuff rivals Appel's and Gray's, but he's considered more athletic with more room for growth. Stewart sits in the 91-95 mph range with his fastball and backs it up with the standard three-pitch mix: curveball, slider and changeup. There is some concern because his delivery is rough, but the raw stuff is undeniable. Stewart is committed to play football at Texas A&M, but the general belief is that he will turn pro instead of carrying a clipboard behind Heisman winner Johnny Manziel. He's also a Type 1 diabetic, but that hasn't deterred teams in the past. The pitching-starved Twins, who hold the fourth overall pick, have been connected to Stewart all spring.
Trey Ball, LHP, New Castle HS (Indiana)
Ball is the best left-handed pitcher in the draft, and it's not particularly close either. He's a first-round talent both on the mound and in the outfield, but the consensus now is that his future lies on the mound. Ball is huge, listed at 6-foot-6 and 180 lbs., and he uses his size to drive his low-to-mid-90s fastball downhill. He spins a breaking ball well and is very athletic, so the belief is he will iron out his mechanics and refine his pitches as he fills out that lanky frame. The Padres have the 13th pick and are said to like Ball as a lefty-hitting outfielder, but he's more likely to go in the top 10 as a pitcher.
Hunter Harvey, RHP, Bandys HS (North Carolina)
Stewart and Ball stand out from the high school pitching ranks, and there isn't really a clear number three prospect behind them. I'm giving Harvey the nod mostly because he has big league bloodlines -- his father, Bryan, was a three-time All-Star closer. Hunter has low-90s velocity and has shown 97 in the past, though not as often this spring. A big breaking curveball is his top secondary offering, but he doesn't have much of a changeup. Most top amateur pitchers simply don't need one and never really work on it. Harvey is expected to be selected towards the end of the first round or the beginning of the supplemental first round.
Show Comments
Hide Comments