2013 Team Preview: Philadelphia Phillies
Our series of previewing each of the 30 Major League Baseball teams continues Saturday with a look at the Phillies.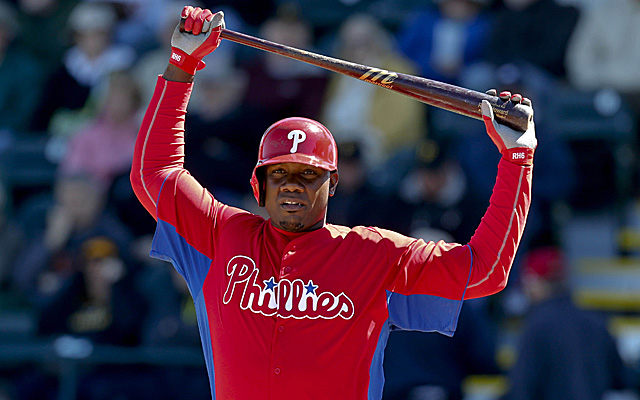 Spring Training home | Phillies Camp Stop | Likes, Dislikes | Prospect Watch
After a run of five straight NL East titles, which included two trips to the World Series and one championship, the 2012 Philadelphia Phillies had age and injury issues and fell to 81-81, good enough for third place in the NL East. They appear healthier this time around, but the nucleus is still old, aside from Cole Hamels. Can they get back to the playoffs or is the run with this group over? Let's take a look.
Probable lineup
1. Jimmy Rollins , SS
2. Chase Utley , 2B
3. Michael Young , 3B
4. Ryan Howard , 1B
5. Delmon Young , RF*
6. Carlos Ruiz , C*
7. Domonic Brown , LF
8. Ben Revere , CF
* - Delmon Young will start the year on the DL, so expect to see some combination of Darin Ruf , Laynce Nix and John Mayberry with Brown on the outfield corners.
** - Ruiz will serve a suspension for the first 25 games of the season. Erik Kratz will catch in his absence.
Probable rotation
1. Cole Hamels
2. Cliff Lee
3. Roy Halladay
4. Kyle Kendrick
5. John Lannan
Bullpen construction
Closer: Jonathan Papelbon
Setup: Mike Adams , Antonio Bastardo
Notable bench players
C Kratz, IF Kevin Frandsen , IF Freddy Galvis , OF Ruf, OF/1B Nix, OF Mayberry
Under-the-radar offseason transaction
I absolutely love the signing of Adams to be the eighth-inning guy. He's been an elite setup man for the past five seasons. In 2012, he did falter a bit, especially with a horrifying 7.56 ERA in September and October, but he wasn't healthy. He was dealing with thoracic outlet syndrome and has since had surgery to repair it. If he doesn't suffer any setbacks -- and he hasn't so far -- it's reasonable to expect him to perform like he did for the Rangers in the second half of 2011, when he had a 2.10 ERA, 0.90 WHIP and 25 strikeouts in 25 2/3 innings. Team Adams with Papelbon and the Phillies have a superb back-end of the bullpen.
Fantasy bust: Roy Halladay
"Fantasy owners shouldn't get the wrong idea here. We aren't saying avoid drafting Halladay. We are saying don't reach for the veteran hurler. Halladay battled shoulder problems last season and saw a drop in velocity, which were the reasons for his down year. The offseason reports have been positive, but it's not like if they were negative the Phillies would let us know, so don't buy into optimism without hard evidence. The fact, however, is that Halladay struggled in the second half last season, posting a 4.93 ERA in his final 14 starts. Fantasy owners shouldn't draft Halladay as their ace, which would be risky no matter how much you are convinced of a bounce-back season." - Michael Hurcomb [Full Phillies fantasy team preview]
Biggest strength
Even with Halladay's age and health concerns, the strength of this team is still the Big Three starting pitchers. Hamels is a legitimate ace while Lee and Halladay still have the capability of performing as aces. If the three pitch up to their ability, it's reasonable to think the Phillies can win around 70 games started by these three. Few teams have that kind of upside in their top-three starters and it is still to be envied.
Biggest weakness
When Delmon Young is finally healthy enough to play, the corner defense is going to be atrocious on this team. I mean, embarrassingly so. There's a reason the Rangers stopped playing Michael Young at third base, and it's because his range is brutal. Get ready to hear "he singles past a diving Michael Young" with frequency this season, Phillies fans. Then again, Delmon Young in right field is going to make Michael Young look like the second coming of Brooks Robinson. I fully expect Delmon in right field to be the single worst defensive player in baseball in 2013. And Domonic Brown is a right fielder, but will move to left to make room for Delmon, who is better suited in left. Howard is a poor defensive first baseman, too, due to lackluster range.
Don't pay attention to errors, because you can't commit an error if you don't get to a ball. Just realize that if two months into the season it seems like the Phillies pitchers are giving up more hits than you thought they would, it's probably not the fault of the pitchers.
Best-case scenario
There's probably enough here to say the Phillies can win the World Series. They were 81-81 last season, and that was with only 154 games combined from Howard and Utley, not to mention the health and performance issues from Halladay. While the outfield defense on the corners is bad, Revere can cover a veritable acre from center. Both Youngs will hit better now in the NL. And as long as the starting pitchers can work six or seven innings, Adams and Papelbon can close down the opponent on a regular basis.
Even under a best-case scenario, however, the Phillies won't be running away with the NL East. The Nationals and Braves are both stacked. If the Phillies do make the postseason and the Big Three are firing on all cylinders, an October run is definitely doable.
Worst-case scenario
There are problems all over the place here. The defense has already been mentioned, so we'll skip onto the back-end of the rotation. Kyle Kendrick and John Lannan are mediocre options and if Halladay's issues resurface the Phillies are left turning to Tyler Cloyd . Plus, Cliff Lee is going to turn 35 this August, so it's possible age decline sets in for him as well as Halladay.
And then there's the offense. It's possible Howard was bothered by his Achilles and will be better this year, but his .219/.295/.423 line is a serious concern. For the first time in his career, he had a below-average OPS. In fact, his previous low in OPS-plus was 125 (25 percent better than league average) and last season it was 91 (nine percent lower than league average). Team that with his sub-par defensive range, and Howard posted a negative WAR.
On that front, Howard wasn't alone. Michael and Delmon Young both posted negative WARs (insert Phillies fans freaking out about how stupid WAR is). Meanwhile, leadoff man Rollins hit just .250 with a .316 on-base percentage and Utley is never going to be fully healthy again.
And let's not forget Ruiz is lost for the first 25 games of the season due to his suspension.
While I still think the Big Three will be good and the back-end of the bullpen is exceptional, the position players and lack of rotation depth are a serious concern. The Phillies could possibly finish in fourth behind the Mets.
Most likely scenario
They are ticketed quite clearly for third place. The Nationals and Braves are far superior due to the problems listed in the "worst-case" paragraphs, but the Phillies still have enough talent -- especially on the mound -- to overcome several of the above issues. While it wouldn't be jaw-droppingly shocking to see the Phillies make the playoffs, I seriously doubt they can. Expect low-to-mid 80s in wins, if not even a dip below .500 for the first time since 2002 when they were 80-81.
Also, don't be surprised if longtime skipper -- at least by today's standards he's "long-time" -- Charlie Manuel gets the boot.
Finally, not that this will prevent the accusations from all my adoring Phillies fan readers, but I don't dislike the Phillies. I predicted them to make the World Series last year.
For more baseball news, rumors and analysis, follow @EyeOnBaseball on Twitter, subscribe to the RSS feed and "like" us on Facebook. Also, individually interact with us on Twitter: @MattSnyder27, @daynperry and @mikeaxisa.

Show Comments
Hide Comments