2013 World Series schedule released
The full schedule with gametimes for the 2013 World Series is out. Here it is.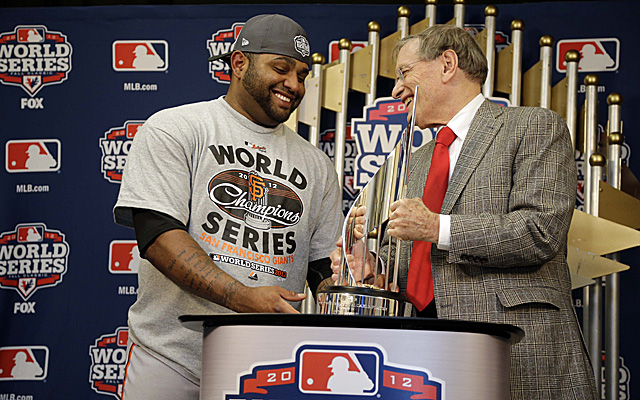 World Series history: Best hitters | Best pitchers | Top 5 series, last 25 years | Walkoff HRs
We knew the World Series was going to begin Wednesday, Oct. 23rd, but Major League Baseball hadn't yet released the broadcast schedule until Friday afternoon.
As things stand, the Red Sox have a 3-2 lead over the Tigers in the best-of-seven ALCS while the Cardinals lead the Dodgers 3-2 in the best-of-seven NLCS. Captain Obvious tells me the winners will meet in the World Series.
Thanks to the All-Star Game victory, the American League team will be the home team in Games 1, 2, 6* and 7* while the National League representative will host Games 3, 4 and 5*.
Here's the schedule, with all games airing on Fox with commentators Joe Buck and Tim McCarver -- and field reporters Ken Rosenthal and Erin Andrews: 
Game 1: Wednesday, Oct. 23, 8:07 p.m. ET first pitch.
Game 2: Thursday, Oct. 24, 8:07 p.m. ET
Game 3: Saturday, Oct. 26, 8:07 p.m. ET
Game 4: Sunday, Oct. 27, 8:15 p.m. ET
Game 5*: Monday, Oct. 28, 8:07 p.m. ET
Game 6*: Wednesday, Oct. 30, 8:07 p.m. ET
Game 7*: Thursday, Oct. 31, 8:07 p.m. ET
* - if necessary
Show Comments
Hide Comments