2014 Dodgers preview: Likes, dislikes
Here are some things we like and dislike about the Dodgers heading into the 2014 season.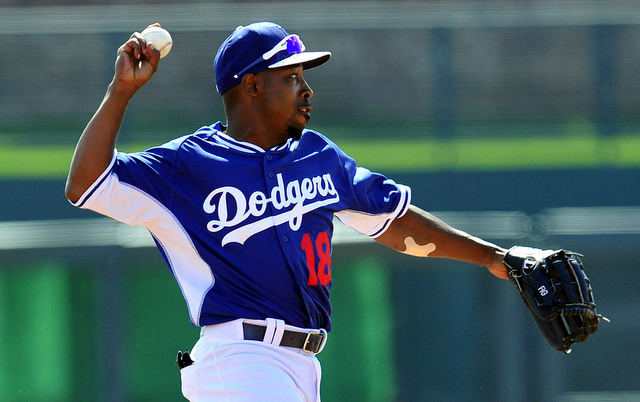 More Dodgers: Team preview | Over/unders
As part of our preview series, Eye on Baseball will be picking and choosing some "likes" and "dislikes" for all 30 MLB teams heading into the 2014 season. For this installment, we'll run down what we like and don't like about the Los Angeles Dodgers , who are looking for a second straight NL West title and much, much more.
Likes
Rotation, both quality and quantity: It starts right at the top with Clayton Kershaw , the undisputed best pitcher in the world right now. Zack Greinke and Hyun-Jin Ryu are the Nos. 2 and 3 starters when they would be No. 1 and 2 for most teams. Dan Haren and Paul Maholm are penciled in as the fourth and fifth starters, plus both Josh Beckett (thoracic outlet syndrome) and Chad Billingsley (Tommy John surgery) are working their way back from injuries. Beckett is already pitching in spring training games. Stephen Fife , who had a 3.04 ERA in 10 starts last season, won't even sniff the opening day rotation. Pitching depth sure can disappear in a hurry, but the Dodgers have a ton of high quality arms available. This starting staff is deep and effective.
Bullpen:  Kenley Jansen is one of the what, two or three best relievers in baseball? Top five for sure. Brian Wilson was electric after coming back from his second Tommy John surgery late last season, plus the club added another former closer in Chris Perez over the winter. Add in two shutdown lefties in J.P. Howell and Paco Rodriguez and you have the makings of an excellent relief unit. Most teams would kill to have young hard throwers like Chris Withrow and Jose Dominguez in their bullpens, but they're nothing more than Triple-A depth for Los Angeles. In all likelihood, they will also lose Rule 5 Draft pick Seth Rosin , who has 10 strikeouts and one walk in eight spring innings, on waivers before the season because they don't have a spot for him. Don Mattingly has more good arms than he'll know what to do with.
Ownership: How can you not love an ownership group that is so willing to spend? Brandon League stinks? That's fine, we'll sign Wilson and Perez. Beckett and Billingsley are hurt? Go get Haren and Maholm. New Cuban player on the market? Sign him too. The Dodgers are in the enviable position of being able to outspend their mistakes, so any problem that arises during the season, either through injury or poor performance, can be addressed at the trade deadline. They have the money and the prospects.
Dislikes
Injury risk: The Dodgers have some risky players healthwise, none moreso than Matt Kemp . He was an ironman earlier in his career, playing 399 straight games at one point, but shoulder, ankle and hamstring problems have limited him to 179 of 324 possible games the last two seasons. Kemp is still working his way back from offseason ankle and shoulder surgery and is unlikely to be ready for opening day. Beckett and Billingsley are hurt right now, and Andre Ethier is usually good for a DL trip or two per season. Hanley Ramirez is no stranger to the DL either. Those are some pretty important players with health question marks.
Second base: Cuban infielder Alex Guerrero , who signed a four-year contract worth $28 million in the offseason, is considered rough around the edges defensively and may have to start the year in the minors. Dee Gordon (with his career 72 OPS+) is currently the favorite for the job, which isn't very reassuring. This figures to be one of the spots that needs some attention at the trade deadline.
Bench: For an NL team, especially an NL team with a ton of money, the Dodgers have a really weak bench. While Kemp is out, the team figures to carry catcher Tim Federowicz , outfielder Mike Baxter , infielder Justin Turner , and utility men Scott Van Slyke and Chone Figgins . Yes, that Chone Figgins. Signing good bench players is tough -- no one wants to sit on the bench behind a bunch of stars -- but the Dodgers could have done a little better than this lot over the winter.
Show Comments
Hide Comments