2014 MLB Draft: News and notes heading into Day Three
The 2014 MLB draft concludes on Saturday with rounds 11-40. Here are some thoughts, news and notes heading into the final day.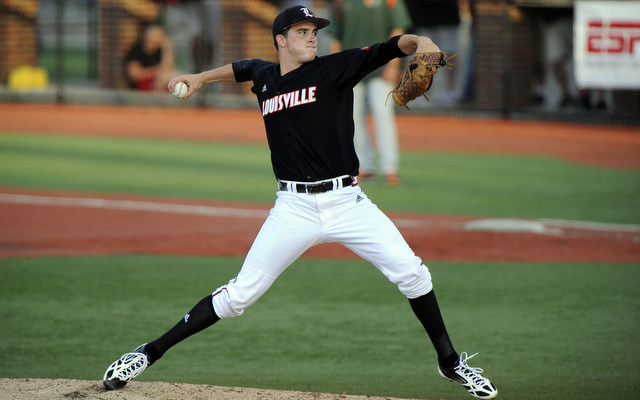 More Draft: Astros take Aiken | First Round Profiles | Draft Tracker | 5 Important Things

The first two days and 10 rounds of the 2014 amateur draft are now in the books. All that's left are rounds 11-40 on Saturday afternoon. Those rounds will be selected with a rapid fire, league-wide conference call beginning at 1pm ET.
Under the current collective bargaining agreement, the second day of the draft is the least exciting. The top 10 rounds are tied directly to MLB's assigned bonus pools, so teams selected cheap college seniors to manipulate their pools in those rounds. Seniors sign very cheap because they have little leverage, and the savings are then given to higher upside prospects. Sixty-nine seniors were drafted Friday, which is believed to be a record for the first 10 rounds.
With the draft set to wrap up in a few hours, here are some thoughts, news and notes heading into day three. Here are the news and notes from Friday.
Twins building a power bullpen in the middle rounds
The Twins are not known for power pitching. They've employed a more pitch to contact approach over the last decade or so, and that has been reflected in their recent draft classes. Draft classes that haven't really worked out and left the team scrambling for pitching the last few years.
Minnesota broke that trend on days one and two of the 2014 draft by selecting some of the hardest throwers available. The caveat: they're all relievers, either right now or projected to be long-term. Here are their second through sixth round picks:
• Second round, 46th overall: RHP Nick Burdi, Louisville -- Burdi was the hardest-thrower in the class, regularly sitting in the upper-90s and touching 102. He also has a wipeout slider and could legitimately pitch in MLB later this year, if the Twins let him. Burdi is Louisville's closer.
• Third round, 79th overall: RHP Michael Cederoth, San Diego State -- Cederoth doesn't throw quite as hard as Burdi, but he still lives in the mid-to-high-90s and will occasionally flirt with triple digits. He also has a good slider and was used out of the bullpen by the Aztecs.
• Fourth round, 110th overall: LHP Sam Clay, Georgia Tech -- At his best, Clay will sit in the mid-90s with a knockout slider. Some days he's more 91-93, however. Either way, that's plenty of velocity for a lefty. He's another college reliever.
• Fifth round, 140th overall: RHP Jake Reed, Oregon -- Reed's bread and butter is power mid-90s sinker, though he doesn't have a great secondary pitch at this time. Pretty standard for fifth rounders. He was a starter in college but is expected to wind up in the bullpen as a pro because of that lack of an offspeed pitch.
• Sixth round, 170th overall: RHP John Curtiss, Texas -- Like Reed, Curtiss has a big mid-90s fastball but lacks a defined secondary pitch. He has been closing for the Longhorns for two years now.
That's five power arms in the middle rounds, four of whom were relievers in college. Like I said, Burdi could pitch in the big leagues this year if the Twins let him, and Cederoth should be an MLB factor next year. The other three guys are just a little further away.
Either by design or coincidence, the Twins drafted the makings of a future power bullpen in the first two days of the 2014 draft. It's something the team has lacked over the years and it indicates a shift in the club's philosphy. They haven't drafted a bunch of hard-throwers like this in a long, long time.
MLB loses top prospects to college ball
#OMAHA2015 TIGER NATION LETS GO!!!!!!! Ready to get to work with my boys this summer!! #LSU #TIGAHSSS

— Mac Marshall (@macmarshall19) June 6, 2014
Can't wait to get up to Gainesville this summer and start my career with the Florida Gators!! #GoGators #GodIsGood

— JJ Schwarz (@jj_schwarz5) June 6, 2014
Those tweets comes from LHP Mac Marshall and C J.J. Schwarz, high school kids who were considered second round talents. They have not yet been drafted because their bonus demands are in the first round money range, and teams simply don't have the extra draft pool space lying around to give them.
Under the old system, any club could have drafted either player and offered them a huge bonus. There were no hard restrictions whatsoever. Now, because teams can't make that offer, MLB is losing a top young pitcher to college ball, where he'll be subject to big workloads by a coaching staff more focused on winning than development. They're also losing a top catching prospect in an age where quality catchers are exceedingly rare.
MLB is losing two of the top young amateur players in the country because of its self-imposed spending restrictions. That's not as bad as losing athletes to other sports, but the league is shooting itself in the foot by allowing the best players to go elsewhere, even temporarily. The bonus limits are in place only because the owners want to reduce spending, remember.
First over-slot signing confirmed
According to MLB.com's Jim Callis, the Braves have signed second round pick Garrett Fulenchek to a $1 million bonus. Slot money for the 66th overall pick was $860,000, so Atlanta will have to either save $140,000 by signing one of their other picks below slot, or pay a tax on the overage.
Fulenchek is a big (listed at 6-foot-4 and 190 lbs.) high school righty out of Texas with a low-90s sinker, a good slider, and a developing changeup. Classic projectable prep arm. He received the first confirmed over-slot bonus in the draft.
Best available players
At this point, the best available players are all unsignable high school guys like Marshall, Schwarz, 3B Sean Bouchard (San Diego), RHP Jacob Bukauskus (Virginia), RHP Keaton McKinney (Iowa), OF Jeren Kendall (Wisconsin), RHP Bryce Montes de Oca (Kansas) and RHP Keith Weisenberg (Florida).
All of those players (as well as several others) are considered top three rounds talents who happen to have big bonus demands. They will probably get selected at some point on Saturday -- teams have no trouble rolling the dice with a late-round pick in case the kid lowers his asking price -- but are unlikely to sign. More lost talent.
Among players are who figure to actually sign, the best available are Arkansas LHP Jalen Beeks, Fresno State RHP Jordan Brink, Hawaii HS C K.J. Harrison, College of Charleston SS Gunnar Heidt, Long Beach State OF Richard Prigatano, Oxnard JC RHP Patrick Weigel, Loyola Marymount RHP Colin Welmon and Western Illinois RHP Tyler Willman. All came into the draft likely to picked in the fourth through sixth rounds but fell as teams gobbled up cheap seniors. Brink was considered a second round talent a few months ago before losing some velocity this spring.
Show Comments
Hide Comments