2014 MLB Draft: News and notes heading into Day Two
The first day and 74 picks of the 2014 MLB Draft are in the books. Here are some news and notes heading into Day 2.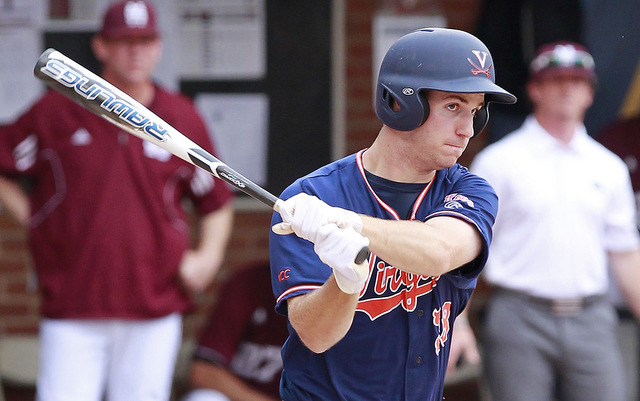 More Draft: Astros take Aiken | First Round Profiles | Draft Tracker | 5 Important Things

The first day of the 2014 Rule 4 Draft came and went Thursday night. A total of 74 picks were made covering the first round, the supplemental first round, the second round and the two competitive balance rounds. Every team except the Orioles made at least one pick. Baltimore forfeited its top two selections for signing Nelson Cruz and Ubaldo Jimenez.
The draft resumes at 1 p.m. ET on Friday with rounds 3-10. It concludes on Saturday with rounds 11-40. As a reminder, the top 10 rounds are subject to MLB's spending restrictions, which can be seen at Baseball America. If a player in those rounds does not sign, the team loses the pool money associated with the pick. Teams can spend money saved with one slot on another. Got it? Good.
With the draft set to resume shortly, here are some thoughts, news and notes heading into Day 2.
Indians have sneaky good Day 1
This is all subjective and it'll be years before we can best evaluate this draft, but I felt the Indians very quietly had an excellent day despite not picking until the back half of the first round. Having four picks certainly helped, but having lots of picks and using them well are two different things.
The Indians used their first rounder (21st overall) on San Francisco OF Bradley Zimmer, who was one of the three or four best college bats in the class. They took Tennessee HS LHP Justus Sheffield with their supplemental first rounder (31st overall for losing Jimenez), and he's a very advanced prep southpaw. Their competitive balance round selection (38th overall) went for ultra-polished Virginia OF Mike Papi. And finally, they used their second-round pick (61st overall) on California HS RHP Grant Hockin, who was one of my favorite prospects in the draft.
Cleveland did a wonderful job of balancing polish and upside, college and high school prospects and pitchers and position players with those four picks. Zimmer and Papi should zoom through the system side-by-side and Sheffield is a rare high school arm who should move quickly because his pitching IQ is very high. Hockin is the shoot-for-the-moon pick. He has a big fastball and a nasty slider, but he still needs to iron out his command and figure out a changeup. The second round is the perfect time to roll the dice on a prospect like that, especially after landing Zimmer, Papi and Sheffield with their first three picks.
Sheffield signs for $1.6 million
Guess what? The Indians have already signed Sheffield, according to Jim Callis of MLB.com. Sheffield receives a $1.6 million bonus plus eight semesters worth of tuiton to Vanderbilt, where he was committed to attend. Slot money for that pick was a little more than $1.7 million, so Cleveland saved some draft pool space. Sheffield is the first player in the draft to agree to terms and no, he is not related to Gary.
(Including money for college tuiton in a draftee's contract is common practice and it does not count against the draft pool.)
Dodgers go against consensus, take Verdugo as OF
The Dodgers selected Alex Verdugo out of an Arizona high school with their second-round pick (62nd overall), announcing him as an outfielder rather than a left-handed pitcher. Verdugo was a legitimate two-way player, but the industry consensus is that he's a better pitching prospect than outfield prospect.
Courtesy of Eric Stephen at True Blue LA, here's what scouting director Logan White told reporters during a post-draft conference call:
"When you go see a guy who's left-handed who throws 90-94 with a good curveball, and he throws strikes, he would have been a very high pick as a pitcher," White said. "But he loves to hit. He's got a really good swing. He's an athlete, he's an above-average runner. We're going to put him out in center."

...

"If he doesn't hit, he can go right on the mound like Kenley Jansen or Pedro Baez or those guys, and I think he's a big league pitcher. But I don't have any doubt this kid is going to go out and swing the bat well," White said. "I was trying at that point in a draft that's weaker with position players, trying to put a position player in our organization."
Hitting is a repetition thing. It's very hard to do it well after spending an extended period of time away from it. That's why most successful conversions are position players who become pitchers (Jansen and Jason Motte, for example), not the other way around. Rick Ankiel is the obvious exception there.
This isn't to say the Dodgers are making a bad decision with Verdugo, just that they're making the unexpected decision. Verdugo can hit -- he was a top 3-4 rounds talent as an outfielder -- but many felt he has the most impact potential on the mound. White has been running drafts for the Dodgers for a long time and he has an excellent track record. He has earned the benefit of the doubt.
Best available players
Among the best available players heading into Day 2 are Virginia HS RHP Jacob Bukauskas, San Diego State RHP Michael Cederoth, Nebraska HS C Jakson Reetz, Kansas HS RHP Bryce Montes de Oca, Wisconsin HS OF Jeren Kendall, Missouri RHP Brett Graves and Rice RHP Zech Lemond.
This draft is loaded with right-handed pitching and that is reflected in the top available players heading into Day 2. It's worth noting Bukauskas, Montes de Oca and Kendall are said to have very high bonus demands and may be unsignable. I'm certain several teams were on the phone with them Thursday night in an effort to talk them into signing for an above-slot bonus as a third-round pick Friday. It happens with these so-called unsignable prepsters every year.
Show Comments
Hide Comments