2014 Opening Day Live Blog
Baseball is officially back. Come celebrate and enjoy Opening Day with our live blog.
by

Eye on Baseball staff

• 5 min read
More MLB: Scoreboard | Standings | Probable Pitchers | Sortable Stats | Odds
Yes, three games are already in the books, but today is officially Opening Day. Welcome to the start of the 2014 regular season. Your three dreadnaught Eye On Baseball bloggers -- Matt Snyder, Mike Axisa and Dayn Perry -- will be here all day and night to live-blog the Opening Day action, so check back often for updates.

Watch on as Buster Posey hits a ball hard and also far in the Giants' eventual win over the Diamondacks ... 
To repeat: Hard, also far.

You need to know this: There's a blog devoted to tracking how many snot-rockets Giants Opening Day starter Madison Bumgarner expels each time he takes the mound. You needed to know that, you see. 
(HT: @robertobeers)

This isn't new, but it is going around today. And it is glorious. Best of all, it's shot vertically, in keeping with Internet Best Practices ... 

You might perceive the following as evidence that the Athletics have trouble filling the DH spot, or you might perceive it as evidence that the Athletics see the DH spot as being particularly easy to fill and thus not worthy of long-term investment. Discuss!
Brandon Moss is the #Athletics ninth different Opening Day starter at designated hitter in the last 10 years.

— Oakland Athletics (@Athletics) April 1, 2014

On pain of ridicule, teams must have vaguely civic-related things race around the field between innings, which prompts the people to stand, raise fists and shout unifying slogans. Here is what the Marlins now choose to meet these requirements ... 
Miami Marlins now having insane sea creatures race at home games http://t.co/TaOfMrAGrV pic.twitter.com/9MsmVIkL3k

— For The Win (@forthewin) April 1, 2014
I see no downside.

So the Giants' Opening Day Twitter promo is pretty smooth ... 
The season premiere of #MadBum starts in a little over an hour...#SFGOpeningDay pic.twitter.com/WcNGkXEiaL

— San Francisco Giants (@SFGiants) April 1, 2014

Consider this your clubhouse leader for "Best Photo of Opening Day" ... 
So far the best thing to come from opening day is still from the camera of Louis DeLuca: pic.twitter.com/EVSYvRjKZo

— Evan Grant (@Evan_P_Grant) March 31, 2014

From earlier today, here's Grady Sizemore's first home run since July 15, 2011 ... 
Obviously, the Sox are pleased not only with Sizemore's health so far but also his effectiveness. He could be a huge low-cost addition for them this season. Developing!
On the other hand, it's of course worth noting that the Orioles prevailed in this one by a score of 2-1. 

So here's some pretty awesome point-of-view footage of the Navy Parachute Team dropping in on Petco before last night's Dodgers-Padres tilt. Check it out ... 
(HT: @MLBCathedrals)

OK, this is a relief to all of us here at Eye On Baseball. Nick and Vanessa Lachey found somewhere to watch the Reds' game:
#OpeningDay Found a Cincy bar in NYC!#GoReds pic.twitter.com/3hcsroih9U

— Vanessa Lachey (@VanessaLachey) March 31, 2014

ICYMI last night, here's Juan Uribe's world-championship leisure wear ... 
Juan Uribe is dressed for success (via @Enrique_Rojas1): http://t.co/EvIQWB1ra0 pic.twitter.com/dZZWlrun9R

— Los Angeles Dodgers (@Dodgers) March 30, 2014

Here is the always fun slo-mo view of R.A. Dickey's knuckleball. Pay extra attention to Ben Zobrist's face: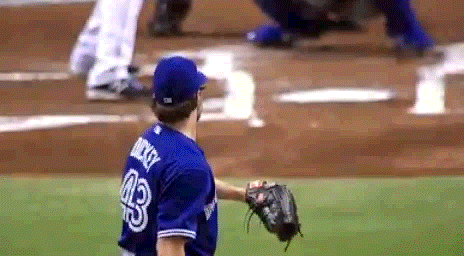 Here is Neil Walker's aforementioned walk-off homer. Make sure you take notice of Carlos Villanueva's glorious mustache first:

This is pretty fast
No big whoop, Diekman just throwing 193 mph. pic.twitter.com/Ns2I6N3M8q

— Dennis Deitch (@DennisDeitch) March 31, 2014

As promised, here is Alex Gonzalez's walk-off single for the Tigers:
The second walk-off hit of 2014 followed a few minutes later. Neil Walker of the Pirates did the honors with a solo homer against the Cubs.

So, either Chase Utley had a really long at-bat on Monday, or MLB.com's Gameday is a little wonky:
Gameday thinks Chase Utley just had a 260-pitch plate appearance. pic.twitter.com/rQ02VwfWah

— Matt Gelb (@magelb) March 31, 2014
Leaning towards Gameday being wonky, but I wouldn't put it past Utley to have an at-bat that long.

We crossed a few "2014 firsts" off the list this afternoon. To recap:
• First walk-off win: Tigers over Royals 4-3 on Alex Gonzalez's single.
• First closer to blow a save: Bobby Parnell, who allowed a game-tying single to Denard Span.
• First extra-inning game: Cubs at Pirates, tied at ... zero! Follow with our new Gametracker right here.
Video of the walk-off single will be posted when available.

Curious what the CBSSports.com offices look like today? Here you go:
Basebaaaaaaall pic.twitter.com/ko9eEmoiNU

— El Gran Iván (@theiri) March 31, 2014

So who did you expect to hit the first grand slam of 2014? Miguel Cabrera? Chris Davis? Giancarlo Stanton? Nope, nope and nope. It was Jimmy Rollins:
The grand slam gave the Phillies at 6-0 lead over the Rangers. Two innings later, the score was 7-7. It was not a good afternoon for either Tanner Scheppers or Cliff Lee.

Who made the first hilarious base-running mistake of Opening Day? Here's the answer: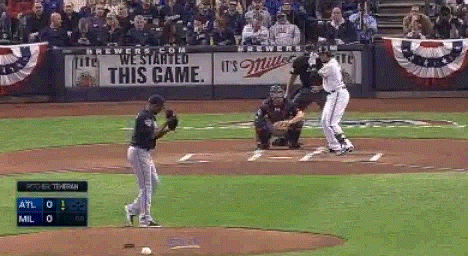 Welcome to TOOTBLAN City, Carlos Gomez. Population: you.
And, just in case you're wondering, the Brewers faithful gave Ryan Braun a standing ovation in his first at-bat of the season. He flew out to left field.

Bonds in #pirates dugout for first time since 1992 when it was at Three Rivers Stadium. pic.twitter.com/1FqRyRlr0H

— Rob Biertempfel (@BiertempfelTrib) March 31, 2014
What do you think? Dick Groat, Barry Bonds, @TheCUTCH22 and his hardware. (Peter Diana/Post-Gazette) pic.twitter.com/Mp1pJSXNbi

— Pittsburgh news now (@PittsburghPG) March 31, 2014
Barry Bonds is in Pittsburgh to present Andrew McCutchen with his MVP award. Bonds won two of his seven MVPs with the Bucs.

We're getting set. #OpeningDayPNC https://t.co/lizZeCxlBL

— Pittsburgh Pirates (@Pirates) March 31, 2014
Look at that sky in Pittsburgh. Picture perfect day for baseball.

I love Opening Day. RT @mellinger: I won't see a more courageous act today than @jonmorosi doing his makeup in the Detroit press box.

— Andy McCullough (@McCulloughStar) March 31, 2014
Indeed, I love Opening Day as well.

Congratulations, you survived the offseason. Happy #OpeningDay! pic.twitter.com/3c4JMqbrPs

— Lisa Braun (@lisabraun) March 31, 2014
What better way to start the day than with some self-promotion? Here are links to our preseason pieces:
• Team Previews
• Staff Predictions
• Jon Heyman's Season Predictions
• Confidence Pool
• Five Storylines: AL East | AL West | NL West | NL East | AL Central | AL Central
• Ranking the Opening Day pitching matchups
Opening Day will not be a national holiday, but that won't stop us from enjoying it. Mariano Rivera sure loves it:
Baseball's back, y'all.
Show Comments
Hide Comments