2014 over/unders: Cincinnati Reds
Let's lay some numbers on the 2014 Reds. How many homers does Jay Bruce have in him? What about Billy Hamilton's steals?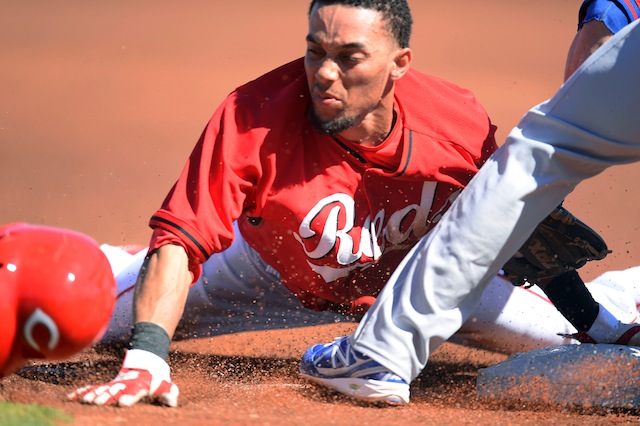 More Reds: Team preview | Likes, dislikes

Another day, another team preview, another round of over/unders. Here's a quick explanation of what we're doing:
As part of our preview of the 2014 season to come, let's roll out a few "over/unders" for each team. That is, we'll assign a number to some different categories that, in their own way, will predict one facet of the season ahead. In turn, you, the loyal commenter, will let us know whether you take the "over" or "under" for each category. Stated another way, will the actual figure be higher or lower than the one we've presented? Remember, we're talking 2014 season and 2014 season only.
Today's team is the Cincinnati Reds, who are looking to make the playoffs for the third straight season ...
---
Wins: 87.5
Place in NL Central: 2.5
Jay Bruce's home runs: 33.5
Billy Hamilton's stolen bases: 77.5
Joey Votto's walks: 119.5
Brandon Phillips's RBI: 72.5
Homer Bailey's ERA: 3.45
Aroldis Chapman's saves: 25.5
Playoff games won: 0.5
Show Comments
Hide Comments
Our Latest Stories
The power hitter with the powerful arm missed election by just a few votes in 2017

Billy Wagner didn't get much love, either

Despite 555 career home runs, Ramirez has a complicated candidacy
We learned there were three new Hall of Famers on Wednesday. Here's the reaction

Rodriguez was emotional after finding out he was voted into the Hall of Fame

Barry Bonds and Roger Clemens made significant gains in the 2017 balloting, but what does that...