2014 over/unders: Detroit Tigers
Time for some over/unders on the 2014 Tigers, such as Joe Nathan's save total and the number of contrived Ian Kinsler controversies involving his former team.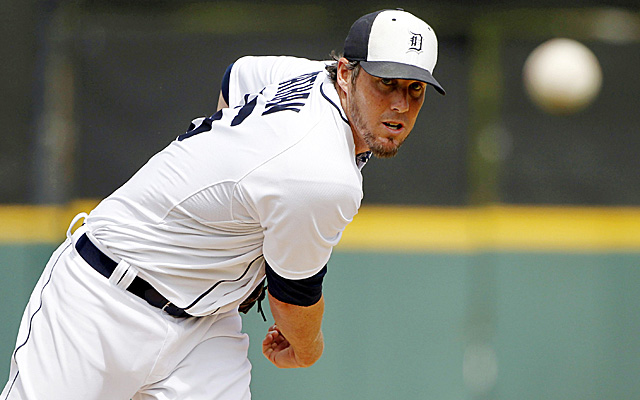 More Tigers: Team preview | Likes, dislikes
Time for another round of team over/unders. What's this, you ask? Here's the explanation:
As part of our preview of the 2014 season to come, let's roll out a few "over/unders" for each team. That is, we'll assign a number to 10 different categories that, in their own way, will predict one facet of the season ahead. In turn, you, the loyal commenter, will let us know whether you take the "over" or "under" for each category. Stated another way, will the actual figure be higher or lower than the one we've presented? Remember, we're talking 2014 season and 2014 season only.
Today's club is the Detroit Tigers, who once again won the AL Central title, but took a step backward in failing to make the World Series. Now to the betting lines ...
---
Wins: 90
Finish in AL Central: 1.5
Postseason series wins: 1.5
Number of combined wins for Justin Verlander, Max Scherzer, Anibal Sanchez: 45
Number of rate stats (AVG/OBP/SLG) in which Miguel Cabrera leads the AL: 1.5
Major individual awards (MVP, Cy, ROY, MGR): 1.5
Additional "controversies" between Ian Kinsler, Rangers: 0.5
Joe Nathan saves: 38
Show Comments
Hide Comments
Our Latest Stories
There seem to be more players than roster spots, however

The third baseman hit 25 homers in 2015

Talks with the Twins about Brian Dozier don't seem to be going anywhere
Mark Trumbo led the majors in home runs last season with Baltimore

The former All-Star coming off a lost season gets a one-year deal

Rodriguez will be the 2nd wearing Rangers, Bagwell will be 2nd wearing Astros and Raines will...