2014 Rockies preview: Likes, dislikes
Here are some things we like and dislike about the Rockies heading into the 2014 season.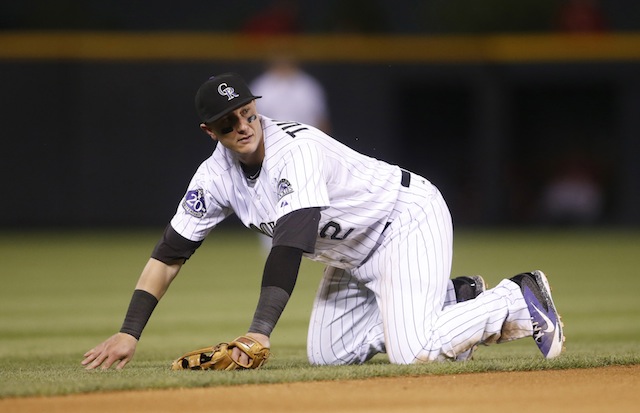 More Rockies: Team preview | Over/unders
As part of our preview series, Eye on Baseball will be picking and choosing some "likes" and "dislikes" for all 30 MLB teams heading into the 2014 season. For this installment, we'll run down what we like and don't like about the Colorado Rockies, who last season finished in last place in the NL West for the second straight year ...
LIKES
Base-running: This past season, the Rox ranked fourth in the NL in steals, tied for first in stolen-base percentage and placed second in percentage of times taking the extra base. As well, they grounded into the third-fewest double plays in the NL. They lost a bit of that prowess when they traded Dexter Fowler to Houston, but he was just a small part of their base-running success last season. Expect more of the same in 2014. 
Healthy Troy Tulowitzki: The franchise shortstop is coming off a 2013 season in which he batted .312/.391/.540 with 25 homers in 127 games. As well, he owns a career 120 OPS+ while manning a premium defensive position and manning it very, very well. If healthy, Tulo is an MVP-caliber performer. As for being healthy, well, see below.
Carlos Gonzalez: He's just a darn good, complete ballplayer. He hits (131 OPS+ over his five seasons with the Rockies), he runs the bases well (107 career steals versus just 27 caught) and picks it in the field.
DISLIKES
Unhealthy Troy Tulowitzki: As noted above, Tulo's merits are legion. However, his penchant for injury can't be ignored. Last season, he was limited by a rib fracture, and across parts of eight major-league seasons he's lost more than 250 games to injury. Just three times has he managed to play 140 games or more in a season.
The rotation: The front end could potentially be solid, but I worry that Jorge De La Rosa and Jhoulys Chacin won't be able to repeat their depressed home run/fly ball percentages from last year. More broadly, De La Rosa's declining velocity and Chacin's inability to miss bats are troubling. Brett Anderson has a substantial injury history, and his "loose" slider may not serve him to well in Coors. At the back end, Tyler Chatwood and Franklin Morales hardly inspire.
Wilin Rosario's defense: The Colorado catcher certainly has good pop for the position, but his glove-work leaves much to be desired. Last season, Rosario posted a fielding percentage well below the positional average, led the NL in passed balls, threw out just 26 percent of opposing base-stealers and graded out as one of the worst catchers in all of baseball in terms of framing pitches for strikes.
Show Comments
Hide Comments