2014 team preview: Milwaukee Brewers
After a hugely disappointing 74-88 season, the 2014 Brewers look to make a massive improvement. Let's preview their season.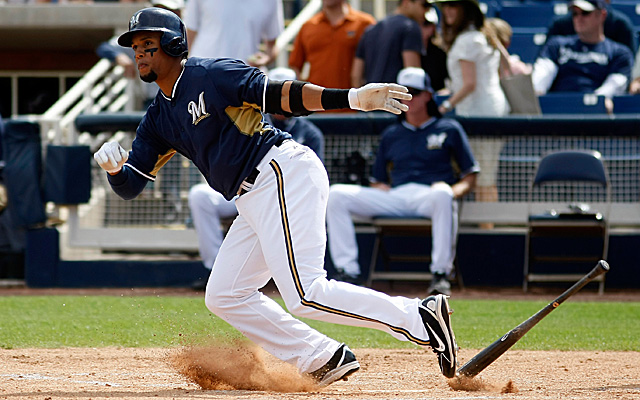 More: Brewers Likes, dislikes | Brewers Over/unders | All Team Previews | Spring Training
The 2013 Milwaukee Brewers ended up 74-88, which was good for their worst record since all the way back in 2004, before the franchise's recent mini-renaissance. Of course, looking at just the record doesn't do justice to what a disaster the season was.
The Brewers had trouble with injuries, Ryan Braun got nailed for a 65-game suspension, Yovani Gallardo was arrested for a DUI, Rickie Weeks fell drastically short of his All-Star upside and first base was an abyss. Though there were some positives, it was overall a season to forget in Milwaukee.
One way to erase the disappointing memory is to have a step-back season. On to 2014.
Probable lineup
1. Carlos Gomez , CF
Jean Segura , SS
3. Ryan Braun, LF
4. Aramis Ramirez , 3B
5. Jonathan Lucroy , C
6. Juan Francisco / Mark Reynolds , 1B
7. Khris Davis , LF
8. Scooter Gennett /Rickie Weeks, 2B
Bench - C Martin Maldonado , IF Jeff Bianchi , OF Logan Schafer , whoever doesn't start at 2B and whoever doesn't start at 1B above.
The Brewers ranked eighth in the NL in runs last season along with sixth in average and eighth in OPS. So the offense was mediocre. That was with just 61 games with Braun, 92 with Ramirez, 56 with Davis and 104 pretty awful games of Weeks before 69 good ones from Gennett (with, yes, some overlap). Put simply, this group is primed for a much better collective season and should be one of the top offenses in the NL.
As for the lineup itself, feel free to play with it. The only thing I'd say that is set in stone is Braun in the three-hole.
Probable rotation
1. RHP Yovani Gallardo
2. RHP Kyle Lohse
3. RHP Matt Garza
4. RHP Marco Estrada
5. RHP Wily Peralta
Brewers starters ranked 11th of 15 NL teams last season in rotation ERA. They also needed to use 12 different starters to get through the season. Lohse, Peralta and Gallardo each made over 30 starts while Estrada logged 21. It was the final rotation spot that was a revolving door. Garza in tow means more stability. Gallardo is also capable of much better. Overall, this group appears very improved as well.
Probable bullpen
Closer - RHP Jim Henderson
Setup men - RHP Francisco Rodriguez , RHP Brandon Kintzler
Middle men - LHP Will Smith , RHP Rob Wooten , LHP Wei-Chung Wang
Long man - RHP Alfredo Figaro
Did you know the Brewers ranked third in bullpen ERA in the NL last season behind the playoff-bound Braves and Pirates? Yep. They did. K-Rod, Kintzler and Henderson form a stout, if very underrated, back-end while Smith (we'll get to him) is a capable lefty.
Under-the-radar offseason transaction
Will Smith was acquired for right fielder/leadoff man Nori Aoki . The Brewers have three very good outfielders, so adding a good lefty to the bullpen will end up a nice play. Smith fits the bill (also: Deduct a million Internet points for any lame references to the actor).
In 33 1/3 innings for the Royals last year, Smith held left-handers to a .157/.204/.353 line. It gets better, though, because Smith struck out exactly half the lefties he faced. That's right, 27 strikeouts in 54 plate appearances. The 6-foot-5 24 year old is also not too shabby against righties and will prove a valuable commodity in the bullpen.
Fantasy breakout: Khris Davis

"Davis played the bulk of his games in the post-Braun suspension era, when most casual observers tuned out the Brewers. But there was late-season value to be had here, as Davis hit .279 with 11 home runs over 136 at-bats, stealing three bases and adding 10 doubles. The 26-year-old has a career .288 average in the minors, with an .898 OPS over 415 games. He hit 13 or more home runs in each of his last four seasons, despite getting over 450 at-bats just once in that span. In the two seasons with over 400 at-bats, Davis stole 10 or more bases. His average is prone to fluctuation, but it should settle in the .270 range. Davis' real value, though, comes from his power potential. He was on pace for well over 30 home runs last year, with all 11 coming after Braun was suspended and out of the lineup. Davis flexed power in the minors, carried it over to the majors, and is now in a very hitter-friendly park. He could hit that 30-homer mark by the end of the season." - Nando Di Fino [Full Brewers team fantasy preview]
Biggest strength
Offensive firepower. We covered some of this above, but the Brewers finished fourth in the NL in slugging percentage last year and that was, again, with a lot of Ramirez and Braun missing. Some areas are due improvement, too, such as first base and the youngsters (Davis, Segura and maybe Gennett) have more upside. In Fangraphs' projections, only the Rockies are expected to average more runs per game among NL teams.
Biggest weakness
Bullpen depth. Even if Henderson, K-Rod, Kintzler and Smith perform as they're capable, the Brewers can't survive on four bullpen arms. Plus, there's downside. Henderson may falter -- after all, the 31 year old was a career minor-leaguer until 2012. K-Rod has lots of baggage and mileage and could melt down at any moment.
Past those four, the Brewers' bullpen is rather thin and doesn't inspire much confidence. While most areas of the club are improved, the bullpen ERA is a good bet to regress.
Outlook
If someone asked me to name three teams most certain to improve upon their 2013 win total this season, the Brewers would be on the list.
That being said, it still probably won't be enough for a return to the playoffs. The Brewers have to improve from 74-88 all the way to a playoff berth in spite of being in the same division as three 2013 playoff teams -- none of which look substantially worse in 2014.
My bet would be low-to-mid 80s in wins, in contention into September and then no playoffs.
---
Coming Thursday: Previewing the St. Louis Cardinals
Show Comments
Hide Comments