2014 Team Preview: New York Yankees
Our team-by-team preview of the 2014 season gets underway today with the New York Yankees.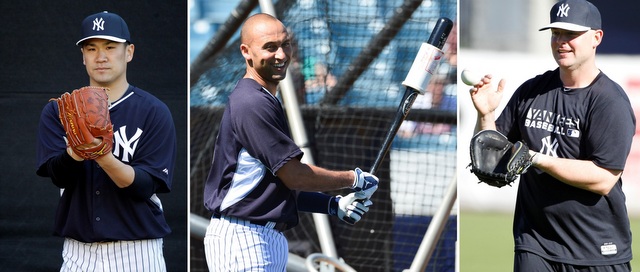 More: Team Previews | Spring Training 
More Yankees: Yankees likes and dislikes | Yankees over/unders
Times are changing in the Bronx. Mariano Rivera and Andy Pettitte have retired, Derek Jeter announced the 2014 season will be his last, Robinson Cano left as a free agent and Alex Rodriguez has been suspended for the entire year. The New York Yankees , who responded to their second postseason miss in the last 19 years with a $500+ million free agent spending spree, have a very new look following an injury plagued 2013 season.
Probable lineup
CF

Jacoby Ellsbury

SS Derek Jeter
RF

Carlos Beltran

C

Brian McCann

1B

Mark Teixeira

DH

Alfonso Soriano

3B

Kelly Johnson

2B

Brian Roberts

LF

Brett Gardner
Bench - C Francisco Cervelli , OF Ichiro Suzuki , IF Brendan Ryan , IF Scott Sizemore
The Yankees added depth to their lineup with Ellsbury, Beltran, McCann, Johnson and a full year of Soriano, but losing Cano will definitely hurt. That infield is also very shaky with Jeter (ankle, legs) and Teixeira (wrist) returning from injuries and what amount to lost 2013 seasons.
Probable rotation
LHP

CC Sabathia

RHP

Hiroki Kuroda

RHP

Masahiro Tanaka

RHP

Ivan Nova

RHP

Michael Pineda
All eyes will be -- and have been so far in spring training -- on Tanaka, who the Yankees gave $155 million even though he's never thrown a pitch in MLB. Sabathia was legitimately one of the worst pitchers in baseball last season while Kuroda was legitimately one of the best. Tanaka's ability to adjust to MLB will be important, but returns to effectiveness from Sabathia and Pineda are imperative.
Probable bullpen
Closer - RHP David Robertson
Setup Men - RHP Shawn Kelley , LHP Matt Thornton
Middle Men - RHP David Phelps , RHP Dellin Betances , LHP Cesar Cabral
Long Man - RHP Adam Warren
Robertson has been one of the best setup relievers in baseball the last few years and is as good as any prospective closer in the game, but replacing Mo means he will be under the microscope. Kelley and Thornton are the only other relievers guaranteed spots on the opening day roster right now. Both Phelps and Warren will compete with Pineda for the first starter's spot in camp.
Under-the-radar offseason transaction
The Yankees don't really make "under-the-radar" transactions, do they? They tend to go big. That said, landing Johnson on a one-year, $3 million contract was a nice little move for a team in need of infield depth. As left-handed hitter with some power, he should feel right at home at the new Yankee Stadium. Johnson will also steal some bases and he's versatile, with experience at second base, third base and left field. He's slated to man the hot corner come opening day, but the Yankees will be able to keep him in the lineup regularly regardless of position.
Fantasy sleeper: Michael Pineda
"It seems like ancient history now, but Pineda was the rookie pitcher who took the league by storm in 2011, earning a trip to the All-Star game with an overpowering arsenal and poise beyond his 22 years. Thanks to a torn labrum suffered in his first spring training with the Yankees the following year, he hasn't pitched in a major-league game since. That includes last year, even though he returned to make 10 minor-league starts, which led some to believe the Yankees didn't like what they saw. But the numbers suggest he was as overpowering as before, striking out more than a batter per inning with relatively low hit and walk rates. More likely, the Yankees didn't want to force the issue and add to his service time in what was shaping up to be a lost season. From the general manager on down, they seem all about him winning a rotation spot in 2014. He has shown he can still hit the mid-90s with his fastball, and his secondary stuff remains intact. For a late-round pick, the reward outweighs the risk." - Scott White (Full Yankees fantasy preview)
Biggest strength
Their outfield. Gardner and Ellsbury are both high-end defenders and legitimate starting caliber center fielders, so the team is guaranteed to have an excellent outfield defense even if they pair those two with a potted plant. Beltran and Soriano figure to rotate between right field and DH, which is a good idea given their age. Getting them off their feet regularly with the DH spot makes sense. Ichiro is now a glorified fifth outfielder, reduced to pinch-running and defensive replacement duties as his bat has faded with age. He might be the best fifth outfielder in the game.
Biggest weakness
The bullpen looks pretty sketchy behind Robertson, Kelley and Thornton, but I'll go with the infield. The Yankees have enough young arms and manager Joe Girardi always seems to cobble together a quality relief corps from spare parts. The infield could be a very big problem though, especially if Jeter and Teixeira do not rebound from their injuries well. Roberts is always an injury risk and Johnson might get exposed playing every single day at this point of his career. The backup plans are Sizemore, Eduardo Nunez and Dean Anna . The infield is arguably the riskiest in the game.
Outlook
The Yankees managed to win 85 games last season despite losing so many players to injury, and they've added enough offensive firepower this winter to make up for the loss of Cano (and A-Rod). McCann and Beltran should have a blast in Yankee Stadium while Gardner and Ellsbury could both steal 40+ bases. The Bronx Bombers figure to have a really diverse offensive attack.
The question, of course, is whether they are actually good enough to contend. Their roster contains a ton of "ifs" -- if Sabathia rebounds, if Jeter is healthy, if Teixeira is healthy, if Tanaka is all he's cracked up to be, if Robertson can close, if Pineda is healthy, etc. -- more than any team that dubs itself "championship-caliber" should have. Some of those "ifs" will work out for the New York, others won't.
I'm not a fan of predicting exact W-L records, but will the Yankees be better than last summer's 85-77 record? I think so but not by a ton. I don't think all those high-priced offseason additions suddenly make them a 93-win team or AL East favorites or anything like that. The Yankees will make noise in the division and wild-card races but playing in October is hardly a guarantee for this roster.
---
Coming Saturday: Previewing the Toronto Blue Jays
Show Comments
Hide Comments