2015-16 MLB Hot Stove: Top 50 free agent tracker, power rankings
Tracking our top 50 MLB free agents.
by

Eye on Baseball staff

• 12 min read
Major League Baseball free agency began on Nov. 7. Technically there were 139 free agents after the end of the 2015 season (full list here), but we've seen some options picked up and some players retire. For the purposes of brevity, we narrowed that list to the 50 best and for the purposes of sorting them easily with what players you might want your favorite team to target, we ranked them.
This free agent tracker includes the years, dollars and signing team for each of the top 50 free agencts, as well as links to the full news story for each addition.
The rankings were compiled by the average rankings of our Eye on Baseball team: Matt Snyder, Dayn Perry, Mike Axisa and David Brown. Definitely keep age in mind. These aren't rankings of how good the players were in 2015, as free agent signings involve betting on the future, not the past.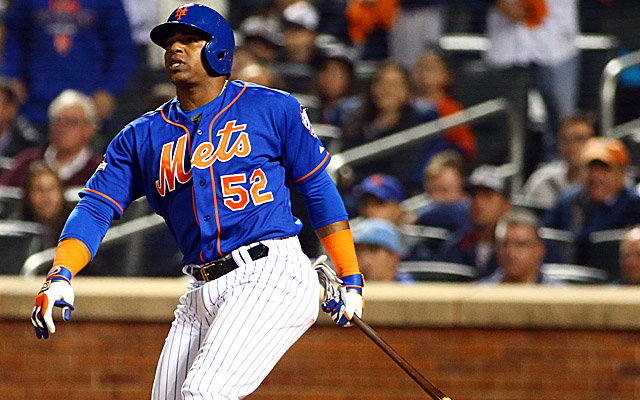 Without further ado, the CBS Sports 2015 MLB free agent power rankings:
Player, position, 2016 age (age as of June 30, 2016)
Last Team
Free Agent:
New Contract

1.

Jason Heyward

, OF, 26

Heyward's a quality hitter, plus base-runner, and one of the most valuable fielders in all of baseball, as well as extremely young as free agents go. Read more about what makes him No. 1.

8 yr, $184M
 

2.

David Price

, SP, 30

Since 2012, he's pitched to a 2.90 ERA, 133 ERA+ and 4.98 K/BB ratio while averaging 217 innings per season. In 2012, Price won the AL Cy Young award.

7 yr, $217M
 

3.

Zack Greinke

, SP, 32

The former Cy winner is coming off one of the best seasons of his career. Over the last three seasons, he has an ERA of 2.30. Six times in his career he's finished in the top 10 of his league in K/BB ratio, and in six of the last eight years he's reached at least 200 innings.

6 yr, $206.5M
 

4.

Yoenis Cespedes

, OF, 30

Across four MLB seasons, Cespedes has batted .271/.319/.486 (122 OPS+) with 30 homers per 162 games played. He can be a defensive asset at an outfielder corner, but he can't play center these days.

3 yr, $75M
 

5.

Johnny Cueto

, SP, 30

Cueto struggled somewhat with the Royals, but the recent body of work is exceptionally strong: 2.71 ERA and 145 ERA+ since 2011. While durability was a concern early in his career, Cueto has worked a total 455 2/3 innings over the last two regular seasons.

6 yr, $130M
 

6.

Justin Upton

, OF, 28

Upton's been a steady source of right-handed power over the course of his career. He's slugging .473 for his career, and at some point in 2016 he'll hit his 200th homer.

6 yr, $132.75M
 

7.

Jordan Zimmermann

, SP, 30

Since Zimmermann became a fixture in the Washington rotation in 2011, he's run an ERA of 3.14 (123 ERA+) and 4.31 K/BB across 155 starts.

5 yr, $110M
 

8.

Alex Gordon

, LF, 32

Gordon's an elite defender in left, and he's developed into a quality hitter. Since his breakout in 2011, Gordon's put up an OPS+ of 121 and averaged 35 doubles and 18 homers per season.

4 yr, $72M
 

9.

Chris Davis

, 1B/DH, 30

A remarkable 2013 was followed by a disappointing 2014. In 2015, though, Davis mashed an MLB-leading 47 homers while slugging .562. He has 159 homers since the start of the 2012 season.

7 yr, $161M
 

10.

Ben Zobrist

, UTIL, 35

Age will be a drawback for Zobrist on the market, but he boasts defensive quality and flexibility. As well, he owns a 117 OPS+ for his career and a 121 OPS+ since 2011.

4 yr, $56M
 

11.

Ian Desmond

, SS, 30

Not so long ago, Desmond looked like a premier shortstop (three Silver Sluggers), but a steady pattern of decline since 2012 has chipped away at his value. He still has pop and some speed on the bases and can man a key up-the-middle position.

1 yr, $8M
 

12.

Dexter Fowler

, OF, 30

Fowler might be a defensive stretch in center at this stage of his career, but he's got pop and on-base skills at the plate. As well, he can run the bases, and he's proved himself as a hitter outside of Coors Field, where he played his home games from 2008 through 2013.

1 yr, $8M
 

13.

Jeff Samardzija

, SP, 31

He's been durable since converting to a starter, but Samardzija's coming off a very disappointing 2015 for the White Sox (4.96 ERA in 32 starts, AL-most 29 HR allowed). The stuff is there, though, and he could benefit from a power-suppressing home park and a better defense behind him.

5 yr, $90M
 

14.

Scott Kazmir

, SP, 32

His return from injury exile has gone much better than expected: 3.54 ERA, 109 ERA+ and 3.08 K/BB in 92 starts since 2013. He's also averaged 177 innings per season over that span.

3 yr, $48M
 

15.

Howie Kendrick

, 2B, 32

Kendrick's been a steady, consistent contributor over the years, and his OPS+ always seems to hover around his career mark of 108. Second base is a tough position, though, and maybe his almost-9,500 innings there are catching up to him.

2 yr, $20M
 

16.

Daniel Murphy

, 2B, 31

Postseason heroics aside, Murphy's a useful hitter who's stretched defensively at second base in his thirties. The bat will play at third, but he's a good hitter, not a great one.

3 yr, $37.5M
 

17.

Mike Leake

, SP, 28

Leake's a reliably above-average starter who's made at least 30 starts in each of the last four seasons. He's also a good hitter, as hurlers go.

5 yr, $80M
 

18.

Colby Rasmus

, OF, 29

He can man all three outfield positions (not a regular in center, though), and Rasmus has power from the left side. In 2015, he hit a career-high 25 homers for the Astros.

1 yr, $15.8M
 

19.

Matt Wieters

, C, 30

The offensive breakout we all expected from Wieters never quite materialized. He remains, though, a capable catcher with some power upside (21 homers per 162 games played for his career). While he was durable early in his career, he lost big chunks of 2014 and 2015 to Tommy John surgery.

1 yr, $15.8M
 

20.

Wei-Yin Chen

, SP, 30

In four MLB seasons, Chen's pitched to an ERA of 3.72 (110 ERA+) and 3.18 K/BB ratio. He's been significantly better than that over the last two seasons.

5 yr, $80M
 

21.

Denard Span

, CF, 32

Span's an established center fielder, a threat on the bases, and an OBP hitter with pop to the gaps. He's coming off hip surgery, and he was limited to just 61 games this past season. He's our highest-rated eligible free agent not to receive a qualifying offer.

3 yr, $31M
 

22.

Hisashi Iwakuma

, SP, 35

Iwakuma lost time to a lat injury in 2015 and saw his ERA rise for a second straight season. That said, he has a 117 ERA+ across four MLB seasons, and over the last two seasons he's put up a K/BB of 6.31.

1 yr, $12M
 

23.

Yovani Gallardo

, SP, 30

Gallardo's been quite consistent since becoming a rotation regular. Since 2009 he's never pitched fewer than 180 2/3 innings in a season, and just once has he failed to log a sub-4.00 ERA.

2 yr, $22M
 

24.

John Lackey

, SP, 37

Lackey's obviously old for a premium free agent, but in 2015 he enjoyed perhaps his best season. Since returning from Tommy John surgery in 2013, Lackey's posted an ERA of 3.35 (119 ERA+) and struck out 500 batters against 134 unintentional walks.

2 yr, $32M
 

25.

Marco Estrada

, SP, 32

He's seen his peripheral numbers back-slide in recent seasons, but in 2015 he posted the best ERA and ERA+ of his career. With the Jays, Estrada also notched a career high in innings.

2 yr, $26M
 

26.

Ian Kennedy

, SP, 31

Kennedy has been occasionally brilliant but mostly mediocre in recent seasons, pitching to a 4.28 ERA (85 ERA+) in 2015 and a 4.25 ERA (84 ERA+) from 2013-15. He does provide innings though, averaging 195 innings from 2010-15. The Padres did make Kennedy the qualifying offer.

5 yr, $70M
 

27.

Brett Anderson

, SP, 28

After being limited to 206 1/3 innings from 2011-14 due to various injuries, Anderson threw 180 1/3 mostly league-average innings with the Dodgers in 2015 (3.69 ERA and 101 ERA+). He also led all qualified starters with a 66.3 percent ground-ball rate. Los Angeles did make Anderson the qualifying offer, and at age 27, he is one of the youngest free agents on the market.

1 yr, $15.8M
 

28.

Austin Jackson

, CF, 29

Jackson appeared headed for stardom a few years ago, when he hit 16 home runs with a 129 OPS+ in 2012. His offensive production has taken a step back in recent seasons but he can still hammer lefties and play a strong center field. Jackson is still only 28 years old.

1 yr, $5M
 

29.

Darren O'Day

, RP, 33

O'Day, our highest-ranked reliever, has lowered his ERA every year since 2012 and posted a career-best 11.3 K/9 and 5.86 K/BB ratio in 2015. He's susceptible to lefty batters but dominates righties. O'Day is 33 and a capable setup man who, at the worst, is an excellent right-on-right matchup guy.

4 yr, $31M
 

30.

Doug Fister

, SP, 32

The 2015 season was a brutal year for Fister, who pitched to a 4.19 ERA (96 ERA+) in 103 innings while dealing with a forearm flexor strain. His velocity dipped and the Nationals moved him to the bullpen. Fister was in line for a big multiyear deal coming into the season but may have to settle for a one-year "prove yourself" contract.

1 yr, $7M
 

31.

Asdrubal Cabrera

, SS, 30

The defensive stats don't love Cabrera, but he still hit .265/.315/.430 (105 ERA+) for the Rays this past season, which is quality production for a middle infielder. Cabrera won't kill you at shortstop but he is better suited for second base at this point of his career.

2 yr, $18.5M
 

32.

Alexei Ramirez

, SS, 34

The White Sox declined their $10 million club option for Ramirez after a disappointing 2015 season. He hit .249/.285/.357 (79 OPS+) with rough defense per the various stats, but decent shortstops are hard to find, and prior to 2015 Ramirez was rock solid. He turned 34 in September.

1 yr, $4M
 

33.

Gerardo Parra

, OF, 29

Parra hit .328/.369/.517 (139 OPS+) for the Brewers this past season, then was traded to the Orioles, where he hit .237/.268/.357 (69 OPS+). His true talent level lies somewhere in the middle (career 97 OPS+). Parra's a very good corner outfield defender who can fill in at center in a pinch. He's a top notch platoon outfielder.

3 yr, $27.5M
 

34.

J.A. Happ

, SP, 33

Happ is the latest Pirates reclamation project success story. He pitched to a 4.64 ERA (82 ERA+) in 108 2/3 innings with the Mariners before being traded to Pittsburgh, where he managed a 1.85 ERA (209 ERA+) in 63 1/3 innings with more strikeouts (9.8 K/9) and fewer walks (1.8 BB/9) than ever before. The Pirates have had great success getting top-notch performances from journeymen.

3 yr, $36M
 

35.

David Freese

, 3B, 33

Following his historic postseason performance with the 2011 Cardinals, Freese has settled in as a slightly-above-average offensive third baseman who will give back runs with his defense and visit the DL once or twice a year. He's a solid option at the hot corner but not the kind of player who puts a team over the top.

1 yr, $3M
 

36.

Mike Napoli

, 1B/DH, 34

A dreadful start with the Red Sox and a fantastic finish with the Rangers led to Napoli's .224/.324/.410 (96 OPS+) overall batting line in 2015. He offers power and surprisingly nimble defense at first base, but his days of being an option at catcher are long gone, and he's increasingly susceptible to right-handed breaking stuff.

1 yr, $7M
 

37.

Mat Latos

, SP, 28

Knee and elbow injuries limited Latos to 218 2/3 below-average innings the last two seasons (4.16 ERA and 91 ERA+). He was one of the best young pitchers in baseball from 2010-13 (3.27 ERA and 116 ERA+) and is still only 27, so there's plenty of bounce-back potential here as long as Latos is healthy.

1 yr, $3M
 

38.

Joakim Soria

, RP, 32

Soria was more home run prone than ever before this past season (1.1 HR/9) and at age 31 with two Tommy John surgeries in his history, it could be the new normal rather than a blip. Soria still misses bats (8.5 K/9) and is a capable late-inning arm, though he has been more hittable since returning from his second elbow reconstruction in 2013.

3 yr, $25M
 

39.

Alex Avila

, C, 29

Knee issues limited Avila to only 67 games this past season (44 at catcher). He also has a history of concussions. Avila has settled in as a slightly below-average hitter overall who shouldn't face left-handed pitchers. He's a good but not great defender.

1 yr, $2.5M
 

40.

Nori Aoki

, OF, 34

A fractured leg sabotaged a strong 2015 season for Aoki, who hit .287/.353/.380 (104 OPS+) overall and had more walks (30) than strikeouts (25). He's a certifiable pest at the plate. Aoki is a bit of a goof in the field but makes the plays he's expected to make. The Giants declined his $5.5 million option after the season.

1 yr, $5.5M
 

41.

Rajai Davis

, OF, 35

Davis is arguably the best right-handed platoon outfielder on the market this offseason, producing a .302/.341/.510 line against southpaws in his two years with the Tigers. He adds value on the bases and is solid defensively as well.

1 yr, $5.25M
 

42.

Mike Pelfrey

, SP, 32

After parts of 10 seasons in the majors, it's safe to say Pelfrey will never add the quality second pitch he needs to complement his heavy sinker. He's usually good for bulk innings that might approach league average in quality. Pelfrey is still only 31, and as a former first-rounder, some team out there will think they can unlock his potential.

2 yr, $8M
 

43.

Juan Uribe

, 3B, 37

The Uribear remains a sneaky excellent hot-corner fielder with a knack for big hits. He put up a .253/.320/.417 (105 OPS+) batting line with 14 home runs in 2015, and while it might not be fair to expect similar production going forward (he's 36), Uribe is a fine third-base stopgap who adds major value as a clubhouse presence.

1 yr, $4M
 

44.

Bartolo Colon

, SP, 43

At age 42, Colon is still going out there and chewing up innings by throwing almost nothing but fastballs. He rarely walks anyone (he led MLB with a 1.1 BB/9 in 2015) but is hittable (he also led the NL with 217 hits allowed), leading to plenty of baserunners. Colon has thrown more than 190 innings in each of the last three years.

1 yr, $7.25M
 

45.

Chris Young

, P, 37

Armed with a mid-80s fastball and an ultra-deceptive delivery, Young has pitched to a 3.40 ERA (113 ERA+) in 288 1/3 innings the last two seasons. His unorthodox style will surely scare away some teams, but Young has proven he can provide quality innings, though he's not a true innings eater. He's most valuable as a swingman.

2 yr, $11.75M
 

46.

Chris Young

, OF, 32

Young's days as an everyday player might be over because his swing has gotten a little too long to handle righties. He can crush lefties though -- Young hit .327/.397/.575 (169 OPS+) against southpaws in 2015 -- and play very good defense in all three outfield spots, doing his best work in left. Young can still hammer a mistake from a righty, but he's most valuable in a platoon role.

2 yr, $13M
 

47.

Will Venable

, OF, 33

Venable punishes right-handed pitchers (career 106 OPS+) but should never face a lefty (career 69 OPS+). He can play center field in pinch but is best in the corners, where he's an above-average gloveman. Venable also adds value on the bases. Another fine platoon option.

minor-league deal
 

48.

Ryan Madson

, RP, 36

After missing the 2012-14 seasons following Tommy John surgery and various complications, Madson returned in 2015 and gave the Royals 63 1/3 innings with a 2.13 ERA (195 ERA+). He got stronger as the season progressed as well. Madson might not get multiple years at age 35, but he could be in line for a nice guaranteed payday on a one-year contract.

3 yr, $22M
 

49.

Tyler Clippard

, RP, 31

Clippard was a two-time All-Star in his time with the Nationals, but last season he had a bit of a down year for the A's and Mets. Still, he posted a 2.92 ERA and 1.13 WHIP in 71 innings, which is a pretty nice down year. On the flip-side, his strikeout rate was the lowest it has been in years and his velocity dipped in the final three months.

2 yr, $12.25M
 

50.

Tony Sipp

, RP, 32

The Astros picked Sipp up off the scrap heap in May 2014 and he gave them 105 innings with a 2.66 ERA (149 ERA+). Sipp has managed to cut his walk rate (2.5 BB/9 in 2015) while maintaining a huge strikeout rate (10.3 K/9). A relatively new changeup has allowed him to better combat righties. He could be be a surprising bargain this winter.

3 yr, $18M
 

Close but didn't make the cut: Mark Lowe , John Jaso , Dioner Navarro , Justin Morneau
The Hot Stove is upon us.
Show Comments
Hide Comments
Our Latest Stories
Ground-rule double or not? It's complicated, and so's challenging a play at the end of a g...

Rain cut things short in Pittsburgh on Thursday night, so nobody won

Here's a look at the postseason race standings with four days left in the regular season
A certain Yankee legend was on hand to honor Big Papi before his final appearance at Yankee...

The outfield grass will be looking good for David Ortiz's final regular season appearance in...

The Tigers and Indians were rained out on Thursday. Here's what that means for the AL wild...