A-Rod recent rehab going 'fantastic,' appears ahead of Jeter
The Yankees' Alex Rodriguez might prove the critics wrong and get back to playing not too long after the All-Star break if recent workouts are any indication.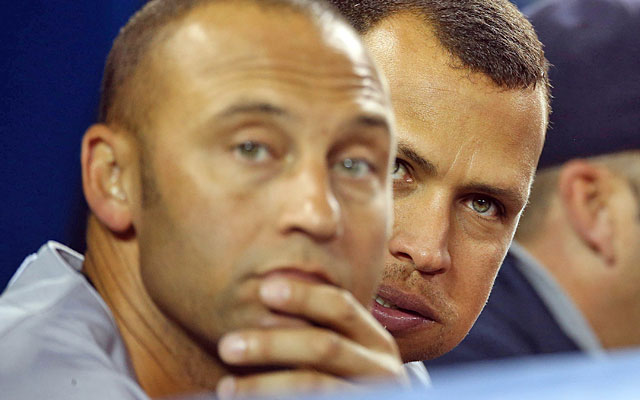 NEW YORK -- Alex Rodriguez's recent progress is said by people around the Yankees to have been dramatic, with one person calling it "fantastic" and another even speculating A-Rod could possibly begin to play rehab games just after the All-Star break.
There have been dire predictions about A-Rod's future based on the circumstances of a player in his late 30s undergoing two major hip surgeries and all the rest of his history. But one Yankees person, hearing of his recent progress, marveled Wednesday about Rodriguez.
"He may beat everyone back," the Yankees person said, meaning all the many other injured Yankees.
Rodriguez, whose badly damaged right hip was repaired in the winter, is now physically ahead of Derek Jeter since A-Rod is able to run closer to full bore -- though general manager Brian Cashman isn't ready to pinpoint dates for either player. With $90 million worth of players on the disabled list, and in some cases on and off and on again, it's understandable why the Yankees would be gun shy about laying out timetables publicly. This Yankees season has been about injuries first and setbacks second.
"We've always stated sometime after the All-Star break, but we've never been in a position to say right after the All-Star break," Cashman said about A-Rod and Jeter, who, during the spring, re-injured his surgically repaired broken ankle. "It could be July or August or September."
With an about-to-be 38-year-old player such as A-Rod who has had two major hip operations, there are no certainties. But people who have seen him run and hit lately provide an extremely cheery review.
One Yankees person said A-Rod is "clearly well ahead of Derek," though the ups and downs of rehab will keep Cashman from declaring that A-Rod will surely be the first of the two all-time greats to return. Jeter was once thought likely to be ready for opening day, then the timetable was moved back until early June before the more murky "sometime" after the All-Star break.
A-Rod's progress is obvious, though, and he was said to have put on a power display in Tampa this week. "Alex is clearly able to do everything functionally. It's just wrapping it all up and putting it into games," Cashman said.
Among the many other injured Yankees, Francisco Cervelli (hand) is expected back in mid-July and Curtis Granderson (finger) in late July, although a few others don't have any sort of timetables attached. There's hope Mark Teixeira could be back soon from the 15-day DL, but the trickiness of wrist injuries is such that the Yankees' own website lists his return date as "TBD."
Eduardo Nunez (oblique) has an injury that doesn't show up on tests but has nagged him badly. Michael Pineda (shoulder) is pitching in rehab games, but pitching isn't the issue right now, so it's far from certain he would join the major-league rotation upon a declaration of health.
Meanwhile, there appears to have been a subtle change in the timetable given for Kevin Youkilis (back), as he was said by Yankees people on Wednesday to be out a "minimum" of 10-12 weeks, not just the 10-12 weeks first stated. Noted back surgeon Robert Watkins is set to repair a disk herniation for Youkilis, but it hasn't been ruled out that he could find further damage behind the disk herniation that might require more repair.
Cashman said he hasn't been made aware yet of any extra problem beyond the herniated disk, but others say it can't be ruled out that there might be a more extensive issue. Youkilis quietly tried epidurals to solve the disk issue to no avail.
"Nobody's more upset about this than him," Youkilis' agent, Joe Bick, said by phone. "He's going to do everything he can to get back to playing."
The Yankees have suggested it's possible Youkilis could be back in late August, but they also aren't ruling out the real possibility he could be lost for the year, no matter how hard he works to get back.
Show Comments
Hide Comments